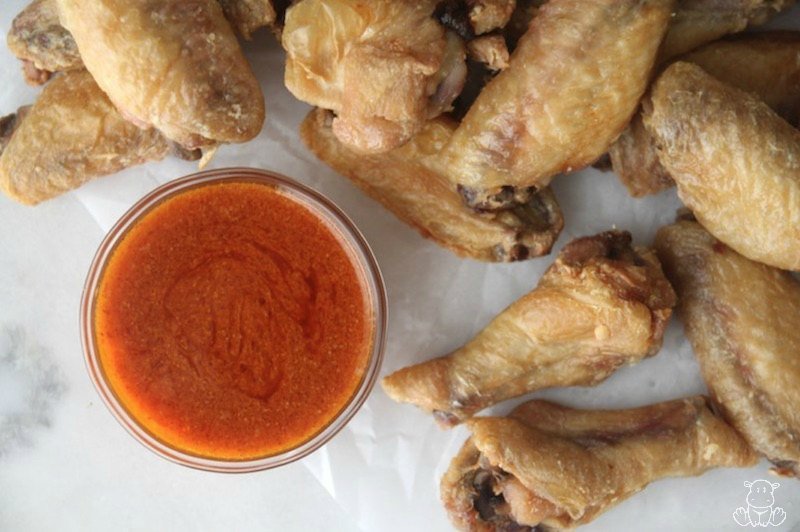 My four year-old does not share my love of speaking at a reasonable volume, arriving at events on time, or spicy buffalo sauce. Fortunately there are workarounds, like crispy baked chicken wings served with a side of teriyaki, buffalo sauce, ranch dressing, or bleu cheese, so the whole family gets their favorite flavors.
Now, if you've ever made my cauliflower pizza crust or quick chicken nuggets, you know that I love to figure out shortcuts for my family's favorite recipes. When I can cut a step or two without affecting the final dish, it increases the odds that I'll make it often instead of just on special occasions. That leads me to the most important part of this recipe: the simplicity!
The Secret To Crispy Baked Chicken Wings
There are, uh, a lot of opinions online about the best way to make baked chicken wings. Some recommend parboiling or steaming the wings before placing them in the oven, while others recommend coating the wings in baking powder and salt, then baking at low temps before raising the heat.
The goal of both methods (parboiling/steaming and baking powder with low heat) is to gently melt away some of the fat so that the outside of the wings will crisp properly – that's the secret to delicious oven-baked wings.
Adding baking powder doesn't affect the flavor, but it helps by changing the pH of the skin and drawing out moisture so that the skin crisps quickly. The reduced baking time needed to achieve crispness allows the meat inside to stay juicy and flavorful instead of becoming tough and overcooked.
Since the parboiling/steaming method feels like too much of a hassle, I focused my experiments on the baking powder method. It usually it goes something like this:
Dry the chicken wings with a paper towel and place them in a bowl
Sprinkle wings with baking powder – and usually salt – then mix well
Place wings on a baking rack that has been placed on a rimmed cooking sheet
Bake on low for half an hour, then raise the heat and bake until done
What Worked (And What Didn't)
The purpose of the rack is to prevent the wings from resting in the fat that melts away as they cook. Cooking directly on a parchment-lined baking sheet does make them a little greasy underneath, but I like it better than the rack method for two reasons.
Even when I oiled the rack the chicken wings stuck to them, so I usually ended up pulling off most of the crispy skin on the bottom of the wing while trying to remove them.
The rack was a hassle to clean, too, so I stopped using it.
After experimenting with this process for awhile, here's what worked and what didn't:
Adding salt to the baking soda seemed to dry the meat out too much, so I now add it as seasoning after the wings are baked.
Increasing the temp after half an hour takes just a few seconds and makes a huge difference. Definitely worth it.
So, ready to make some hot, crispy wings the easy way? Here's the recipe . . .
Crispy Baked Chicken Wings Recipe
Instructions
Preheat your oven to 250F. Lay wings on a layer or two of paper towels and pat them dry, then place them in a medium-size bowl.

Line two 12x16 rimmed baking sheets (to catch the oil) with parchment paper, then arrange wings on them. Make sure there is a little space between each wing.

Place wings in oven and bake for 30 minutes, then increase heat to 425F and bake for an additional 40-50 minutes.
Nutrition
Calories:
2198
kcal
|
Carbohydrates:
11
g
|
Protein:
180
g
|
Fat:
157
g
|
Saturated Fat:
44
g
|
Cholesterol:
754
mg
|
Sodium:
737
mg
|
Potassium:
3952
mg
|
Fiber:
1
g
|
Vitamin A:
1440
IU
|
Vitamin C:
6.8
mg
|
Calcium:
1157
mg
|
Iron:
11.3
mg