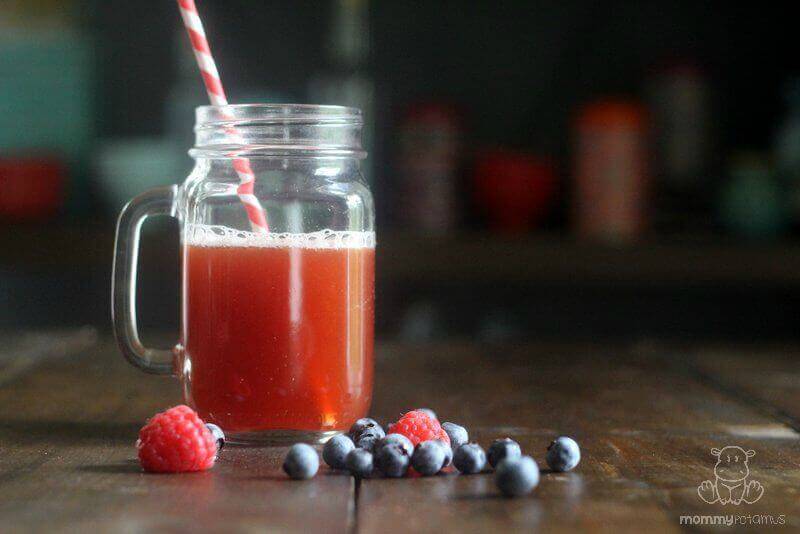 Do you miss cherry limeades? Or are you looking for a healthy alternative to soft drinks for your kids? Homemade soda pop to the rescue! Not only is it delicious, but water kefir is also rich in beneficial bacteria that support digestion and healthy immune function.
The best part? It only takes about five minutes of hands-on time to make, and kids love it.
Video Tutorial: How To Make Water Kefir
How To Make Water Kefir (Photo Tutorial)
For this recipe you will need: 1 quart jar, plastic mesh strainer (metal will harm the grains), cloth with rubber band to cover jar, measuring cup or bowl with pouring spout, swing top bottles - like these or these
Equipment
plastic mesh strainer

straining cloth

rubber band

measuring cup

swing top bottles
Ingredients
¼ to ⅓

cup

sucanat or organic white sugar

(avoid honey because it does not have the right composition of sugars to feed the kefir grains)

3

cups

purified water

(no fluoride or chlorine - these will kill the grains.)

2 to 3

tbsp

kefir grains

Where to buy kefir grains

1

squirt

Concentrace minerals or unsulphured blackstrap molasses

(Optional. Water kefir tends to do better in mineral rich water. Both of these are good sources of minerals - I'm not a fan of molasses flavor in my kefir)
Optional flavoring ideas:
3

slices

ginger

(I've found this makes my kefir extra fizzy for some reason)

½

lime

fresh mint

2 to 3

tsp

vanilla extract

(for a creamy soda experience)

dried mango or pineapple

(not preserved with sulphur)

cherry limeade / mango colada / blackberry lavender

(You can find recipes here)
Instructions
Dissolve Sugar In A Small Amount Of Hot WaterAdd 1/3 cup sucanat/sucanat to a quart-sized mason jar. Add the remaining 2 1/3 cup water.

Place 2/3 cup of water in a pan and heat until warm enough to dissolve the sucanat/sugar, then pour the water in the jar and stir until fully dissolved. (Or if you prefer, add the sugar to the pan and dissolve before transferring to the jar.)

Strain Kefir GrainsWhether your gathering your grains from a previous batch (as shown in the photo above) or using new grains recently hydrated in sugar water (instructions will be included when you order from the source above), you're going to need to strain them. My favorite method is to place my mesh strainer over a measuring cup and pour.

As the cup fills I pour it into swing top bottles for the second fermentation, which I'll cover later in this tutorial. Make sure to use a plastic mesh strainer as metal can harm the kefir grains.Here's what they look like up close:

Add Grains To Your Sugar Water Mixture. Boy do these things love converting sugar into probiotic goodness! Pictured on the right is a brand new batch of kefir that hasn't fermented yet. On the left is a finished batch - the color tends to lighten when they've done their magic.

Cover your new batch with a cloth secured by a rubber band. Place in a warm area of your kitchen (away from direct sunlight) and allow to ferment for 24-48 hours.

After one or two days, strain your kefir. Drink it right away, place in the fridge for later, or go on to add flavoring or ferment a second time to create a bubbly, soda-like fizz. Details below!

Optional Step: Add Flavorings To Water KefirIf desired, now is the time to make your soda a cherry limeade, cream soda, mango colada, etc. You can add the flavorings to your finished (single ferment) kefir and let them infuse in the fridge, or add them and ferment for a second time to create carbonated, bubbly goodness. See above in the ingredient section for a link to flavoring ideas.

Optional Step: Ferment A Second Time For Extra FizzinessIn order for your water kefir to become carbonated you need to place it in tightly sealed bottles. As the beneficial bacteria and yeasts continue to consume the sugar they release gases which carbonate the drink. As a side benefit, this kind of carbonation benefits digestion!I let mine sit for 1-3 days, depending on the temperature of my kitchen. Personally, I like to allow most of the sugar to be converted before serving, but you can pour a glass whenever the flavor develops to your preference!
Notes
Perfect summer treat for the whole family. Enjoy!
Nutrition
Calories:
0
kcal
|
Carbohydrates:
0
g
|
Protein:
0
g
|
Fat:
0
g
|
Saturated Fat:
0
g
|
Polyunsaturated Fat:
0
g
|
Monounsaturated Fat:
0
g
|
Trans Fat:
0
g
|
Cholesterol:
0
mg
|
Sodium:
0
mg
|
Potassium:
0
mg
|
Fiber:
0
g
|
Sugar:
0
g
|
Vitamin A:
0
IU
|
Vitamin C:
0
mg
|
Calcium:
0
mg
|
Iron:
0
mg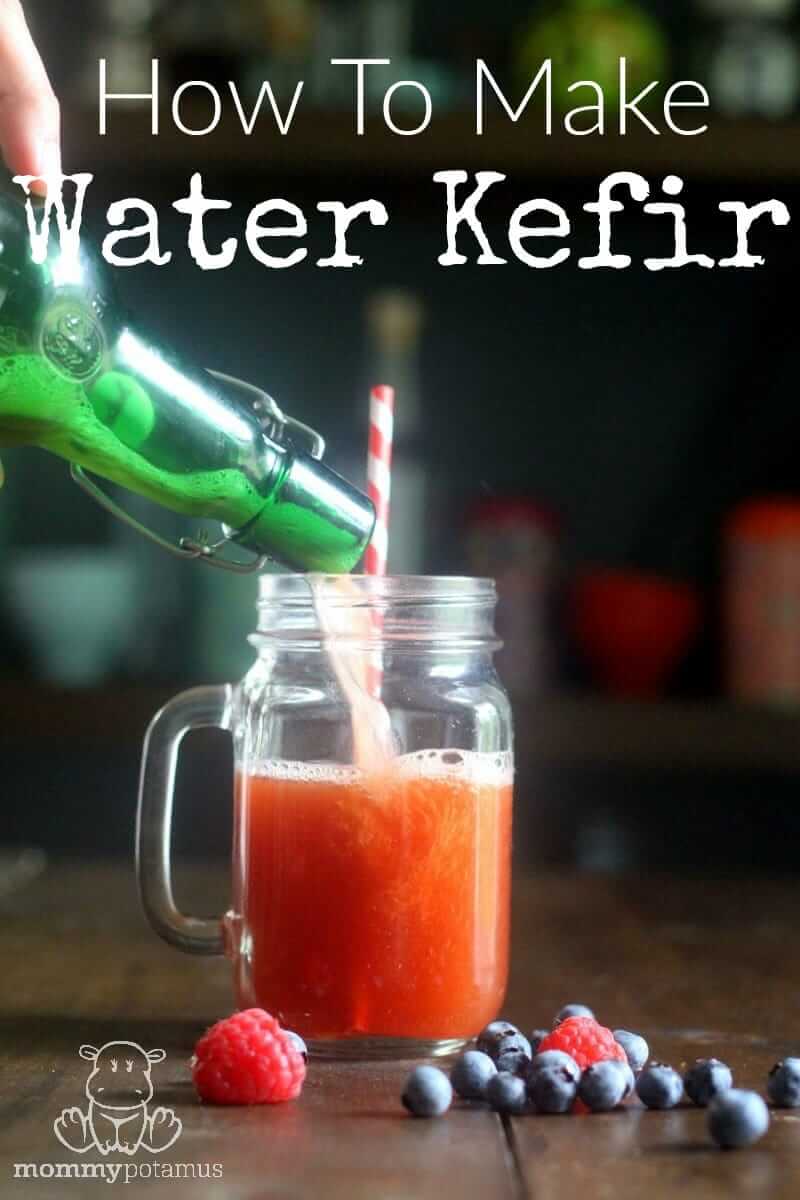 Special Notes
Make sure to check on your bottles often while you're getting a feel for how quickly the fermentation process goes in your environment, because if the pressure builds up you may end up spraying fizz all over yourself and your kitchen. Not that I would know that from personal experience or anything.
Also, it is possible to ferment with freshly pressed juices, but they yield a higher alcohol content than regular kefir, which contains a tiny amount. Please use caution when serving them to children, perhaps by fermenting them for a shorter amount of time. Also, second ferments are not recommended with juice kefir – pressure may build up very quickly, causing the bottle to burst.
More Refreshing Drink Recipes
Watermelon Limeade – This refreshing limeade recipe pairs beautifully with sunshine, laughter, and water of any kind – be it the sea, a pool, or a sprinkler.
Fruit and Herb Infused Water – Love squeezing lemon in your water but want to change things up a bit? I've put together four easy, delicious infused water recipes that use just herbs & fruit.
Lavender Lemonade – This lemonade is tart and sweet and perfect for relaxing in the backyard. If you want a bubbly version, try sparkling water instead of plain water.