If you're looking for a simple DIY gift that anyone will love, the fudgy, chewy goodness of this mason jar brownie mix is just the thing. Though it's pre-made like store-bought stuff, it's so much better than a box! I'd like to say the secret ingredient is love, but the fact that it only uses high-quality ingredients like real butter and pure cacao powder probably has something to do with it, too.
To make this recipe affordable (and also fit it into a pint-sized mason jar), I cut my easy brownie recipe in half and adjusted the preparation instructions.
However, if you'd like to go with a larger batch, the proportions for the original recipe will fit in a quart-sized jar. (Just make sure to use the ingredient amounts and baking instructions from the original post.)
There is nothing better than a friend, unless it is a friend with chocolate." ~ Linda Grayson
This brownie mix is easy to put together and makes a delicious gift for teachers, friends, grandparents, co-workers, neighbors, and whomever else you want to make smile. Put it in a cute mason jar and voila! You have an instant gift that just about everyone will love.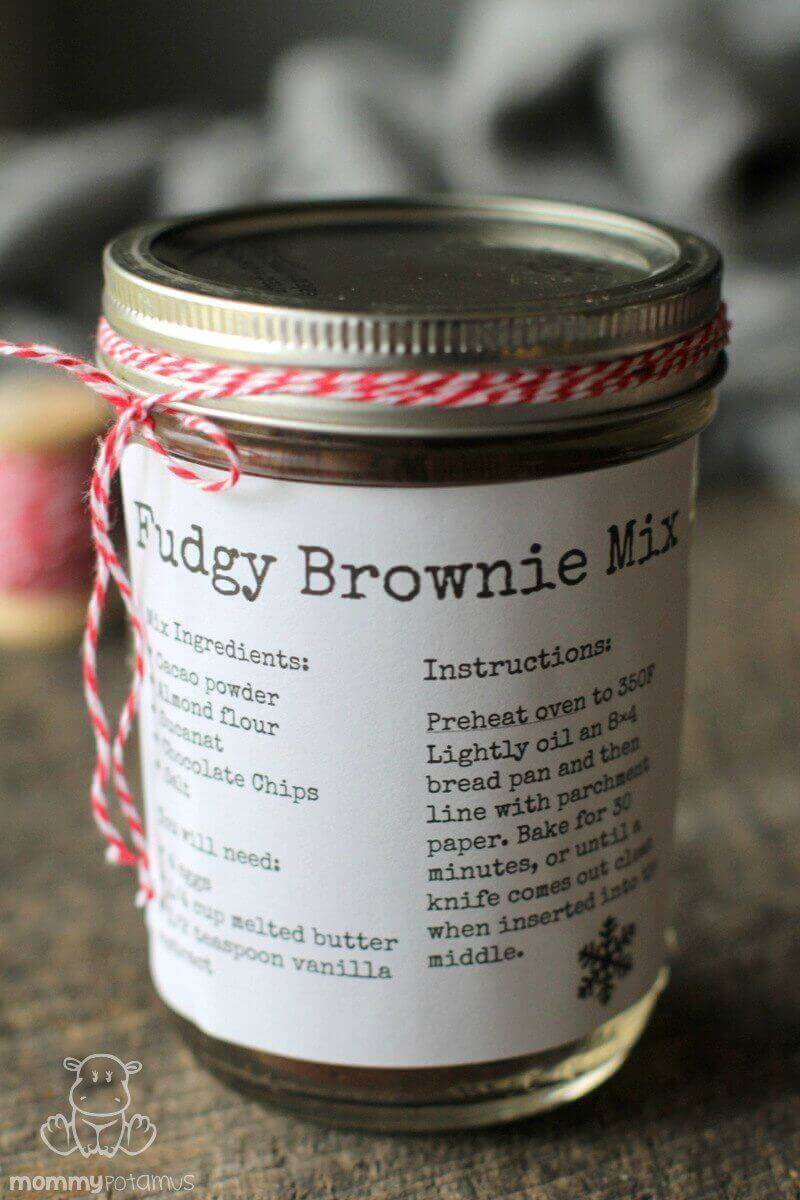 Mason Jar Brownie Mix (Gluten-Free, Paleo)
Instructions
PUTTING YOUR JAR TOGETHER
Combine cacao powder, almond flour, sucanat, salt and chocolate chips. Place in a half-pint mason jar and secure the lid. Attach decorative ribbon and a note that includes the ingredients and cooking instructions.
BAKING INSTRUCTIONS
Preheat oven to 350F

Add 6 tablespoons melted butter or coconut oil, 4 large eggs, and 1 teaspoon vanilla extract to baking mix. Combine well using a hand mixer or food processor.

Lightly oil an 8×4 bread pan and then line with parchment paper. Bake for 35-40 minutes, or until a knife comes out clean when inserted into the middle.
Notes
DECORATING YOUR JARTo decorate my jar, I hand-cut a tag using pinking shears, brown cardstock, and a hole punch, then wrote in the gift info and attached it with red and white bakers twine. Super easy! Put the following text on the front of the tag, and the baking instructions on the back.Fudgy Homemade Brownie MixIngredients: Cacao powder, arrowroot flour, sucanat, chocolate chips, sea salt.
Nutrition
Calories:
0
kcal
|
Carbohydrates:
0
g
|
Protein:
0
g
|
Fat:
0
g
|
Saturated Fat:
0
g
|
Polyunsaturated Fat:
0
g
|
Monounsaturated Fat:
0
g
|
Trans Fat:
0
g
|
Cholesterol:
0
mg
|
Sodium:
0
mg
|
Potassium:
0
mg
|
Fiber:
0
g
|
Sugar:
0
g
|
Vitamin A:
0
IU
|
Vitamin C:
0
mg
|
Calcium:
0
mg
|
Iron:
0
mg