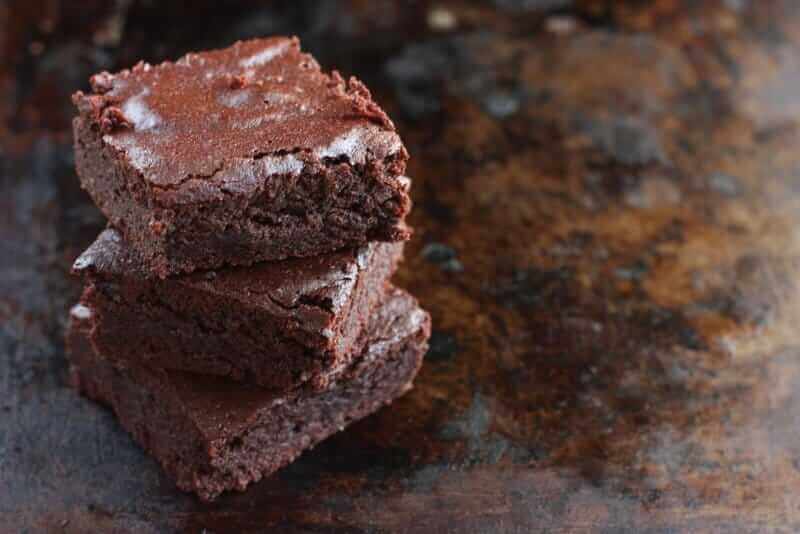 "But there were no food stores in the town of Chewandswallow. They didn't need any . . . The only thing that was really different about Chewandswallow was it's weather. It came three times a day at breakfast, lunch and dinner. Everything that everyone ate came from the sky."
~Cloudy With a Chance of Meatballs
This is just a guess, but I think EVERY adult has probably fantasized about dinner falling from the sky at one point or another. We get home, slap our keys on the counter, and then realize the meat we meant to take out is still in the freezer.
Oops.
Wouldn't it be great if a REAL mom wrote a REAL book for REAL families with REAL schedules who love REAL food? Yes, yes it would. And fortunately for you, it's already happened.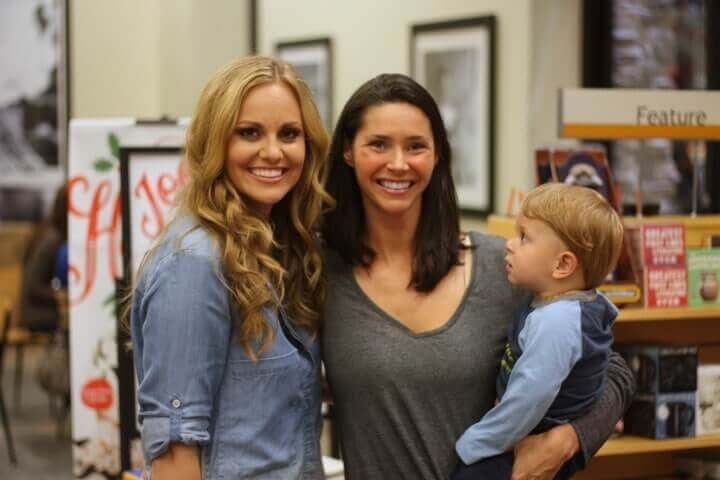 The lovable Danielle walker of Against All Grain recently released Meals Made Simple, a collection of paleo-friendly recipes for easy weeknight meals.
Danielle has graciously given me a recipe from the book to share with you today, but before I do that I need to gush a little . . . or a lot.
Why I Love This Book
Meals Made Simple is more than a survival guide for moms. It's an invitation to reclaim the joy of home-cooked dinners without the stress. How so? Well, for starters, it's got a section which shows a color coded list of:
All the recipes that can be made in 30 minutes or less (yes, please)
One-pot meals (for easy cleanup)
Slow cooker meals (to prep and forget)
If you have dietary restrictions, there's no need to thumb through each page looking for something your family can eat. Danielle has made it easy with an chart that identifies recipes that are egg, nut, or nightshade free – or all three, if that's what you need.
And as if that doesn't make things easy enough, she's also included an 8-week meal plan complete with shopping lists for each week.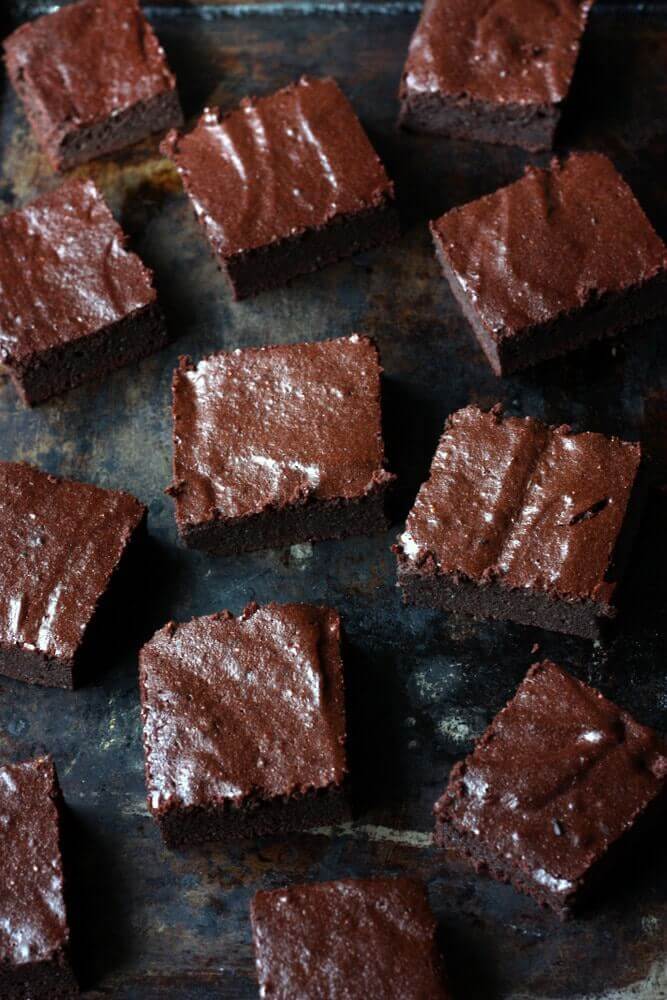 The recipes are a mix of old favorites from childhood – breakfast burritos, chicken and "rice" casserole, shortcut spaghetti, strawberry shortcake, and of course brownies – with some new stuff mixed in. I'm especially excited about the chicken tikka masala and fish tacos.
And now, how 'bout that recipe?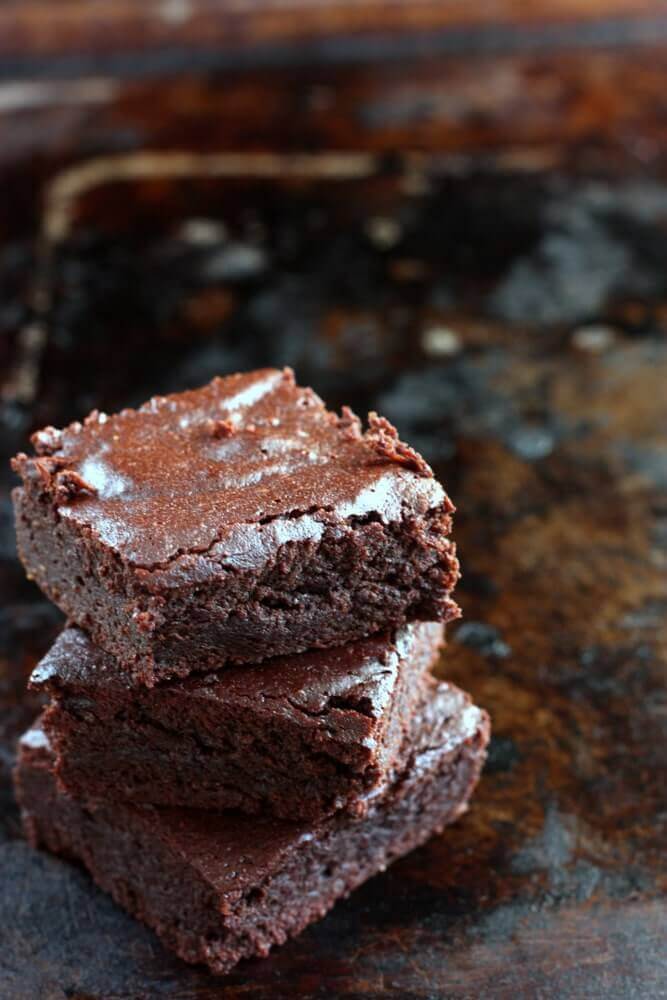 Fudgy Brownies
(In Danielle's Words)
There's a cake brownie, and there's a fudgy brownie. I love both, and the nut-free cake brownies from my first book are one of my favorites, but these fudge brownies are so rich and chewy, they make take the cake.
Fudgy Brownie Recipe From Against All Grain
Instructions
Preheat the oven to 350F. Lightly grease and 8-by-11-inch baking dish and place a piece of parchment paper in the bottom with flaps on the side for easy release.

Bring 1 inch of water in a saucepan to a boil. Reduce to a simmer and place a heatpoof glass or metal bowl over the top to create a double boiler. Slowly melt the palm shortening and the chocolate together, stirring constantly. Stir in the honey and vanilla, then remove from heat and let cool.

In a food processor, grind the coconut crystals, almond flour, coconut flour, arrowroot powder, salt and baking soda for 30 seconds.

Add the chocolate mixture and blend until smooth. Add 1 egg at a time, blending for 15 seconds between additions to fully combine.

Pour the batter into the prepared baking dish and bake for 35 to 40 minutes, until a toothpick comes out clean when inserted into the center. Allow to cool in the pan for 30 minutes, then release the sides with a knife and lift the brownies out of the pan with the parchment paper. Enjoy warm or let cool completely on a wire rack.
Nutrition
Calories:
0
kcal
|
Carbohydrates:
0
g
|
Protein:
0
g
|
Fat:
0
g
|
Saturated Fat:
0
g
|
Polyunsaturated Fat:
0
g
|
Monounsaturated Fat:
0
g
|
Trans Fat:
0
g
|
Cholesterol:
0
mg
|
Sodium:
0
mg
|
Potassium:
0
mg
|
Fiber:
0
g
|
Sugar:
0
g
|
Vitamin A:
0
IU
|
Vitamin C:
0
mg
|
Calcium:
0
mg
|
Iron:
0
mg