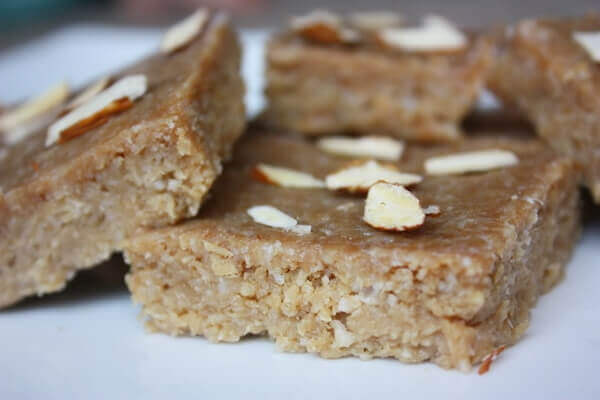 This cocoa-free blonde fudge is rich in wholesome fats, lauric acid (a nutrient found in mother's milk that is anti-viral, anti-bacterial, anti-microbial and anti-fungal), collagen replenishing copper plus manganese, phosphorous, iron, magnesium selenium and more.
Oh, and the "saturated fat in coconut is made up of short-chain and medium-chain fatty acids the body quickly turns into energy instead of storing as fat. Therefore, even though it's high in saturated fat, coconut can aid in weight loss."¹ The sucanat probably wont, though. 🙂
If you're into cooking with kids (which I am) this recipe is perfect. Pour everything into a pot and let them stir while you "supervise" (aka check Facebook).
Just one more thing: Leite de Coco is melt in your mouth fudgy goodness. You gotta try it!
Coconut Fudge Recipe
Total Time
1
hour
5
minutes
Ingredients
1

cup

milk

raw or not ultra-pasteurized

3

cups

full fat coconut milk

where to buy coconut milk

1

cup

sucanat or raw sugar

2

cups

unsweetened finely grated coconut flakes - use a coffee grinder if necessary

where to buy coconut flakes

1

teaspoon

vanilla

4

tablespoons

sliced pistachios or almonds

oil for baking dish
Instructions
Heat milk, coconut milk, sugar, coconut and vanilla to a boil in a medium saucepan over medium-low heat.

Reduce heat to low and simmer.

Cook, uncovered, until mixture becomes very thick and starts to leave the side of the pan, about 50 minutes to 1 hour. Stir often.

Transfer mixture to a lightly oiled 8-inch square baking dish/tray.

Sprinkle with nuts.

Cover and chill for 8 hours.

Cut into 1 inch diamonds or squares. Keep refrigerated until you're ready to serve.