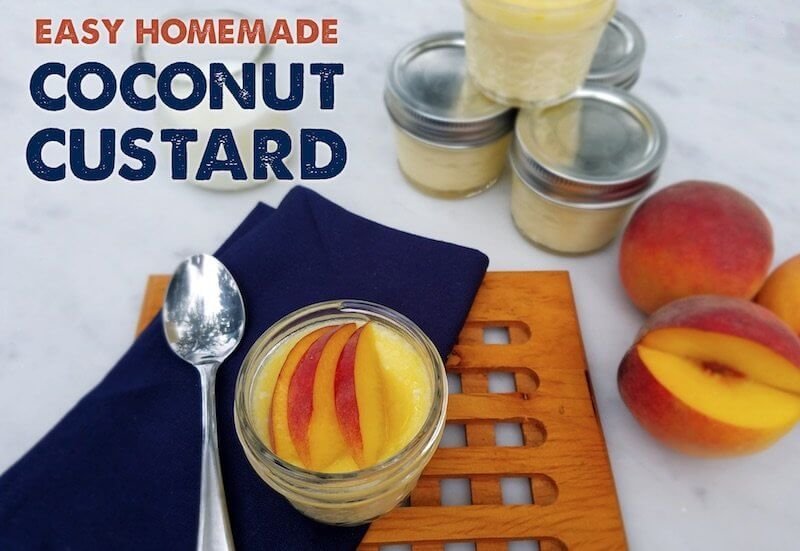 Scrambled or fried isn't the only way to enjoy eggs! This lightly sweetened baked custard is full of healthy fats and protein is surprisingly healthy (even for breakfast). Better yet, it's as easy to make as a smoothie or pancakes, and clean-up only involves washing out a blender!
Creme Brulee for Breakfast?
Whether you brulee this baked custard or not, am I really suggesting a dessert for breakfast?
If a delicious grain and dairy free breakfast with plenty of healthy proteins and fats is what you desire, yes!
Just mix, bake, top with fruit, and enjoy.
My kids love making this recipe especially since they took the Kids Cook e-course, and it's one dessert I'm ok with letting them have!
Is Baked Custard Healthy?
Eggs contains all 9 amino acids, making them a complete protein. They are also rich in vitamin D (if from pastured hens), selenium, some B vitamins, and certain key minerals.
A baked custard results when you add some milk (or coconut milk if dairy free) to eggs, along with a touch of maple syrup and vanilla. Bake in ramekins and eat warm, or chill in the fridge for a quick weeknight breakfast or snack.
Baked Coconut Custard Recipe
This baked custard makes use of milk and fresh eggs for part of a nutrient dense breakfast or a healthy dessert.
Instructions
Preheat the oven to 325°F.

Lightly grease five 4 ounce ramekins with butter and set aside.

If using egg yolks only, separate the egg whites from the egg yolks. Save the whites for another recipe.

Place the egg yolks, or whole eggs if using, in a medium size bowl.

Beat well.

Add all the remaining ingredients and whisk to combine. 

Pour an equal amount into each ramekin.

Place the filled ramekins in a glass baking dish.

Pour enough water into the baking dish, outside the ramekins, to fill about halfway.

Carefully place the baking dish filled with ramekins and water into the preheated oven.

Bake 40 minutes or until a butter knife inserted in the center comes out clean. 

Remove from the oven and allow to cool slightly before enjoying warm or putting in the refrigerator to chill completely. 

Refrigerate leftovers. 
Notes
This recipe uses 4 ounce ramekins or canning jars. If using larger ramekins, increase the cook time slightly.
You can drizzle the finished custards with a little more maple syrup for additional sweetness, top with fresh berries, or sprinkle with sugar and caramelize with a torch for a creme brulee. 
Nutrition
Serving:
1
(4 oz.) custard
|
Calories:
152
kcal
|
Carbohydrates:
9.5
g
|
Protein:
5.6
g
|
Fat:
10.1
g
|
Saturated Fat:
4.8
g
|
Polyunsaturated Fat:
0
g
|
Monounsaturated Fat:
0
g
|
Trans Fat:
0
g
|
Cholesterol:
265
mg
|
Sodium:
114
mg
|
Potassium:
0
mg
|
Fiber:
0
g
|
Sugar:
8.8
g
|
Vitamin A:
0
IU
|
Vitamin C:
0
mg
|
Calcium:
0
mg
|
Iron:
0
mg
Want more delicious, easy recipes?
No problem, I've created a free ebook for you – 35+ Gluten-Free Desserts – as a gift for signing up for my newsletter. Every Sunday you'll get recipes, actionable health tips, and highly-vetted product recommendations delivered fresh to your inbox.
Have you ever made baked custard? Have any tips?