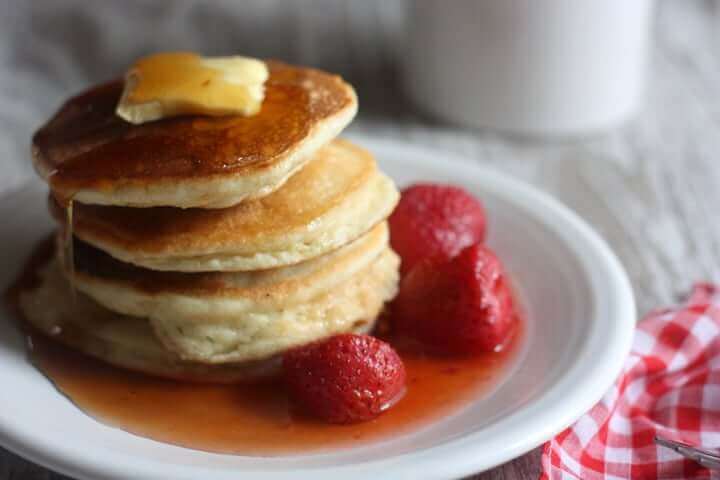 A short stack of these delicious – and most importantly easy – almond flour pancakes will load you up with protein, vitamin A, folate, magnesium, vitamin E and more. Though there are fancier recipes out there (like, um, banana chocolate chip pancakes), this basic version one of my favorites. We love them on busy weekday morning's or piled up high at a leisurely Saturday brunch.
Almond Flour Pancake Topping Ideas
Serve with the traditional butter and maple syrup, or if you want to mix things up give these a try:
Add bacon to the mix (goes great with our old friends, butter and maple syrup)
Top with homemade strawberry freezer jam
Chocolate chips (I like this brand)
Whipped cream and fresh berries
Sprinkled with cinnamon and honey
Almond butter with sliced bananas
Make a savory version with sour cream and salmon roe over the top
Cream cheese, smoked salmon and capers
Use the pancakes as sandwich rounds and fill them with bacon, eggs and cheese
There are tons of possibilities, so have fun and get creative!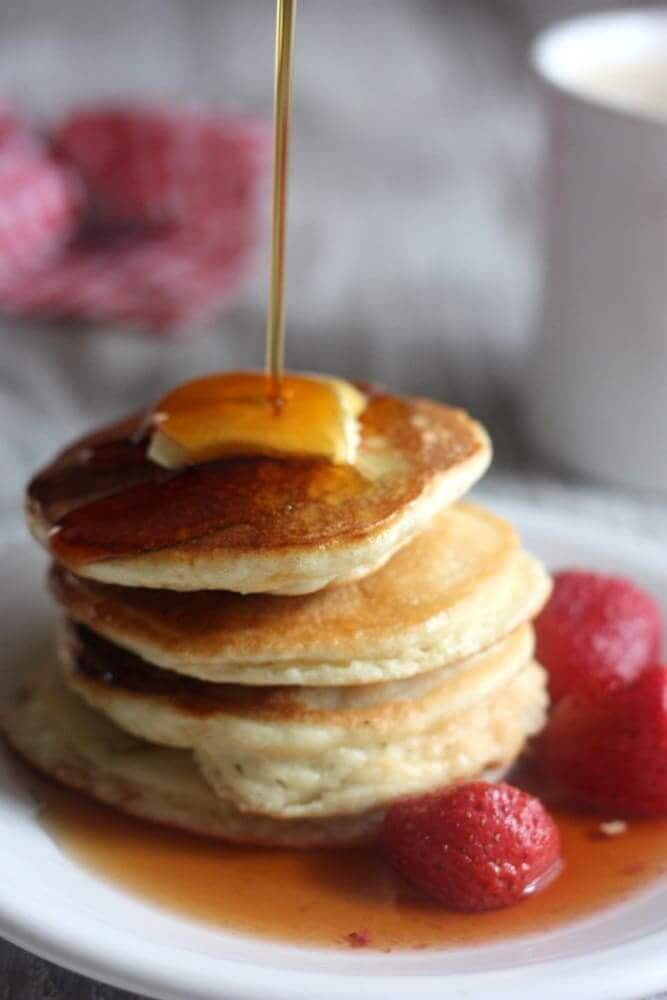 A Quick Note On Your Pan
If you want to ditch your non-stick cookware but don't want to give up perfect pancakes, hop over and check out this tutorial on breaking in a new cast iron pan. When properly seasoned, cast iron skillets work beautifully as an alternative to Teflon, and they don't release the six toxic gases that have been documented with synthetic non-stick coatings, some of which are potent enough to kill pet birds. (source)
I love my trusty cast iron skillet, and I'm so happy I made the switch.
Easy Almond Flour Pancakes
Servings
5
small pancakes
Equipment
2 medium bowls

measuring cup
Instructions
In a medium bowl, combine almond flour, baking soda and salt.

In a separate bowl, mix eggs and vanilla ingredients.

Pour egg mixture into the flour mixture and mix until there are no clumps

Heat ghee or coconut oil over medium heat cast iron skillet.

Pour ¼ cup batter into the skillet and cook for 1-2 minutes on the first side, then flip.
Nutrition
Carbohydrates:
0
g
|
Protein:
0
g
|
Fat:
0
g
|
Saturated Fat:
0
g
|
Polyunsaturated Fat:
0
g
|
Monounsaturated Fat:
0
g
|
Trans Fat:
0
g
|
Cholesterol:
0
mg
|
Sodium:
0
mg
|
Potassium:
0
mg
|
Fiber:
0
g
|
Sugar:
0
g
|
Vitamin A:
0
IU
|
Vitamin C:
0
mg
|
Calcium:
0
mg
|
Iron:
0
mg
Want More Recipes With Almond Flour?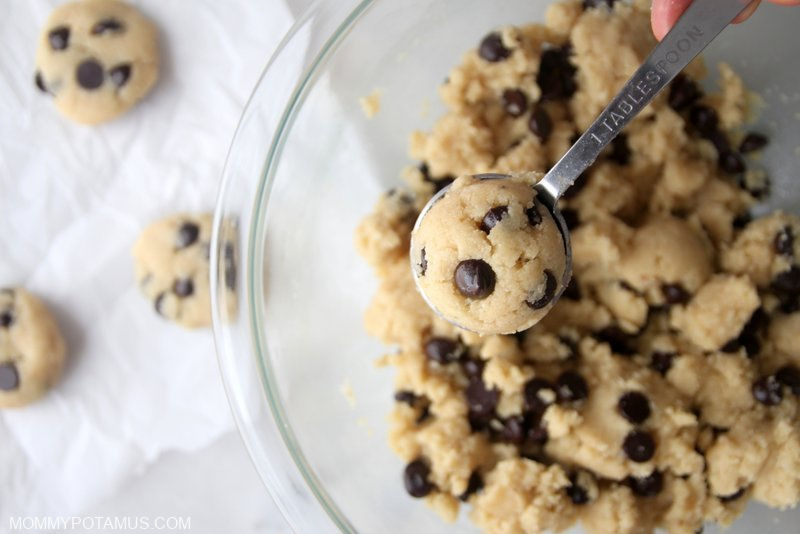 You can't get much better then a warm, ooey-gooey, chocolate chip cookie! This version made with almond flour is sure to be a favorite.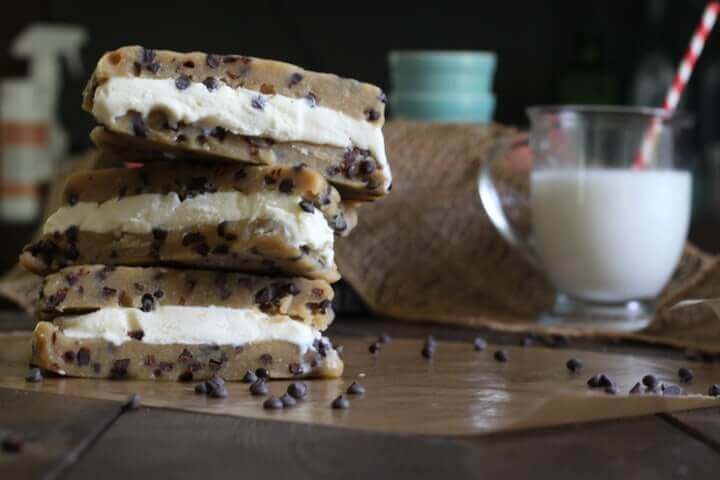 Everyone knows that the best part of making cookies is sneaking a little of the dough before it gets popped into the oven. Inspired by that moment of joy from childhood, this almond flour-based recipe pairs browned butter cookie dough with the creamy goodness of vanilla ice cream.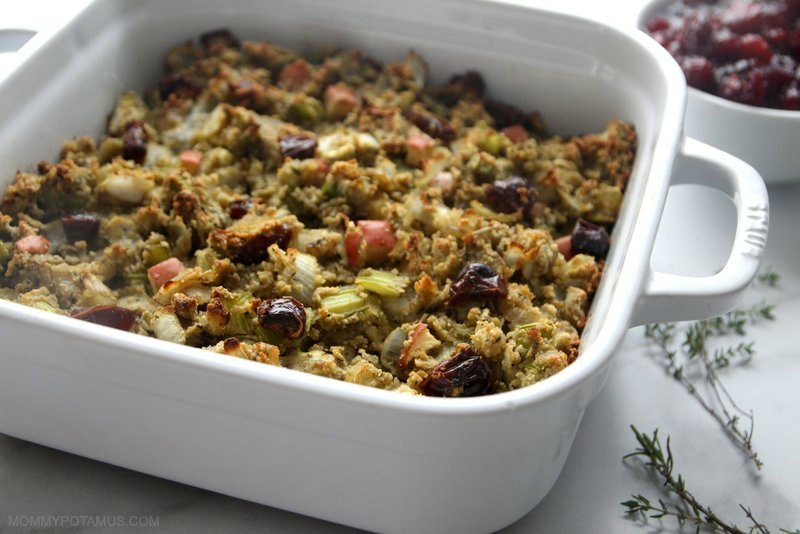 Savoury sage & sweet apples make this homestyle stuffing a delicious, grain-free alternative to traditional bread-based dishes.
Ruby red strawberries folded into cakey batter and topped with a crunchy, crumbly streusel. Get the recipe here.