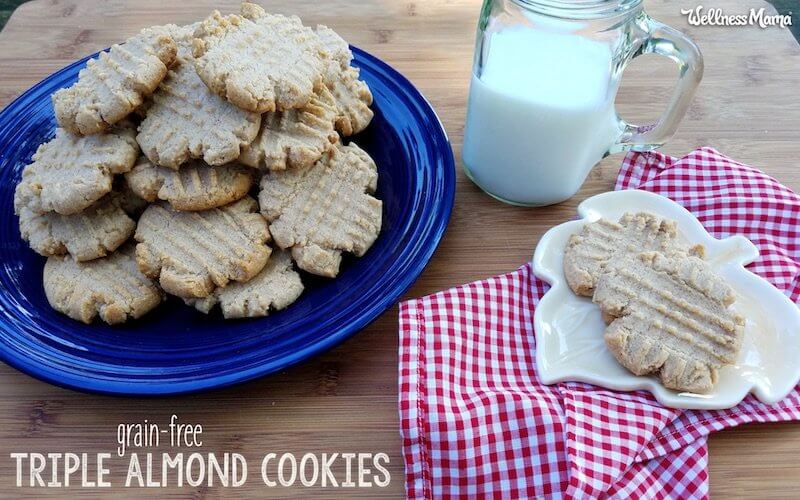 Like my grain free chocolate chip cookies, these gluten free almond butter cookies are a delicious treat.
Gluten Free Almond Butter Cookies
These gluten free almond butter cookies are similar to the traditional peanut butter cookie recipe with the criss-cross fork marks on the top. Except they're made with almond butter instead of peanut butter, and almond and coconut flour instead of conventional wheat flour.
And because the recipe already uses almond two ways, I figured why not use almond extract and make it three! I personally love the flavor of almond extract, but if you're not a fan, just leave it out and double the amount of vanilla extract instead (another favorite flavor!).
Shaping these cookies is a great job opportunity for little helpers to lend a hand in the kitchen. First, roll the dough into one inch balls and place them about 2 inches apart on a baking sheet. Then use the back of a fork and press the tines into the cookies in an X shape to make the classic cross hatch design.
And that's all there is to it! Pop them in the oven for 12 minutes and make sure to let them sit on the baking sheet for a couple minutes after coming out of the oven before moving them to a wire rack. This will give them a chance firm up a little so they don't crumble.
Grain Free Desserts
We don't have sweets too often around here. We tend to have fresh fruit, sometimes with a little whipped cream on top, when we do have dessert. However, every once in a while a special occasion calls for something extra special. Check out more dessert recipes here.
If you can't have nuts, give this post about alternate flours a quick read. Or maybe give these interesting cassava flour sugar cookies a try.
Triple Almond Cookies Recipe
These almond butter cookies are a gluten and peanut free version of the traditional criss-cross topped peanut butter version.
Instructions
Preheat the oven to 350°F.

In a mixing bowl, combine the butter or coconut oil and sugar and beat until fluffy and light colored.

Beat in the almond butter, egg, vanilla and almond extracts, and salt.

Stir in the almond and coconut flours.

Form the dough into 1 inch balls and place 2 inches apart on an ungreased cookie sheet.

Use the back of a fork to press down the cookies in a cross-hatch pattern.

Place in the preheated oven and bake for 12 minutes.

Let the cookies cool for 3 minutes before removing to a wire rack to finish cooling.
Notes
If you are not a fan of the flavor of almond extract, feel free to omit it and just double the amount of vanilla extract.
Nutrition
Serving:
1
cookie
|
Calories:
60
kcal
|
Carbohydrates:
6.4
g
|
Protein:
0.9
g
|
Fat:
3.6
g
|
Saturated Fat:
1.9
g
|
Cholesterol:
11
mg
|
Sodium:
35
mg
|
Fiber:
1.4
g
|
Sugar:
4
g
Do you have a favorite gluten free cookie recipe? Let me know below!