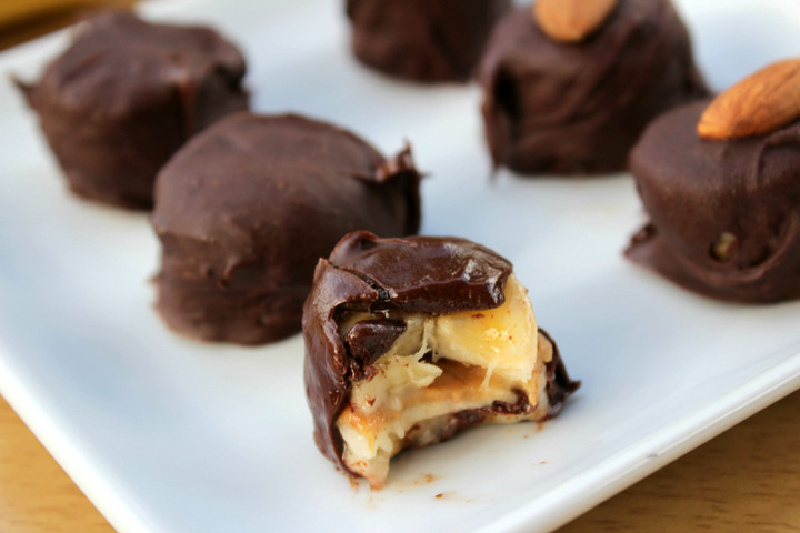 Note from Heather: Today's guest post comes from Katie of Girl Meets Nourishment. Thank you, Katie!
You know those "ice cream" bites that you can get at the supermarket . . . the chocolate covered miniature ones? What if I were to tell you that you can emulate those little ice cream bites with bananas . . . and they won't have a ton of additives or "mystery" ingredients in them. Plus, in addition to being cold, creamy and sweet, they're naturally dairy-free.
What are Banana Ice Cream Bites?
You may be familiar with banana ice cream recipes where you blend frozen bananas to make an ice cream. What's different about this recipe is that you don't have to blend the bananas at all. Using slices of bananas you can still get the same naturally sweet and creamy "ice cream" but in a bite sized piece. These are perfect for a crowd since they are already portioned and everyone loves them.
They'll satisfy any sweet tooth, whether you be a kid or a kid-at-heart! Also, feel free to customize the recipe to make it your own by adding toppings before or after you dip the bananas in chocolate. Nuts, coconut, and dried fruit are all great options.
Chocolate Almond Butter Frozen Banana Bites Recipe
Cold, creamy and naturally sweet, this recipe is perfect for kids . . . and kids at heart!
Servings
48
ice cream bites
Ingredients
5

bananas

1

cup

chocolate chips

½

cup

fillings & toppings

(optional: chopped nuts, nut butter, coconut flakes, or jam)
Instructions
Slice bananas and set aside.

In a double boiler, melt chocolate chips. If you don't have a double boiler, simply place a tempered glass bowl over a pan with a small amount of water in the bottom and heat, stirring occasionally until the chocolate is melted.

Spread a layer of almond butter or jam on half of the banana slices.

Place the remaining banana slices on top of the buttered/jammed slices.

Use a fork to dip each banana sandwich into the melted chocolate, allowing the excess to drip off before placing on a parchment lined baking sheet.

Freeze 3-4 hours before eating straight from the freezer!
Notes
Try sprinkling chopped nuts or coconut flakes on top of the chocolate dipped bananas before freezing.
Nutrition
Serving:
1
ice cream bite
|
Calories:
45
kcal
|
Carbohydrates:
5.3
g
|
Protein:
0.5
g
|
Fat:
2.8
g
|
Saturated Fat:
2.2
g
|
Polyunsaturated Fat:
0
g
|
Monounsaturated Fat:
0
g
|
Trans Fat:
0
g
|
Cholesterol:
0
mg
|
Sodium:
2
mg
|
Potassium:
0
mg
|
Fiber:
0.9
g
|
Sugar:
3.2
g
|
Vitamin A:
0
IU
|
Vitamin C:
0
mg
|
Calcium:
0
mg
|
Iron:
0
mg
Summer Dessert Recipes To Try
Dairy-Free Butter Pecan Ice Cream – Made with toasted pecans, maple syrup instead of brown sugar, and homemade dairy-free caramel sauce, this recipe has the smooth, buttery flavor I grew up loving . . . just without the butter.
Dairy-Free Mint Chocolate Chip Ice Cream – Creamy and minty with just the right amount of chocolatey goodness, this dairy-free mint chocolate chip ice cream has the smooth, rich texture of the real deal.
Strawberry Crisp – With a scrumptious crisp topping layered over a juicy, thick strawberry filling, this strawberry crisp recipe is both easy and delicious.
Lemon Mousse – Made with lemon curd and whipped cream or coconut cream, this lemon mousse recipe is light, fluffy and melt-in-your mouth delicious.
Peach Cobbler – This gluten-free cobbler can be eaten warm or chilled. Really, you really can't go wrong with cobbler. 
Blueberry Crisp – Made with an irresistible crisp topping layered over a juicy, thick blueberry filling, this blueberry crisp recipe is as easy to make as it is delicious.
Want more delicious, easy recipes?
No problem, I've created a free ebook for you – 35+ Gluten-Free Desserts – as a gift for signing up for my newsletter. Every Sunday you'll get recipes, actionable health tips, and highly-vetted product recommendations delivered fresh to your inbox.
Sign up using the form below.
Do you ever freeze bananas? What do you do with them?