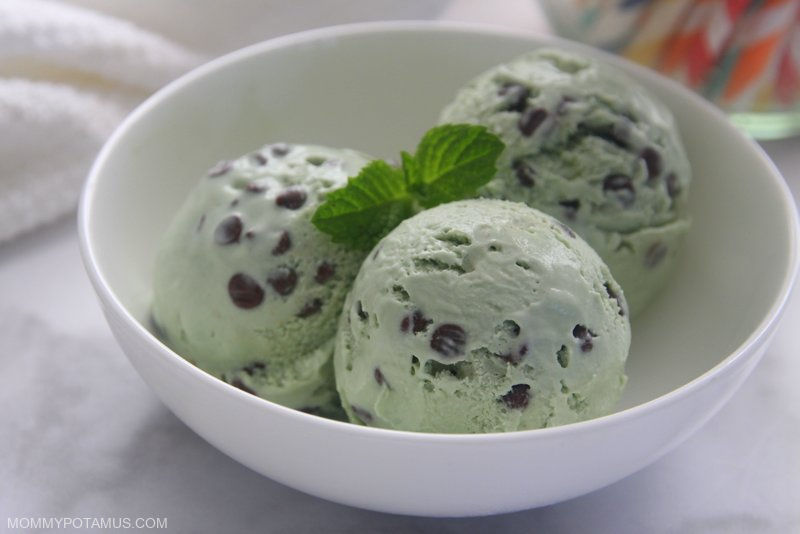 No Blue #1 and Yellow #5 here . . just real deal, mint chocolate chip ice cream made from wholesome ingredients. Creamy and minty with just the right amount of chocolatey goodness, this recipe was a bit of an accident. I was trying to make a grasshopper or shamrock smoothie, but the result was so impossibly creamy and light that it practically begged to be thrown in the ice cream maker so it could reach it's full potential.
Unlike my grownup coffee ice cream, it's perfect for kids of all ages. It's dairy-free and egg-free as well, which makes it perfect for those with food sensitivities. My family consumes both eggs and dairy – we love on a homestead and raise both chickens and dairy goats – but we didn't miss them one bit in this recipe. I hope you love it as much as we do!
And also, if you need a dairy-free vanilla ice cream recipe, this one is made with coconut milk.
Mint Chocolate Chip Ice Cream Recipe (Dairy-Free, Egg-Free)
Instructions
Measure out two tablespoons of coconut milk. Add gelatin to coconut milk and set aside (It needs time to soften and absorb liquid.)

Warm remaining coconut milk in a small pot, then whisk in gelatin mixture.

Allow liquid to cool, then add it and the rest of the ingredients - except the chocolate chips - to a blender and process until smooth.

Pour mixture in an ice cream maker along with the chocolate chips and churn according to manufacturers instructions. Enjoy right away as a soft-serve, or transfer to a container and place in the freezer until firm. (If left in for a long time you may need to let it soften at room temperature for about 20 minutes before scooping.)
Nutrition
Calories:
0
kcal
|
Carbohydrates:
0
g
|
Protein:
0
g
|
Fat:
0
g
|
Saturated Fat:
0
g
|
Polyunsaturated Fat:
0
g
|
Monounsaturated Fat:
0
g
|
Trans Fat:
0
g
|
Cholesterol:
0
mg
|
Sodium:
0
mg
|
Potassium:
0
mg
|
Fiber:
0
g
|
Sugar:
0
g
|
Vitamin A:
0
IU
|
Vitamin C:
0
mg
|
Calcium:
0
mg
|
Iron:
0
mg