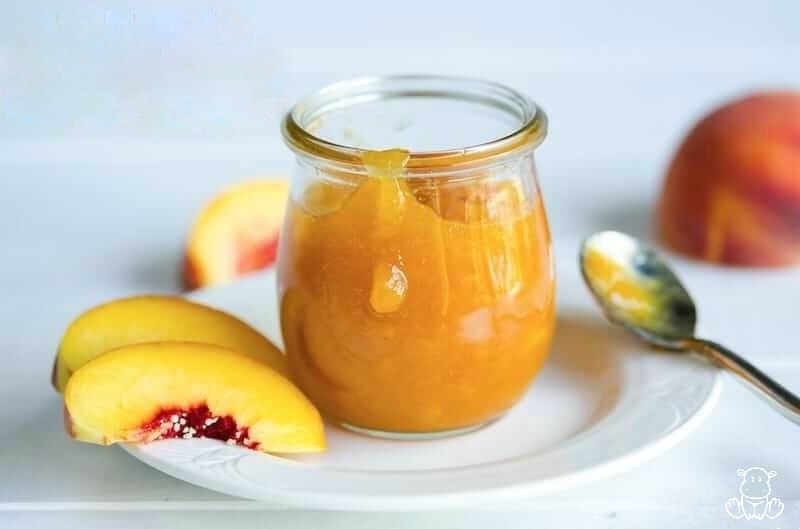 Sweet as peaches. Peachy keen. Just peachy. <— For one little stone fruit, peaches truly have worked their way into our hearts and our sayings, haven't they? (Seriously, try googling apricot – totally not the same.)
This peach freezer jam is one of my favorite ways to capture the flavor of juicy peaches at the peak of freshness and flavor and – like most of my recipes – it's super easy to make.
That's right, you won't need any pectin or special canning equipment to create the sweet, sticky goodness that is this peach jam. It's delicious slathered on homemade biscuits or brushed onto a whole roasted chicken as a glaze. There are so many other yummy ways to use it, though. (I'll include more suggestions and recipe links later in this post.)
But first, you might be wondering . . . .
What is Freezer Jam?
Basically, it's homemade jam that doesn't require hot water bath canning like shelf-stable jam. It can be made pretty quickly from fresh fruit, a sweetener of some kind, and sometimes pectin, and is stored in the fridge or freezer.
If you're like me and like to save money by buying in bulk at farmer's markets, this is an easy way to use up extra fresh fruit that might otherwise go to waste. It makes a great hostess or housewarming gift, too!
Ways to Use Peach Freezer Jam
This peach freezer jam certainly isn't an everyday food, but for an occasional treat, it's amazing. Here are some ideas for serving it:
Easy Peach Freezer Jam Recipe (No Pectin)
An easy recipe for using up fresh peaches. This recipe is a perfect way to add a bit of sweet to your meal.
Equipment
Paring knife

small saucepan

tablespoon

spatchula

glass jar
Ingredients
3

cups

fresh peaches

peeled and cut into chunks

1/3

cup

honey

(mild, light-colored honey works best)

2

tablespoons

lemon juice

natural yellow food coloring

(Optional – Some darker honeys can make the jam a little brownish, so if you want to you can brighten up with a few drops of food coloring)
Instructions
Peel the peaches with a paring knife, then cut them into chunks. (Feel free to nibble on the skins while you work!)

Place peaches in the food processor and pulse until they are the peaches are a little chunkier than the final consistency you prefer. The chunks will break down into slightly smaller pieces as the jam simmers. If you don't have a food processor, place the peaches in a large bowl and use a potato masher instead.

Transfer the peaches to a small saucepan.

Add the honey and 1 tablespoon lemon juice and bring to a simmer. Simmer for 15-25 minutes, stirring occasionally until the jam is ready. When your mixture has been simmering for about 15 minutes, begin stirring more frequently.

How to know the jam is ready: Look for "lag time" when you draw your spoon/spatula through the bottom of the pan. Before it's ready the space created by your spoon will fill quickly. As it thickens it will fill more slowly. Your jam is ready when it take a couple of seconds to refill after you draw your spoon through. Don't worry, it will thicken more as it cools.

Remove the jam from heat and stir in the remaining tablespoon of lemon juice.

Allow the jam to cool to room temperature, then scoop it into a jar and place it in the fridge. If you want to transfer it to the freezer, make sure to leave a little head space at the top and allow it to chill in the fridge first for a few hours before transferring.

Store in the fridge for up to two weeks or the freezer for up to six months.
Nutrition
Serving:
1
TBSP
|
Calories:
33
kcal
|
Carbohydrates:
9
g
|
Protein:
1
g
|
Fat:
1
g
|
Saturated Fat:
1
g
|
Sodium:
1
mg
|
Potassium:
59
mg
|
Fiber:
1
g
|
Sugar:
8
g
|
Vitamin A:
94
IU
|
Vitamin C:
3
mg
|
Calcium:
2
mg
|
Iron:
1
mg
Frequently Asked Questions
Can I use frozen peaches?
Yes! They don't tend to be as ripe as fresh peaches and therefore may need to be cooked a little longer to get a smooth consistency, but they will definitely work.
Is it okay to freeze glass jars?
Using the method I described above  – leaving a little head space at the top and chilling the jam in the fridge before transferring it to the freezer – I've never had a glass jar of jam break. However if you prefer plastic containers, they'll work, too.
Want More? Easy Jam Recipes To Try
Strawberry Freezer Jam – I called this recipe "Summer In a Jar," because every bite is infused with ripe strawberries and sticky sweetness. If you're curious about working with pectin you'll find instructions for using it, but it's totally optional and you don't need it to make a delicious batch.
Elderberry & Strawberry Jam – Do you make elderberry syrup? With a few quick additional steps, you can make a jar of syrup AND jam for just .000001% more effort.
Blackberry Jam – This jam is so easy! You just need four simple ingredients and about 10 minutes of hands-on time to make it.
Have you ever tried making freezer jam? What's your favorite flavor?