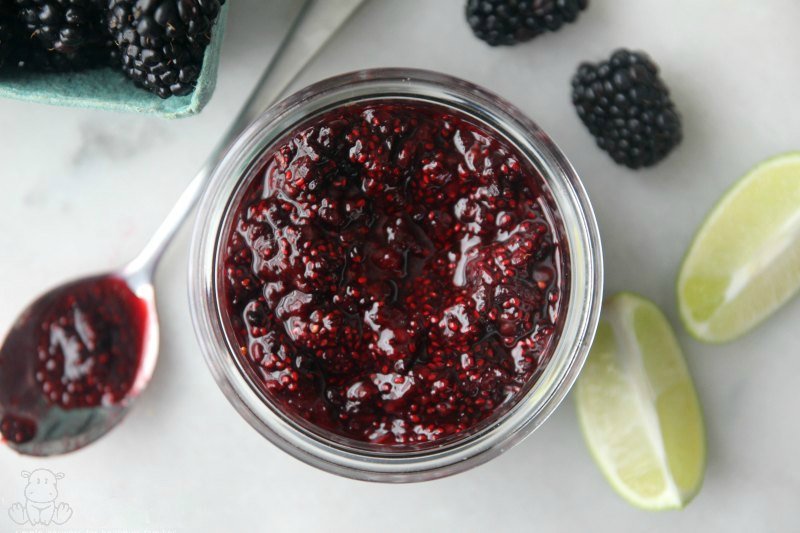 Sweet and tart with just a hint of lime, this blackberry jam is perfect when served with biscuits, pancakes or – if you're like my mom's childhood horse – a pile of bread thrown onto the floor.
So, about that horse: When my mom was little she developed a serious case of pneumonia that left her bedridden for months, and my grandmother hatched a plan to lift her spirits . . . by bringing her favorite shetland pony into her bedroom for a quick visit.
I know what you're thinking. You're jealous you've never thought of bringing a horse into the house, right? NO? Okay, well, now at least you know where I get some of my weirdness from.
Anyway, my grandmother's plan worked. My mom, who had been struggling to recover, turned a corner and all was well. Except, um, Ginger the horse decided she quite liked it indoors and proceeded to break in multiple times, open the kitchen breadbox, and help herself to its contents along with jars of jam she found on the counter.
And who could blame Ginger? Jam is amazing. I mean, you don't get quotes like this about Vegemite paste.
Happiness is like jam. You can't even spread a little without getting some on yourself."
In addition to biscuits, we love it on thumbprint cookies or swirled into overnight oats or homemade coconut yogurt.
Of course, jam is even more delicious when it's made with love using wholesome ingredients, but some recipes are tedious and time consuming. That's why as a busy mom I was thrilled a few years ago when I discovered a way to cut my hands-on time in half.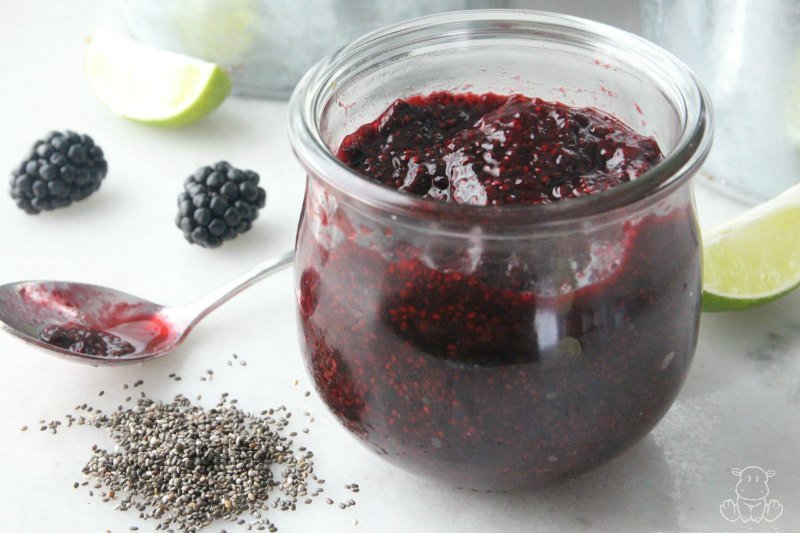 Chia Seeds: The Secret To Quick & Easy Jam
Rich in alpha-linolenic and linoleic acid, protein, fiber, Vitamins B and E, betacarotene and minerals such as calcium, phosphorus, potassium, sulphur, iron, iodine, copper, zinc, sodium, magnesium, manganese, niacin and thiamine, these little seeds help the jam thicken with significantly less cooking than is usually needed.
If you're looking for an easy kitchen project to do with little helpers, this is definitely a good one. It's as simple as dumping some things in a pot and stirring, which means not much can go wrong even if you have to answer lots of questions in the process and/or fish the random spoon out.
How To Make Blackberry Jam With Chia Seeds
Makes approximately 1 cup jam.
Ingredients
2

cups

fresh or frozen blackberries

(warmed to room temperature)

6

tbsp

maple syrup

(or raw honey)

2

tsp

lemon or lime juice

2

tbsp

chia seeds
Instructions
Place blackberries, honey/maple syrup, and lemon/lime juice in a saucepan and mash them until they are the consistency you prefer. I like a few large pieces left in my jam, so I go light on this step. The mixture will be very liquid – that's okay!

Place mixture in a small pot and bring to a boil, then reduce temperature to low and simmer for 10 minutes.

When the mixture is done simmering, remove the pot from heat and stir in the chia seeds. Place the jam in the refrigerator for at least one hour to thicken before serving.
Notes
* Frozen and thawed blackberries come with their own juice, but fresh ones may or may not create much juice when mashed. If needed, add 2-3 tablespoons of water to the pan when using fresh blackberries.
Nutrition
Calories:
567
kcal
|
Carbohydrates:
119
g
|
Protein:
8
g
|
Fat:
9
g
|
Saturated Fat:
1
g
|
Sodium:
18
mg
|
Potassium:
834
mg
|
Fiber:
24
g
|
Sugar:
86
g
|
Vitamin A:
615
IU
|
Vitamin C:
64.4
mg
|
Calcium:
366
mg
|
Iron:
3.6
mg
Blackberry not your jam? Here are some other recipes to try: