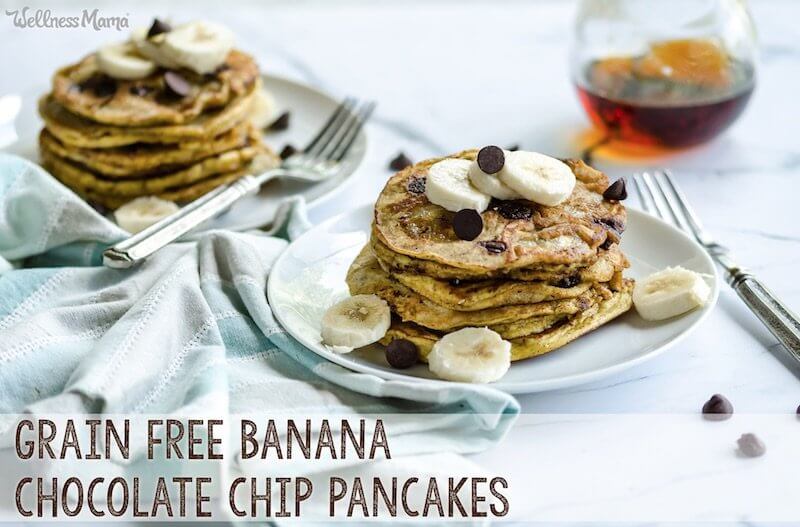 Many of us grew up eating a bagel, donut, bowl of cereal, or other grain-based, high-carb breakfast. When transitioning away from grains, it can be hard to find something to eat for breakfast. But giving up grains doesn't mean you have to give up fun breakfasts altogether. These grain-free banana chocolate chip pancakes are a perfect (healthy!) choice when you want something sweet for breakfast.
Why Grain-Free Pancakes?
There's a lot of discussion and differing ideas about whether grains are okay to eat or not. Some experts say we shouldn't eat grains since they are a relatively new addition to the human diet. Others say that grains have been a large part of our diet for thousands of years. The truth is, modern grains aren't what they used to be, so both points of view might be true. Grains are different in the following ways:
Processing has changed. Instead of grinding the whole grain into flour, we can now use only the starchy part to make white flour. This flour is much more widely available and inexpensive, but it's also lower in nutrients.
Agronomists created new types of wheat that can yield more on less acreage. When a plant is hybridized for one attribute it is usually less desirable for others. In this case, wheat became less nutritious.
Grains are prepared differently than they were in the past. Most traditional cultures prepared grains by soaking, sprouting, and fermenting them. This helps reduce phytates that block nutrient absorption.
Many people who can't tolerate grains in the U.S. are fine with them when they travel abroad. Many people who can't tolerate grains in the U.S. are fine with them when they travel abroad. This may be because in the U.S. glyphosate is sprayed on wheat before harvesting. Glyphosate is banned in many other countries so it would make sense that grains would be less problematic abroad.
Additionally, grains, especially white flour, can cause blood sugar spikes. There are no nutrients in grains that we can't get from other sources. Because so many people have trouble with grains (and may not know it), it may be best to avoid grains.
That's why I created this recipe that uses grain-free flours. The end product is similar in texture to white flour pancakes. But these pancakes are much lower in carbs and won't cause any grain-related health issues.
Want More? Similar Recipes to Try
Almond Flour Pancakes – These almond flour pancakes are simple enough for busy weekday mornings, but they're great for a leisurely Saturday brunch, too.
Buckwheat Pancakes– Did you know that buckwheat is not a grain, but a fruit seed that is related to rhubarb? If you're avoiding grains – or even if you aren't – you should totally give these a try.
I'm also excited to try these cashew pancakes from Everyday Maven!
Banana Chocolate Chip Pancake Recipe (Grain and Gluten Free)
A fun, grain-free recipe for special breakfasts. This recipe is tasty and simple to make.
Servings
8
-10 small pancakes
Instructions
In a medium size bowl, whisk together the eggs, milk, vanilla, and honey.

In a separate bowl, mix together the flours, baking soda, and salt.

Pour the flour mixture into the egg mixture and whisk to mix.

Let the mixture rest for 3-5 minutes to let the coconut flour soak up some of the moisture.

While the batter is resting thinly slice the banana and set aside.

Heat and grease a skillet or griddle over medium high heat.

Mix the batter again, and make the pancakes by using a ¼ cup measure to pour the  batter.

Once the pancake begins to bubble, place a couple of slices of banana and a sprinkle  of chocolate chips on top.

Carefully flip the pancake over, and cook for another minute until the pancake has fluffed up and feels slightly firm.
Notes
These are best eaten immediately, but if you have leftovers you can warm them in a toaster the next day.
Nutrition
Serving:
1
pancake
|
Calories:
68
kcal
|
Carbohydrates:
7.7
g
|
Protein:
3
g
|
Fat:
3
g
|
Saturated Fat:
1.2
g
|
Polyunsaturated Fat:
0
g
|
Monounsaturated Fat:
0
g
|
Trans Fat:
0
g
|
Cholesterol:
55
mg
|
Sodium:
162
mg
|
Potassium:
0
mg
|
Fiber:
1.9
g
|
Sugar:
3.7
g
|
Vitamin A:
0
IU
|
Vitamin C:
0
mg
|
Calcium:
0
mg
|
Iron:
0
mg
What are your favorite kinds of pancakes?