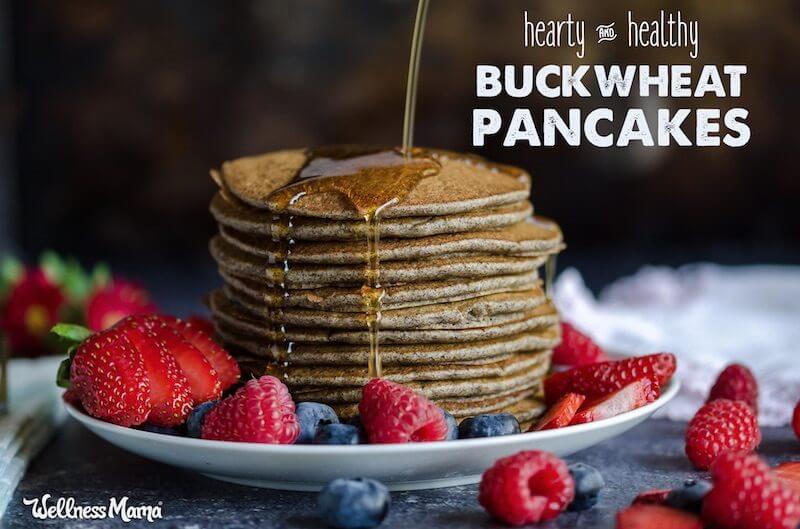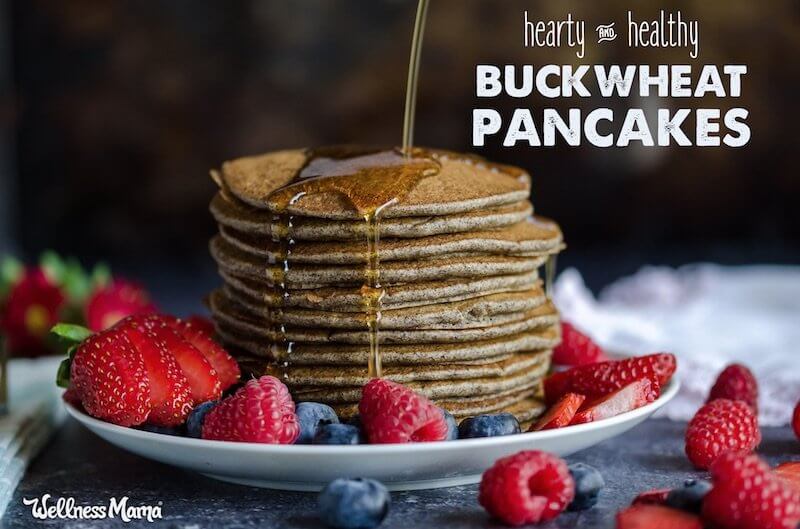 I've used buckwheat hulls to make relaxing, natural pillows for my family, but I haven't spent much time using buckwheat in recipes until now. Buckwheat is a popular choice for gluten free pancakes since it's naturally gluten free and usually works well for those with celiac disease. These buckwheat pancakes are light, airy, and delicious and are perfect for a crowd.
What Do Buckwheat Pancakes Taste Like?
Buckwheat pancakes are lighter than wheat pancakes but also have a distinct flavor. Buckwheat flour is a whole grain flour, so it has a richer flavor than white flour does. Some describe this flavor as nutty or earthy. Some call the flavor bitter. However, many people love the texture and taste of buckwheat pancakes. The addition of a sweetener helps to mellow out the bitter or earthy flavor and makes these pancakes a tasty breakfast treat.
Is Buckwheat Healthy?
Buckwheat is a naturally gluten free ancient grain that contains a number of important nutrients.
Buckwheat contains:
magnesium
phosphorus
niacin
zinc
iron
B vitamins
Buckwheat also contains highly digestible protein and antioxidants. But buckwheat (and other grains) contain anti-nutrients, such as phytic acid. These anti-nutrients can block absorption of important nutrients.
That's why soaking and sprouting are so important. Soaking and sprouting grains in an acid medium helps break down some anti-nutrients. This can improve the bioavailability of vitamins and minerals.
It is possible to buy flours that are already soaked and sprouted. However, if the buckwheat flour you are using hasn't been soaked, don't worry. It's easy to do and the recipe below includes instructions for it (though it does require an overnight soak, so make sure you plan ahead!).
It's true that soaking and sprouting can improve buckwheat's nutrient profile, but the nutrients in buckwheat can be found elsewhere (and in larger amounts).
Bottom Line: These buckwheat pancakes are a healthier choice than "regular" pancakes but should still be an occasional treat rather than an everyday breakfast food.
Want More? Recipes to Try
If you're looking for more breakfast ideas, try one of these breakfast recipes:
All my favorite breakfast recipes can be found here. Enjoy!
Buckwheat Pancakes Recipe
A naturally gluten free take on a traditional pancake. These are light, delicious, and perfect for your pancake lovers.
Instructions
Soaked Flour Version:
If you are not using sprouted flour, you will need to soak your flour the night before. To do this, mix together the buckwheat flour, lemon juice (or other acidic medium), and water in a medium mixing bowl. Cover with a towel and leave overnight.

The next morning whisk in the remaining ingredients.

Cook the pancakes on a griddle or skillet over medium heat, waiting until they bubble before flipping.
Sprouted Flour Version:
If you are using flour that is already sprouted simply whisk together all the ingredients, omitting the lemon juice.

Cook the pancakes on a griddle or skillet over medium heat skillet, waiting until they bubble before flipping.
Notes
This batch makes enough pancakes to feed my family of 5 for 2 breakfasts. I usually freeze half!
Nutrition
Serving:
1
pancake
|
Calories:
121
kcal
|
Carbohydrates:
9.3
g
|
Protein:
2
g
|
Fat:
8.7
g
|
Saturated Fat:
5.1
g
|
Polyunsaturated Fat:
0
g
|
Monounsaturated Fat:
0
g
|
Trans Fat:
0
g
|
Cholesterol:
48
mg
|
Sodium:
171
mg
|
Potassium:
0
mg
|
Fiber:
1
g
|
Sugar:
4.7
g
|
Vitamin A:
0
IU
|
Vitamin C:
0
mg
|
Calcium:
0
mg
|
Iron:
0
mg
If this recipe sounds amazing, share with a friend!