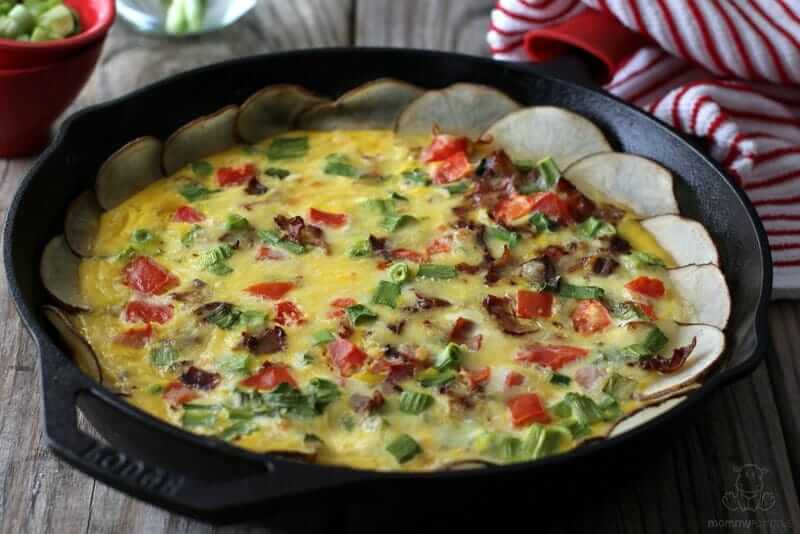 Stop waiting for Friday, for summer, for someone to fall in love with you, for life. Happiness is achieved when you stop waiting for it and make the most of the moment you are in right now." -Unknown
A leisurely Saturday morning breakfast almost feels like a holiday to me. Being with the people I love, pancakes, sausage, COFFEE. Playing a board game or mapping out plans for the day.
I love it, which is why I've been looking for ways to incorporate a little bit of "Saturday" into each morning. Slow cooker "baked" apples with salted caramel and this easy quiche recipe are two of my favorite ways to make that happen. They require very little "hands-on" time, but they add a sense of occasion to our morning meal.
Easy Bacon, Tomato, and Green Onion Quiche
The crust for this tasty quiche is made from thinly sliced potatoes. I prefer to avoid most grains and like the added fiber, potassium, and Vitamin C from the potatoes. I cook the bacon in the pan first, then remove it and arrange the potato slices along the bottom and sides. It looks lovely and tastes delicious.
I then whisk together all the filling ingredients, pour them over the potatoes, and pop the whole thing in the oven to cook. It's a healthy, filling, and delicious home cooked meal, with minimal time spent in the kitchen.
As a bonus, I usually have enough quiche left over for a simple lunch, which means more time to do something fun with my kids… or sneak away for a few minutes alone!
This recipe can be made in a cast iron skillet from start to finish, which means there's only one pan to clean.
If you don't have one, though, I've also included instructions for making it in two pie pans.
More Delicious Breakfast Ideas
If you'd like some more healthy and delicious breakfast ideas, try one of these:
Easy Overnight Oats – With endless flavor options and a delicious creamy consistency, this

overnight

oats

recipe is the perfect make-ahead breakfast for busy mornings.
Spiced banana walnut muffins ready to pop in the oven in 5 minutes
This baked pumpkin oatmeal requires soaking the oats the night before, but the casserole comes together quickly the next day and is very hearty
I haven't tried it yet, but I'm always up for a good breakfast muffin – this sweet potato muffin looks awesome
Easy Quiche Recipe With Bacon, Tomato and Green Onion
This delicious grain-free quiche has a sliced potato crust and is filled with eggs, cheese, bacon, tomato, and green onion. Makes 1 quiche in a
12 inch cast iron skillet
or two quiches in
9 inch pie pans
.
Ingredients
6

slices

bacon

2

medium

russet potatoes

12

large

eggs

2

cups

cheddar cheese

(shredded)

½

cup

green onion

(chopped)

½

cup

tomato

(diced)

1/8

tsp

sea salt
1/8

tsp

black pepper
Instructions
Place the pan on the stove over medium heat.


Chop the bacon and add it to the pan.

Once the bacon is crispy, remove it from the pan and set aside.

Pour out any excess bacon grease that is present. A thin layer of grease should be left to prevent the potato crust from sticking, but you don't need much.

In a medium bowl, whisk the eggs together.

Stir in the shredded cheese, green onion, tomato, salt, and pepper.

Crumble the bacon and add it to the egg mixture, then carefully pour the mixture into the skillet over the potatoes.

Place skilled in the preheated oven and bake for 20-25 minutes, or until set in the center.
Notes
To use two 9 inch pie plates rather than the cast iron skillet prepare exactly the same way, greasing the pie plates with bacon drippings and slicing some of the potato slices in half to fit the shorter sides of the pie pan.
Place the pie plates in the oven and bake for 15-25 minutes, or until set in the center.
Nutrition
Serving:
1
slice
|
Calories:
350
kcal
|
Carbohydrates:
11
g
|
Protein:
21
g
|
Fat:
24
g
|
Saturated Fat:
10
g
|
Cholesterol:
356
mg
|
Sodium:
445
mg
|
Potassium:
439
mg
|
Fiber:
0
g
|
Sugar:
1
g
|
Vitamin A:
880
IU
|
Vitamin C:
5.4
mg
|
Calcium:
263
mg
|
Iron:
2.3
mg
Do you have a go-to fast and healthy, homemade breakfast?