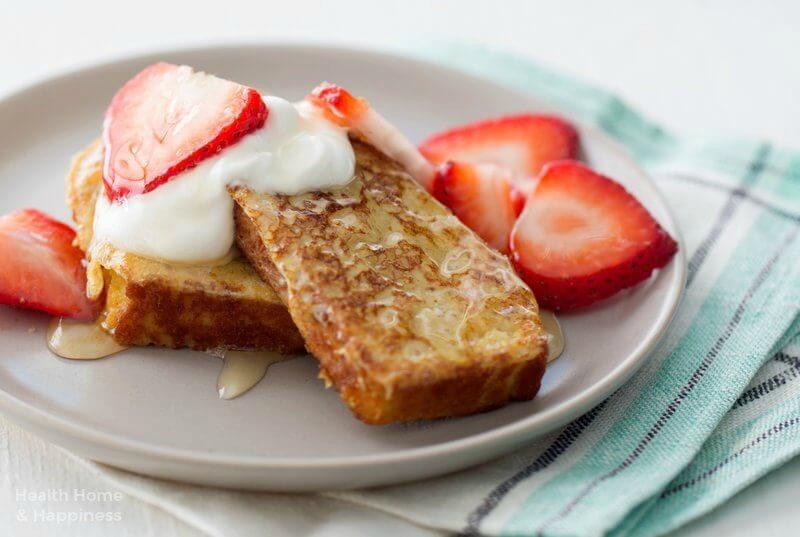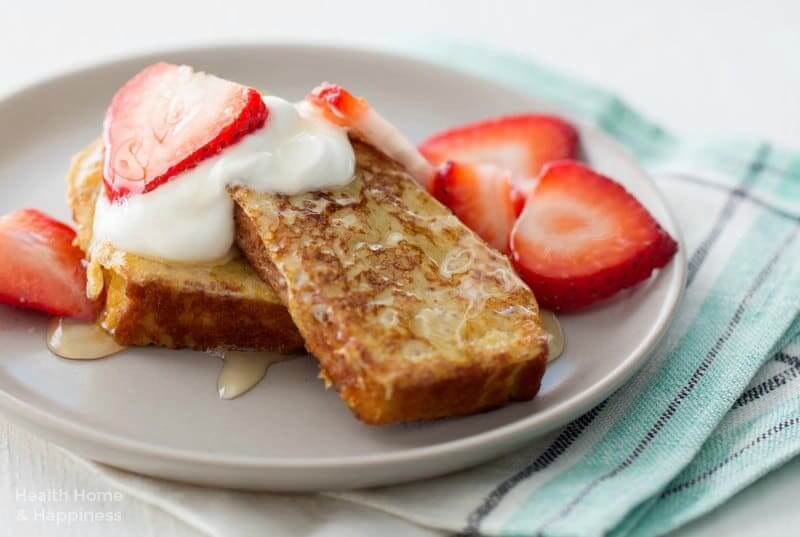 Five years ago, my husband came home from work and told me he wanted to go grain-free. Like, right that minute. I looked at the gluteny stuff in my pantry and then I looked at him . . . and then I decided to give everything away before he changed his mind! 🙂
Later that night, I emailed my good friend Cara of Health Home & Happiness for some advice on what to do next. Guys, I don't know what I would have done without her. She walked me through everything step-by-step, sharing helpful tips and yummy recipes with a huge side of encouragement.
Everyone should have a guide like Cara, which is why I was thrilled to receive an advance copy of her new book: 30 Days Grain-Free: A Day-by-Day Guide and Meal Plan for Beginning a Grain-Free Diet.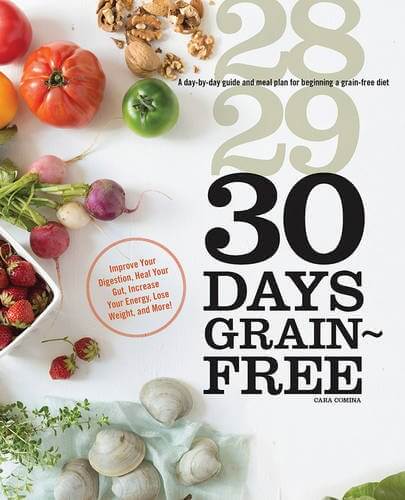 It's everything she did for me and more. We're talking:
Family-friendly recipes that don't call for weird, hard-to-find ingredients (and take into account cravings for sweet, salty, chewy and crunchy foods)
A 4-week custom menu along with tips and notes to make the transition successful
Grocery lists help you along every week, and a recipe index helps you find your favorites again and again
Menu suggestions that are company-friendly, even if your guests aren't grain-free
All the recipes are compatible with the Gut and Psychology Syndrome Diet (GAPS) Diet and Specific Carbohydrate Diet (SCD). Most are dairy-free, and those that include dairy come with notes that explain how to adapt them if needed.
Cara has generously agreed to let me share her recipe for French toast with you, but first I just want to mention one more thing . . .
Buy this book and get free access to The Picky Eating Solution ($67 value)
30 Days Grain-Free won't be available for a few more weeks (August 1st), but if you pre-order before then and email your receipt (screenshot, email receipt, photo from your phone, etc) to 30days[email protected], Cara will give you free access to her Picky Eating Solution Class.
This is perfect if you want to go grain-free but are worried that your littles will mutiny. And just so you know, this is totally not an affiliate link to Cara's class. I'm just telling you about it because I think it's an awesome deal. Okay, back to the French toast recipe!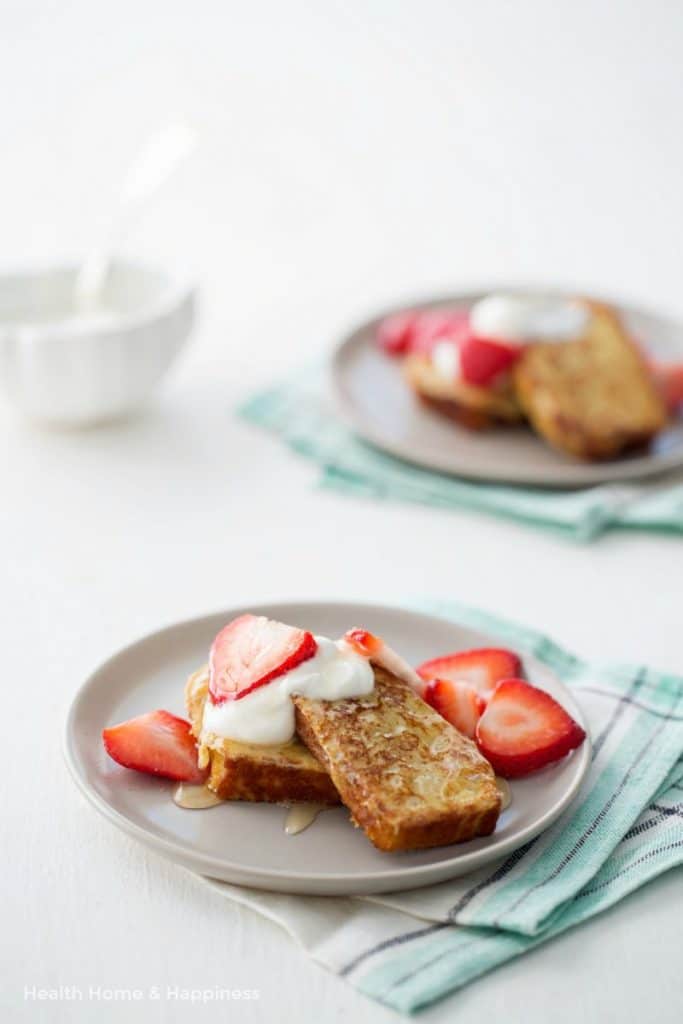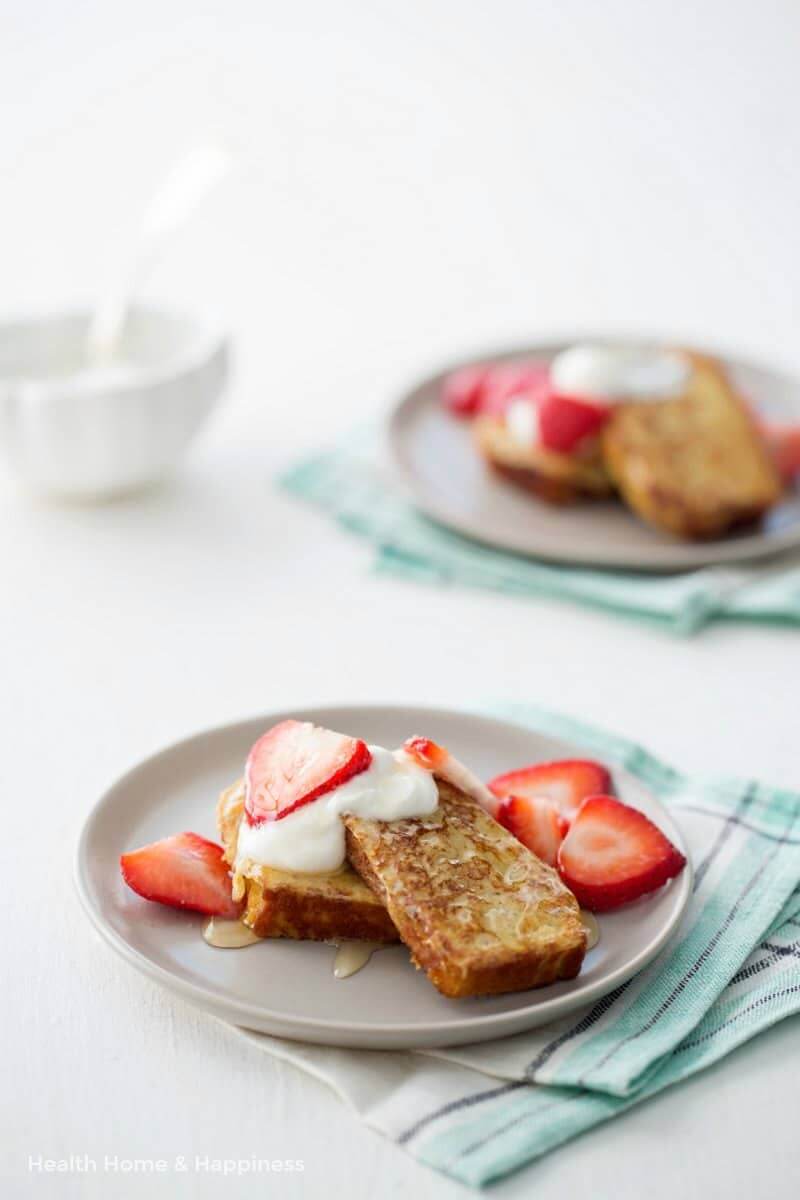 In 30 Days Grain-Free, this coconut flour bread is served with soup the night before (day 13), then made into French toast the next morning. As a rule coconut flour bread is not my favorite, but this recipe topped with fresh strawberries was a delightful exception.
Also, don't you just love that she's simplified things by working leftovers into the next meal?
French Toast Recipe (Gluten-Free, Paleo)
Made with day-old coconut flour bread, this French toast is a delightful morning treat! Top with coconut oil or butter, coconut cream, yogurt, honey, orange wedges, or toasted pecans for an extra-special treat.
Instructions
Heat a skillet over medium-low heat, adding 1 tablespoon of coconut oil to melt.

In a shallow dish such as a pie dish, whisk together the eggs, yogurt, honey, cinnamon (if using), and vanilla.

Dip each bread slice, one at a time, in the egg mixture, turning to coat.

Lay the soaked slices, in batches, in the skillet and cook for about 5 minutes or until the bottom is browned.

Flip and cook for about 3 more minutes or until the French toast is cooked through and browned on both sides.

Repeat with the remaining slices, adding coconut oil to the pan as needed.

Serve warm with strawberries and any other toppings of your choice.
Notes
Be creative with your toppings: any fresh fruit, maple syrup, homemade jam, etc.
Nutrition
Serving:
1
slice
|
Calories:
186
kcal
|
Carbohydrates:
21
g
|
Protein:
4
g
|
Fat:
8
g
|
Saturated Fat:
3
g
|
Cholesterol:
89
mg
|
Sodium:
154
mg
|
Potassium:
81
mg
|
Fiber:
1
g
|
Sugar:
8
g
|
Vitamin A:
210
IU
|
Vitamin C:
10.6
mg
|
Calcium:
73
mg
|
Iron:
0.6
mg
Click here to grab your copy of 30 Days Grain-Free: A Day-by-Day Guide and Meal Plan for Beginning a Grain-Free Diet (And don't forget to email your receipt to 30d[email protected] if you want free access to the Picky Eating Solution Class!)