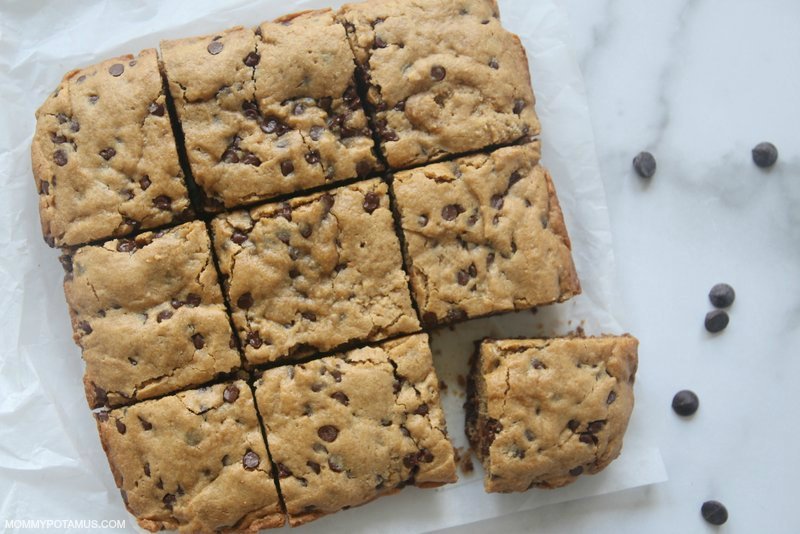 These ooey, gooey, perfectly chewy chocolate chip blondies are so easy to bake even a kid can do it. And I really mean that, because this recipe was created by my daughter Katie when she was eleven.
As I shared in this honey mustard chicken recipe, she and some friends recently co-authored a cookbook called Chef Junior: 100 Super Delicious Recipes by Kids for Kids.
With lightly golden brown edges and just the right amount of chocolate chip studded, chewy goodness, these blondies are one of my personal favorites . . . . not just from the book, but of all desserts.
Since we're a gluten-free family, Katie used almond flour and coconut flour in place of all-purpose flour. I don't always love coconut flour in recipes, but this one has an amazing texture that seems to get even better the next day. She also replaced brown sugar with coconut sugar, which has a similar flavor profile – complex and slightly caramel.
They're delicious all on their own or served with a scoop of vanilla ice cream for an extra special treat. I hope you love them as much as we do!

Where To Buy The Cookbook
Chef Junior: 100 Super Delicious Recipes by Kids for Kids is available on Amazon and other major retailers.
Chef Junior includes:
Typical "kid food" and more adventurous recipes – Mac 'N' Cheese and Mediterranean Sundried Tomato Chicken, for example
Some from-scratch recipes and some that call for pre-made ingredients – Some recipes use pre-made items like tortillas, and some show you how to make easy strawberry jam from scratch
Some gluten-free and dairy-free recipes, and some that contain wheat and/or dairy – Each child's family has a different eating style, so there's a little of everything.
Chapters on basic cooking skills – Like how to use kitchen equipment and measure ingredients, use knives safely, make substitutes for allergies, and meal plan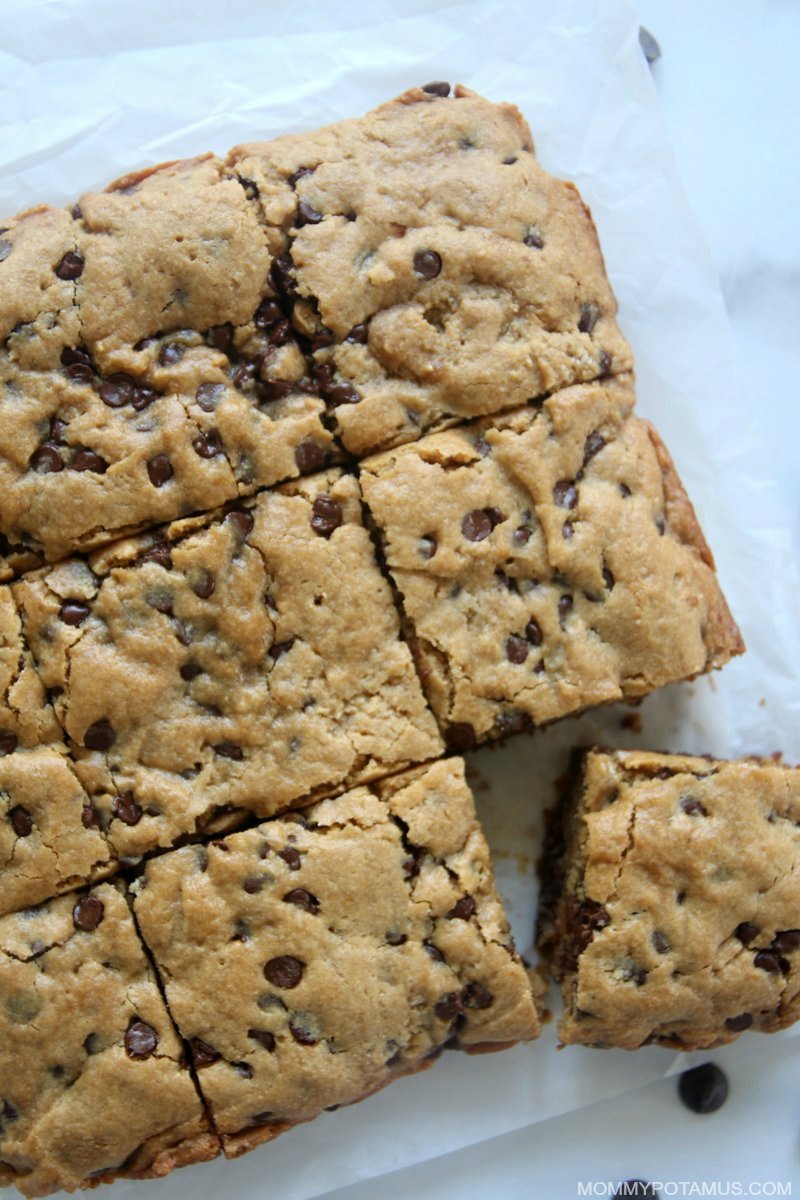 Chocolate Chip Blondies Recipe (Gluten-Free, Paleo)
These ooey, gooey, perfectly chewy chocolate chip blondies are easy to make and so delicious!
Also, I've shared this recipe exactly as it's written in Chef Junior even though I know you probably know to use oven mitts.
Equipment
8×8 inch square baking pan

Piece parchment paper

medium mixing bowl

Measuring spoon set

measuring cup

mixing spoon

fork

Spatula

Oven mitts

Hot pad (or trivet)
Instructions
Preheat the oven to 350F.

Pour 1/4 teaspoon of the oil into an 8- by 8-inch baking pan and grease it thoroughly. Line the pan with parchment paper.

In a medium bowl, mix together the eggs, tahini, coconut oil, coconut sugar, and vanilla extract with a fork.

Add the almond flour, coconut flour, baking powder, and salt to the wet ingredients in the bowl and stir the mixture with a fork until all the ingredients are well combined.

Add the chocolate chips to the bowl and stir until the chips are evenly distributed in the batter.

Scoop the batter into the prepared pan and smooth out the top with a spatula. Bake for 20-25 minutes. You'll know the blondies are ready when the edges are slightly browned and a toothpick inserted into the middle of the pan comes out clean. If you get chocolate on your toothpick, try another spot. (It's super melty and will coat the toothpick even when the blondies are done.)

When the blondies are done, remove the pan from the oven with oven mitts and place the pan on a trivet or hot pad on the kitchen counter (to protect the surface from getting damaged by the hot pan).

Let the pan cool for at least 30 minutes, and then remove the blondies from the pan, using the edges of the parchment paper to lift them out.

Cut the blondies into pieces. If they are still warm, be careful as you pull them apart or they will break into pieces. They'll still be delicious, though!
Nutrition
Calories:
258
kcal
|
Carbohydrates:
21
g
|
Protein:
6
g
|
Fat:
18
g
|
Saturated Fat:
4
g
|
Cholesterol:
37
mg
|
Sodium:
66
mg
|
Potassium:
90
mg
|
Fiber:
3
g
|
Sugar:
13
g
|
Vitamin A:
83
IU
|
Vitamin C:
1
mg
|
Calcium:
63
mg
|
Iron:
1
mg
More Delicious Dessert Ideas
Fudgy Brownies – These chewy paleo brownies are one of my favorite recipes from Danielle of Against All Grains book, Meals Made Simple. She was kind enough to allow me to share them with you.
Paleo Chocolate Chip Cookies – These ooey-gooey chocolate chip cookies are one of my family's tried-and-true favorite recipes. They're ready in about 20 minutes from start to finish.
Caramel – This yummy, 4-ingredient easy recipe makes a delicious dip for fruit, or for a more decadent dessert you can drizzle it over coffee ice cream, fudgy brownies, or even as a glaze for grain-free chocolate donuts.
Peanut Butter Freezer Fudge – This creamy, dreamy, chocolatey, peanut-buttery fudge is simple to make and full of nourishing fats.
White Chocolate Chip & Macadamia Nut Cookies – These are perfect for dunking in a cold glass of milk!
Want more delicious, easy recipes?
No problem, I've created a free ebook for you – 35+ Gluten-Free Desserts – as a gift for signing up for my newsletter. Every Sunday you'll get recipes, actionable health tips, and highly-vetted product recommendations delivered fresh to your inbox.
Sign up using the form below.