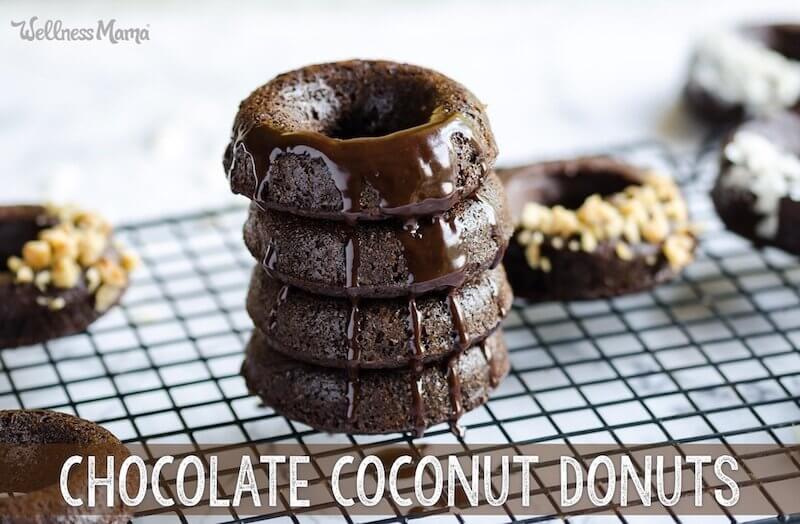 It can be tough getting the family on board with real food. Breakfast can be especially difficult when the whole family has been used to sugary breakfasts instead of nutrient dense ones. Luckily there are many ways to ease the family into real food. These gluten-free coconut cassava chocolate donuts are one especially tasty way. They are gluten-free, low in (natural) sugars, and pack a bit of protein as well.
While this is certainly not an everyday recipe, it has its place. Real food "treat" breakfasts are one way to introduce kids to real food breakfasts that they will like as much (or more) as packaged varieties. Additionally, when you do make recipes like these donuts for special occasions, you can be sure your kids are getting a filling and nutrient dense meal.
Coconut Flour Health Benefits
Coconut flour is a healthy gluten-free flour choice. It is a whole food made from ground-up coconut meat that is leftover from coconut milk production. Coconut flour contains lots of fiber, protein, and even retains a lot of its healthy fat. Coconut flour doesn't spike blood sugar the way other refined flours do. This is because of the high fiber, protein, and fat content and the low digestible carbohydrate content. Because it doesn't spike blood sugar, it's a good flour for diabetics and others trying to regulate their blood sugar.
Cassava Flour Health Benefits
Cassava flour is another great gluten-free flour choice. Cassava flour is a whole food. It is the made from the whole root vegetable that is peeled, dried, and ground. Unlike coconut flour, cassava is high in carbohydrates. But like coconut flour, it has a low glycemic index. This makes it a great choice for anyone with blood sugar issues.
Cassava flour also helps support gut health. Cassava flour is rich in digestion-resistant starch. Theses starches pass through the upper part of the digestive tract and feed the beneficial bacteria in the gut.
Coconut Chocolate Donuts Recipe
These homemade chocolate donuts made with cassava and coconut flour are a filling, tasty treat for breakfast or dessert. 
Instructions
Preheat the oven to 350°F.

Lightly grease a donut pan with coconut oil.

In a medium bowl, beat together the eggs, softened butter, maple syrup, and vanilla extract.

In another bowl, mix together the coconut flour, cassava flour, cacao or cocoa powder, baking soda, and salt.

Whisk the two mixtures together and carefully fill the hallows of a donut pan.

Bake for 15-18 minutes in the preheated oven.

Remove from the oven and let cool on a wire rack for 8-10 minutes.

Make the glaze by melting together the butter and then whisking in the cacao/cocoa powder, maple syrup, and vanilla.

Drizzle the glaze over the donuts.

Add sprinkles or other toppings if desired.
Notes
These donuts are baked in the oven instead of fried, so you will need a donut pan.
Nutrition
Serving:
1
donut
|
Calories:
679
kcal
|
Carbohydrates:
47.3
g
|
Protein:
10.1
g
|
Fat:
53.5
g
|
Saturated Fat:
32.4
g
|
Polyunsaturated Fat:
0
g
|
Monounsaturated Fat:
0
g
|
Trans Fat:
0
g
|
Cholesterol:
286
mg
|
Sodium:
678
mg
|
Potassium:
0
mg
|
Fiber:
9.9
g
|
Sugar:
24
g
|
Vitamin A:
0
IU
|
Vitamin C:
0
mg
|
Calcium:
0
mg
|
Iron:
0
mg
Want More? Similar Recipes to Try
If you love sweet breakfasts but want them to be healthy, try these:
Next, I want to try this cinnamon crumble donut recipe that uses almond and coconut flour as the base.
What is your favorite treat breakfast?