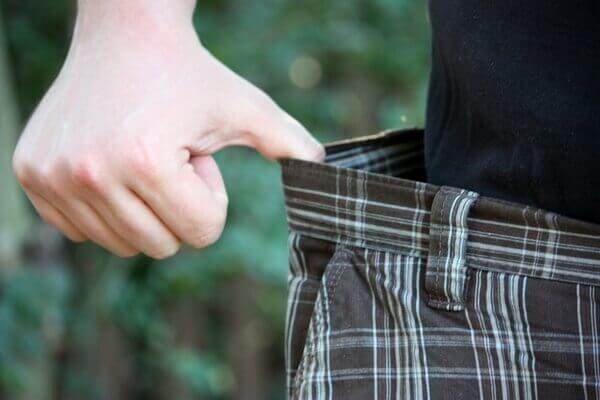 We've been GAPsters for a three and a half months now, which means it's time for an update! So, the first thing you need to know is . .
.
My Husband Has No Pants
Start GAPS today, and you too can have no pants! Okay, I overshot there. You probably WANT pants. You most likely even want them to fit. My husband actually does, too, but since the man is shedding about two pounds a week his measurements are a moving target. Nothing to complain about there! I can think of a few other things not to complain about when losing 35+ pounds, and they are bacon, mayonnaise, biscuits and BUTTER! Not in breath mint sized portions, either. No, we're talking unrestricted access. Take that, Jenny Craig!!
Ahem.
Pantlessness is not the only "benefit" of GAPS.
We're Spending 80% Less On Supplements
GAPS is not as expensive as I thought. Yes, we pay more for food, but it's so nutrient dense that for the first time in years I can count the supplements we're taking on one hand. Just in case you're interested, they are . . .
Biokult probiotic
Green Pastures Fermented Cod Liver Oil
Digestive Enzymes
Innate Sufficiency Fish Oil
True Calm (Helps us wind down after stressful days)
Plus, now that we're off Intro we can use navy beans and lentils to stretch things a bit. And the fact that Daddypotamus doesn't sneak off and blow our budget at restaurants now helps too. 🙂
Oh, And The Fungus Is No Longer Among Us
We don't actually know what it was, but my husband's weird, bumpy, crusty flakiness is gone! After using several topical applications on his scalp with no success, we were excited to watch it completely disappear during the Intro Diet.
It hasn't stopped by to pick up it's mail in awhile so we're assuming it's found a lovely beachside home and will stay gone for good. Fine with us.
Considering GAPS? Feeling overwhelmed? Cara at Health Home & Happiness just released "What Can I Eat Now? 30 Days On The GAPS Introduction Diet." It is hands down the best resource on starting GAPS Intro I've seen. Review coming soon!
Did I miss anything? What do ya'll want to know about our GAPS journey?