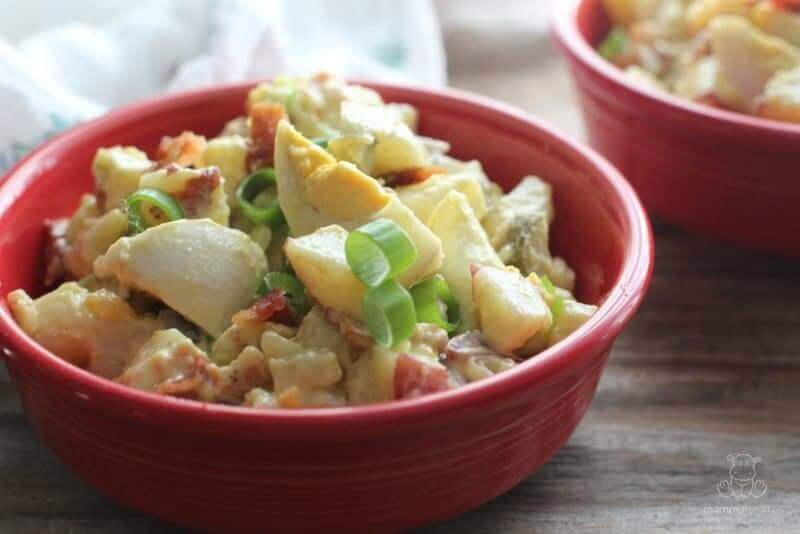 Homemade ketchup is like magic sauce with my kids. I just pour it on any recipe that flops and POOF – it disappears. For my husband, though, the secret sauce will always and forever be creamy, tangy mayo. Bacon and hearty red potatoes are also his love language, which is probably why he says this potato salad recipe is one of his favorite things in the world.
Me – I love it because I can make a big batch and skip making lunch for a few days. Thanks to the Kids Cook Real Food eCourse, my kids can safely cut veggies and make ranch dressing themselves! (YAY!)
As a bonus, this recipe also comes with a surprising benefit for gut health.
The secret health benefits of potato salad (Yes, really)
Like my bacon and ranch potato salad recipe, this dish is rich in gut-nourishing resistant starch – a type of starch that is indigestible to us, but a favorite food of the good bacteria that lives in our digestive tracts.
Keeping those guys healthy and flourishing has a huge impact on our overall health and mood. Click here to read more about the benefits of resistant starch for microbiome diversity and gut health.
Quick note: Resistant starch is formed when potatoes are cooked and then allowed to cool, which is why potato salad contains it but french fries don't.
Potato Salad Recipe With Bacon And Egg
Instructions
Place the potatoes in a pot and along with cold water that covers the potatoes by about two inches.

Generously salt the water and bring to a boil.

Reduce heat to a medium simmer and allow potatoes to cook until they're tender. The amount of time will vary based on the size of the potato, but it usually takes somewhere between 20-30 minutes.

When tender, remove the potatoes from the pot and place in the fridge to cool overnight. 

The next day, cook the bacon and set aside. Stir the mustard, onion powder, and salt and pepper into the mayo. Chop the potatoes into pieces and place in a bowl. Add chopped eggs, green onions, bacon, pickles and mayo and stir until well-combined.
Nutrition
Calories:
372
kcal
|
Carbohydrates:
19
g
|
Protein:
8
g
|
Fat:
29
g
|
Saturated Fat:
7
g
|
Trans Fat:
1
g
|
Cholesterol:
97
mg
|
Sodium:
592
mg
|
Potassium:
615
mg
|
Fiber:
2
g
|
Sugar:
2
g
|
Vitamin A:
169
IU
|
Vitamin C:
10
mg
|
Calcium:
30
mg
|
Iron:
1
mg