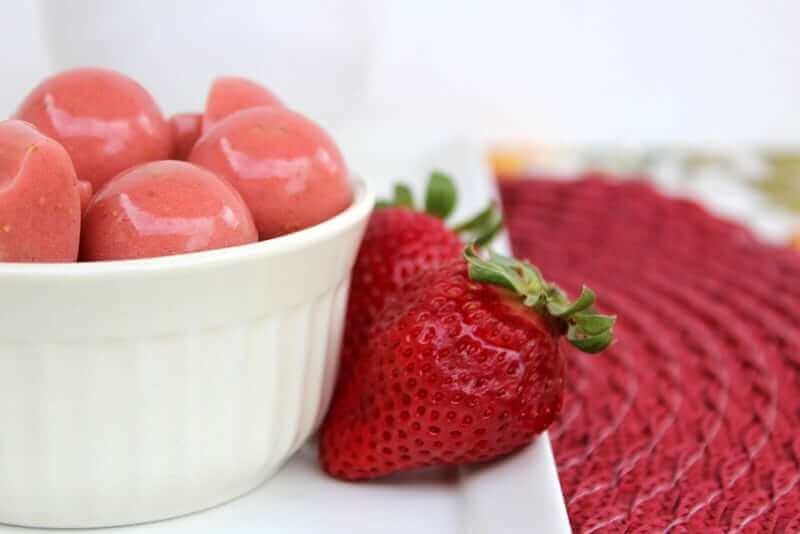 Note from Heather: Pinch me! I woke up this morning to the sound of crashing waves and seagulls. The potami are headed down to the beach to try to spot some dolphins, but before we go I wanted to share with you this easy, healthy snack recipe from my friend Sylvie of Hollywood Homestead.
It features one of my favorite ingredients, which just so happens to make skin look more youthful, support restful sleep, and make delicious treats. Thanks for sharing with us, Sylvie!
What if there was one simple superfood . . .
That worked as bone building fuel for growing kids, a natural "botox" for mom, and scored you major dessert points with the whole family? What if you could make strawberry gummies that are both nutrient dense and delicious?
I know, I know, when something sounds too good to be true it often is. But gelatin (the great quality, pastured kind) really does live up the hype and you really can make some tasty treats with it like puddings, custard, gummies, "jello" and many more.
My gelatin obsession started when my oldest (then 14 years old) was about to have major spinal surgery for her severe scoliosis. That sent me down the rabbit hole of what the optimal nutrition is for bone health and surgery recovery. The doctors and post-op nurses at the hospital were shocked at how quickly she recovered and gelatin had a huge part in making that happen.
I had no choice but to create The Gelatin Secret to share all the ways something so simple as homemade bone broth and homemade jello can be so impactful to every single part of our bodies.
Along the way I learned that regularly consuming gelatin and collagen work as "botox" for the skin as well! Preventing and reversing wrinkles, cellulite and stretch marks are a nice bonus, kind of like those funny parts in kids' movies these days that they sneak in just for us parents. 😉
The list of conditions and symptoms that gelatin can help with is borderline ridiculous!
Here are just a few:
Multiple allergies
Food sensitivities
Joint and mobility pain
Chronic abdominal pain
Abdominal tenderness
Acne and blemishes
Dull and fragile hair
Tooth decay and sensitivity
Brittle nails
Stomach cramps, bloating and constipation
Hormonal imbalance
Rollercoaster weight gain
Stress-induced insomnia
Wrinkles and stretch marks
Anxiety and fatigue
Luckily, adding gelatin to your diet and your kids diet is not only easy, it's delicious! This strawberry gummies recipe is from my ebook, The Gelatin Secret, which goes into detail about how gelatin nourishes each part of our body and includes many recipes, both savory and sweet so you can jumpstart your journey to health right away.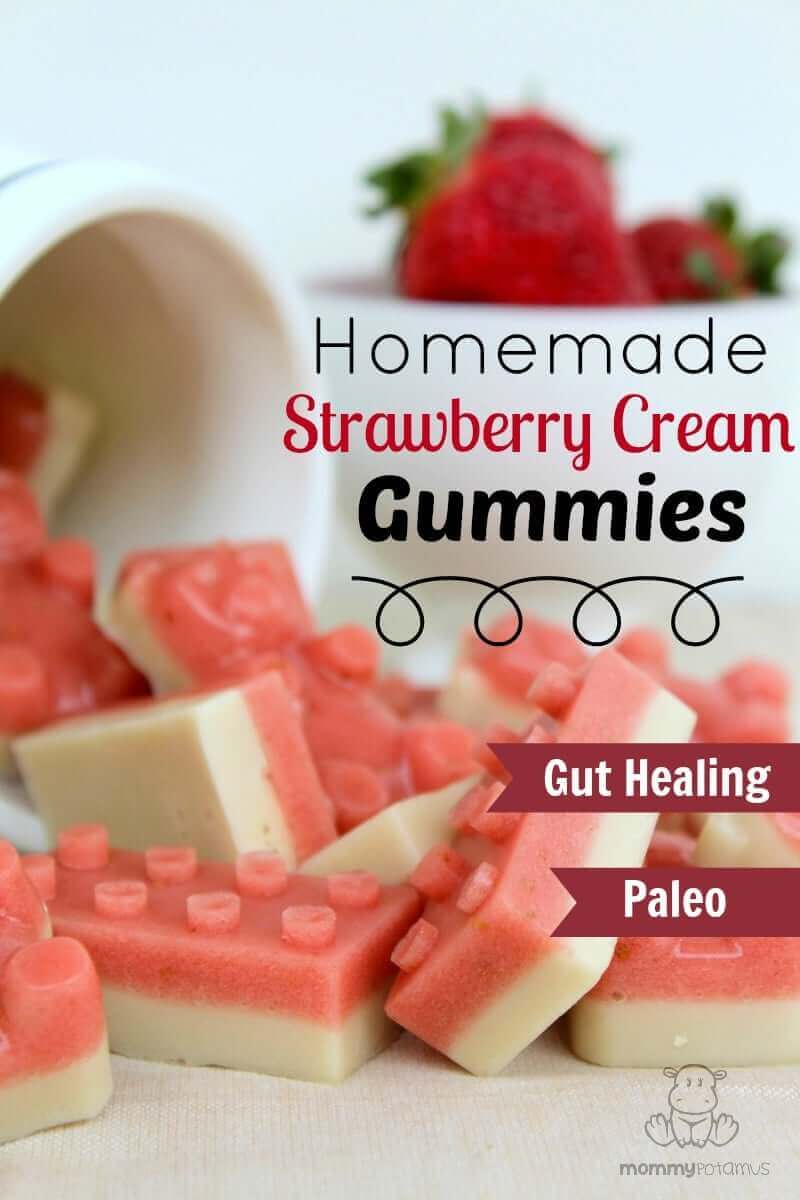 About Sylvie
Sylvie is a mother of 3 unschooled kids, a former celebrity personal assistant who recently moved to Abu Dhabi where her husband, Eric, is teaching. She and Eric each lost over 65 lbs with paleo and continue to improve their family's health with food and lifestyle tweaks. Sylvie is the author of The Paleo Made Easy: Getting your Family Started with the Optimal Healthy Lifestyle and The Gelatin Secret: The Surprising Superfood that Transforms your Health and Beauty. She shares recipes and health tips at www.hollywoodhomestead.com.
Strawberry Cream Gummies
Instructions
Combine strawberries, lemon juice, and honey on low heat in a small saucepan on the stove.

Stir until warm, not hot as it will kill the probiotic quality in the honey.

Add 7 T. of the gelatin and immediately mix with an immersion blender until smooth and lump free.

Pour strawberry mixture into molds, but ONLY fill each on halfway (the rest of the space will be filled by the cream).

Put the strawberry molds in the freezer. For easy transport, place the silicone mold on a cookie sheet.

Combine the coconut milk, vanilla, and maple syrup in a clean saucepan and warm on low.

Add 6 T. gelatin and mix immediately with immersion blender.

Take out the strawberry molds and complete the pouring with the cream portion.

Put back in the freezer for 30 minutes.

Bring out and let sit until room temperature. Store for a week at room temperature, refrigerate if they manage to last longer than that. Enjoy!
Nutrition
Calories:
1693
kcal
|
Carbohydrates:
160
g
|
Protein:
88
g
|
Fat:
82
g
|
Saturated Fat:
72
g
|
Polyunsaturated Fat:
1
g
|
Monounsaturated Fat:
4
g
|
Sodium:
244
mg
|
Potassium:
1536
mg
|
Fiber:
5
g
|
Sugar:
133
g
|
Vitamin A:
32
IU
|
Vitamin C:
164
mg
|
Calcium:
255
mg
|
Iron:
15
mg