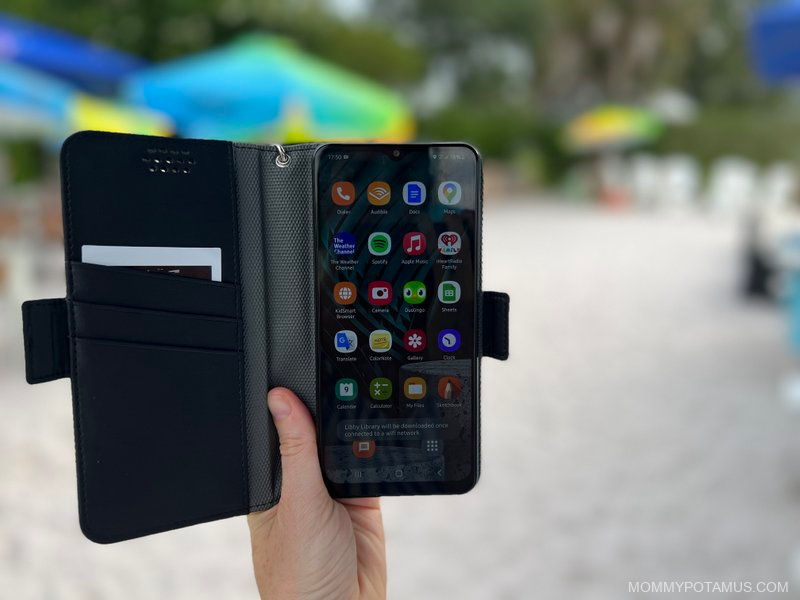 Lifeguard training. Bike trips to the library. A summer leadership program at a university. <<< Y'all, the squishy baby that I used to take everywhere with me is now fourteen and doing a lot of things on her own. And while I love watching Katie's independence grow, I also want to know that she can reach me if she needs to.
That's why late last year my husband decided to give her a phone to keep in touch.
Now, as someone who has encountered my fair share of weirdness on the internet and social media, I was not about to hand her a fully enabled smartphone. I trust her, but I also know that I've innocently searched a phrase and received, uh, unexpected results. Oh, and then there are always the random spam texts from unknown numbers to consider, plus access to highly addictive games that can have a profound impact on developing brains and other concerns.
At the same time, flip phones don't offer some of the features I really wanted her to have, like:
A great camera for capturing memories with her friends
Access to highly vetted safe apps
Group texting with approved contacts (and no one else)
The ability to check email and listen to audiobooks/podcasts
That's why I was so happy to find the Troomi phone, which does all that and more. We've had it for 6+ months now, so I thought I'd share the pro's and con's, plus how to save $50 if you want to try Troomi.
3 Reasons I Chose Troomi
Troomi is an all-in-one solution that handles everything from the carrier service to the device to the safeguards. Here's why I think it makes a great first phone:
#1 – Customizable Functionality
My favorite thing about Troomi is that I can gradually increase phone functionality as my kids needs and maturity levels grow.
All of their plans include:
Unlimited talk
Unlimited texting
Phone number safelisting (So kids only get calls or texts from approved contacts, not unknown or unwanted numbers)
Military-grade security to combat unwanted contacts and privacy intrusions
GPS family location app (Excellent for kids that lose phones or checking where a child is in route)
Easy-to-use Parent Portal
Remote text monitoring (Including deleted texts)
Basic apps like a calculator, calendar, camera, picture gallery, maps, music, clock, and weather
As kids mature, parents can add freedoms like:
Access to KidSmart® Safe Browser (So you can choose specific websites that can be visited. Websites not added to your child's safelist will remain completely unavailable.)
Access to KidSmart® Safe Apps (This includes popular options like Audible, Apple Music, Duolingo, Google Docs, )
Unlimited picture texting
Unlimited group texting
#2 – Easy-To-Use Parent Portal
I've already mentioned that the phone's functionality is adjustable, but just as importantly it's EASILY adjustable. All in one place, you can:
Add safe contacts as your child's social connections grow
Give access to specific vetted apps
Add more websites to the KidSmart® Safe Browser
Set time limits for website use (There's an option to create a weekend schedule that's different from weekdays)
Turn off texting or only allow texting during certain hours
See where your child (or their phone) is via GPS location
Review text messages
See total talk time (phone calls) and number of texts sent per day
#3 – Competitive Pricing & High Quality Phone
Unlike some companies that use off-brand phones that are prone to breaking, Troomi uses Samsung phones that feel sturdy and high quality. My daughter likes that it looks like a normal phone and not a "locked down" one, and I like that the model we got – Samsung A12 – fits well in this EMF protection case from Defendershield.
I also recommend adding Ocushield, which blocks up to 90% of blue light emissions when applied to a device's screen like a screen protector. Blue light can negatively impact sleep and cause eye strain, and kids are more vulnerable to the effects than adults.
Also, unlike apps and 'night mode' settings, Ocushield doesn't change the color on your screen. It's an accredited Class 1 medical device by the MHRA in the UK.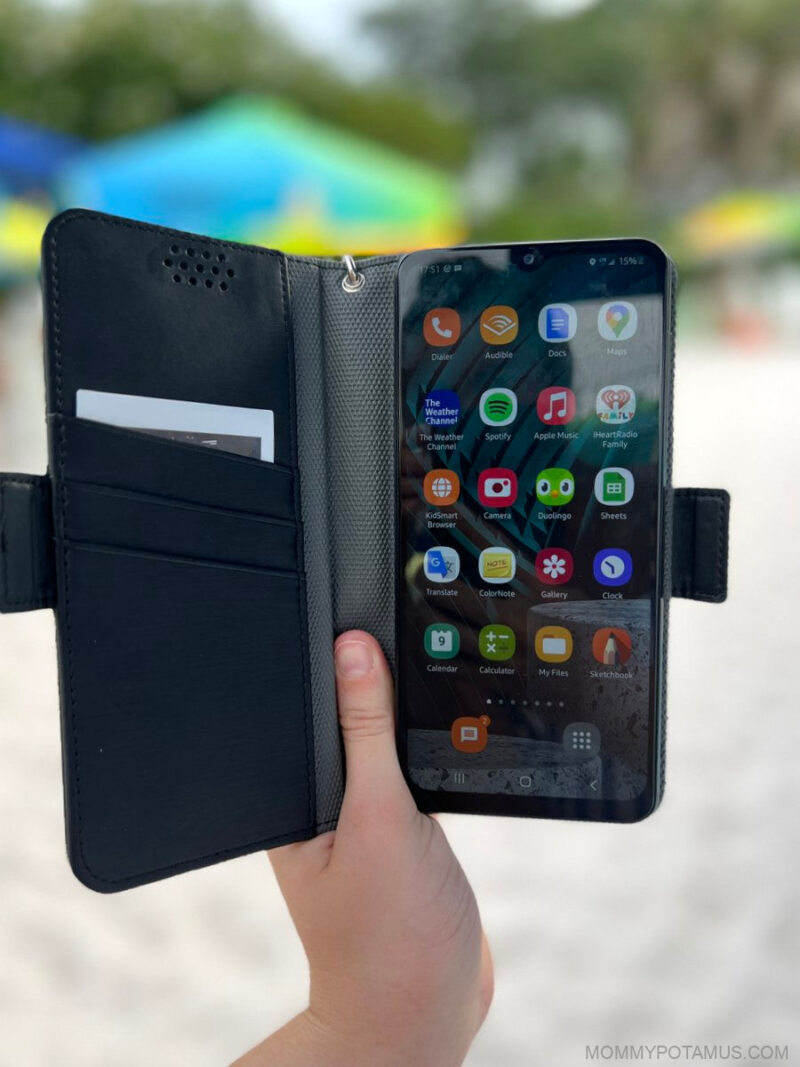 Does Troomi have any downsides?
According to my daughter, the Troomi phone can be a little slow to startup when it's first turned on. I think that's probably because the KidSmart OS™ Android operating system is running security protocols that are not used on other devices, so it's a worthwhile tradeoff in my opinion.
Also, most of the KidSmart® Safe Apps only work when connected to WiFi in safe places, like home, church and school. We don't have wifi in our home – the entire house is wired with ethernet cables – so she only uses a few apps. She doesn't seem to mind, though.
How does Troomi compare to the Gabb phone?
Gabb Wireless was another option we considered for a first phone, and I think it's a pretty good one. Both offer plans that allow just texting/calling OR texting/calling/texting photos and group chat. Both have GPS tracking, a camera, and some basic apps that are pre-installed. Ultimately, though, we went with Troomi for a few reasons:
Pricing – Both companies offer a no-contract phone plan options, but Troomi's is more affordable.
Features – Gabb doesn't offer any internet access (even to approved sites) or a vetted app store, so I think my kids needs would outgrow the service faster than with Troomi.
Camera Clarity – Based on user reviews I think the camera resolution/quality is higher with the Samsung phones used by Troomi. My daughter's phone takes great photos.
Want to save $50?
Of course, right? Well, good news: Just for you guys, Troomi is offering $50 off your first month.
Want more research-backed natural remedies?
No problem, I've created a free ebook for you – Kitchen Apothecary: 25+ Natural Remedies Using Ingredients From Your Pantry – as a gift for signing up for my newsletter. You'll also get updates when I post about safe essential oils for pregnant/breastfeeding mamas, exclusive gifts and coupons (I was able to give away a jar of free coconut oil to anyone who wanted it recently!), plus other goodies.
Sign up using the form below.