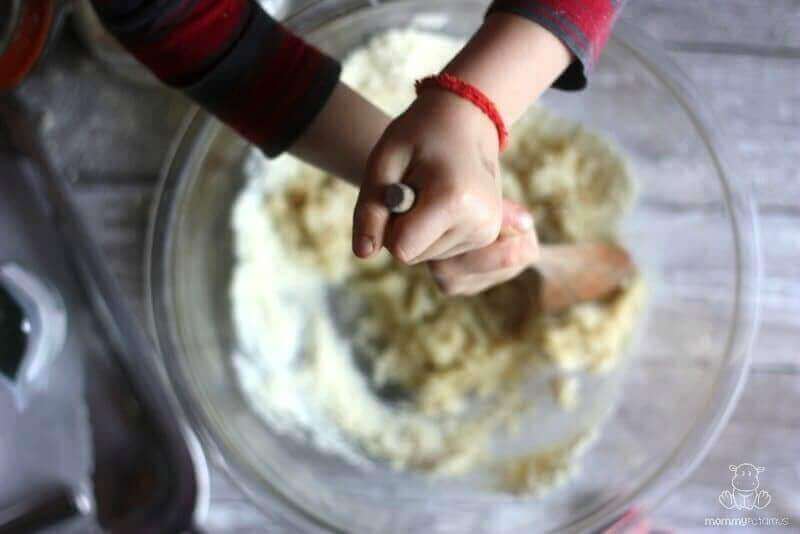 Me: Hey guys, you need to go clean your playroom and then you can do whatever you want until Levi wakes up.
Micah: We can play with sharp knives !?!!?!?!?
Me: . . . .
Maybe it's just me, but the thought of giving my kids knives makes me cringe a little. Unless you count "baking" a potato in the microwave along with a few other – ummm, skills? – the reality is that I didn't really learn to cook until after I got married. I can't pull from personal experience about what helped me learn as a child, so I've struggled a lot with trying to figure out where to start and what's age appropriate.
And yet, MY KIDS REALLY NEED TO LEARN . . . for their own good and my sanity!
That's why I was so excited when my real-life friend Katie from Kitchen Stewardship gave me behind-the-scenes access into her new class, Kids Cook Real Food. If you don't already know Katie, she's a former teacher who totally gets how to break things down for kids (and their parents.)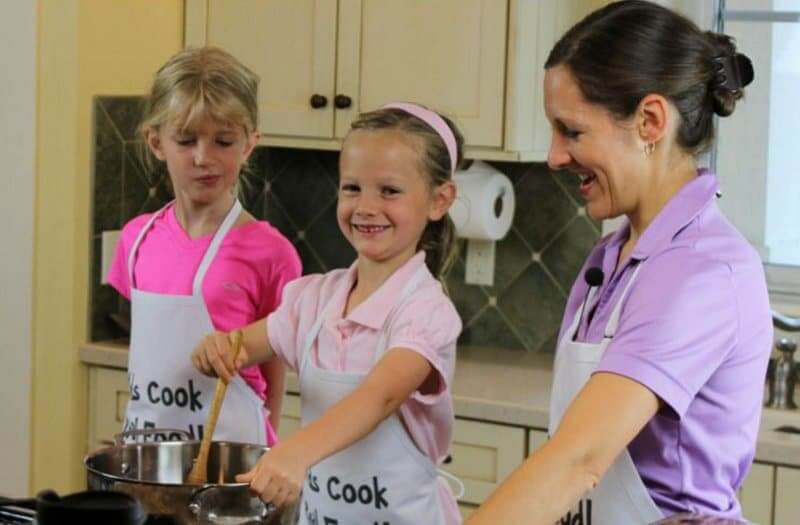 Why Kids Need To Learn To Cook Real Food
There are so many reasons, really. It can help with:
Math (measuring ingredients, tracking cook times, etc.)
Developing fine motor skills (cutting bananas, peeling carrots)
Teaching responsibility (my personal goal is for my kids to make breakfast at least one morning a week)
Building self-confidence
Here are a few of my personal reasons for going through this class with my kids:
I've noticed that the they're more willing to try foods that they've helped prepare, so by welcoming them more into the process I'm helping them learn to love real food. Not just a handful of ingredients, but a huge variety that changes with the seasons . . . and their mama's mood.
I want to send them to college with a good understanding of how to care for themselves, both in solving everyday problems and taking care of their bodies. Teaching them to cook is fundamental to that. 
I can really use the help, provided it's actually help and not just my preschooler rubbing butter in my hair.
That's why I love this class. It's practical and doable, and there suggestions for children of all skill levels. With Katie's help, I can keep my toddler busy with a simple task while I work with the older kids on more advanced techniques. We're all getting more comfortable using knives – turns out I needed to work on my technique as well!

How To Get The Free Mini-Class
You guys, this class has me SO PUMPED about getting into the kitchen with my kids. Yes I said pumped. No I am not sure what decade that's from. But seriously, my family needed this, and my guess is that some of you need it, too.
Right now Katie is giving away a three-part series that covers:
Basic Knife Safety and Techniques (Appropriate for ages 2-teen)
Challenges & Developmental Readiness
The Biggest Mistake Parents Make
So are you ready to do this?