To the holdout: The last (wo)man standing. The fierce individualist who leaves the jury hung. I know you're out there, perplexing your mama as she tries to upgrade your menu to healthier options, chanting "donuts!" all the way to Whole Foods.
Let's make a deal: If it looks and tastes (mostly) like your favorite food we don't have to talk about what's IN it, okay?? Okay! Now then, cover your ears while your mama and I have a little chat.
Pssst! Can you hear me? Okay, good. If you're trying to find a way to get more veggies into your kids tummy give this a try. I've been making this gluten free mini pizza recipe for the kids for years and they LOVE them.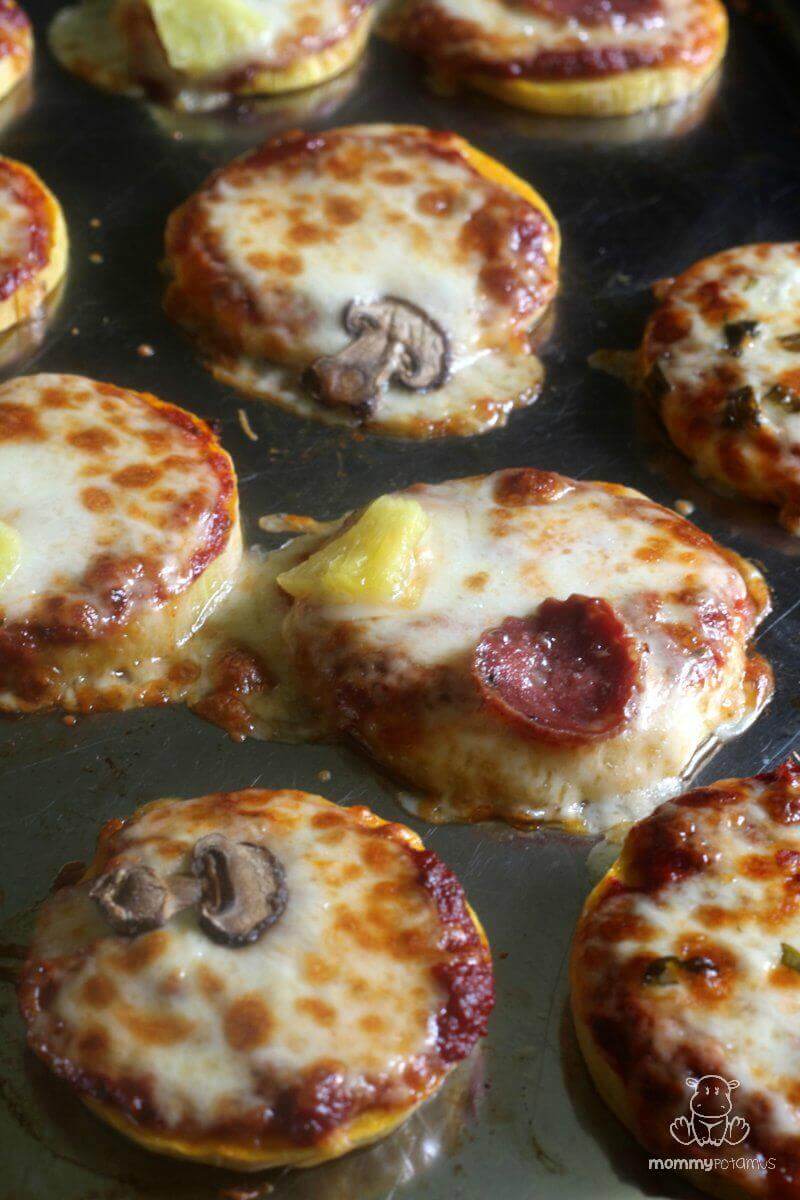 Grain-Free Mini Pizzas
Ingredients
1

butternut squash

(preferably with a long neck)

homemade pizza sauce

(recipe below or pre-made marinara sauce)

mozzarella or cheddar cheese

(mozzarella is what creates the golden brown flecks we're used to)

pepperoni

(optional topping)

pineapple

(optional topping)

mushrooms

(optional topping)

basil

(optional topping)
Instructions
Preheat oven to 350F

Using a carrot peeler or paring knife, peel the squash

Starting at the top near the crook, cut into 1/4 inch rounds

Grate cheese and prepare any other toppings you plan to use.

Place squash rounds on two baking sheets and place in the oven. Bake for 12-15 minutes, then flip and bake for 10 more. Exactly how long they take to cook will depend on how thin/thick they are, but you'll know they're ready when you stick a fork in the center and it is tender.

Remove rounds from oven and spoon a little marinara and cheese over each, plus any toppings you want to add.

Set oven on broil and place mini-pizzas inside. Heat until cheese is just turning brown - about 5-7 minutes.
Nutrition
Calories:
0
kcal
|
Carbohydrates:
0
g
|
Protein:
0
g
|
Fat:
0
g
|
Saturated Fat:
0
g
|
Polyunsaturated Fat:
0
g
|
Monounsaturated Fat:
0
g
|
Trans Fat:
0
g
|
Cholesterol:
0
mg
|
Sodium:
0
mg
|
Potassium:
0
mg
|
Fiber:
0
g
|
Sugar:
0
g
|
Vitamin A:
0
IU
|
Vitamin C:
0
mg
|
Calcium:
0
mg
|
Iron:
0
mg