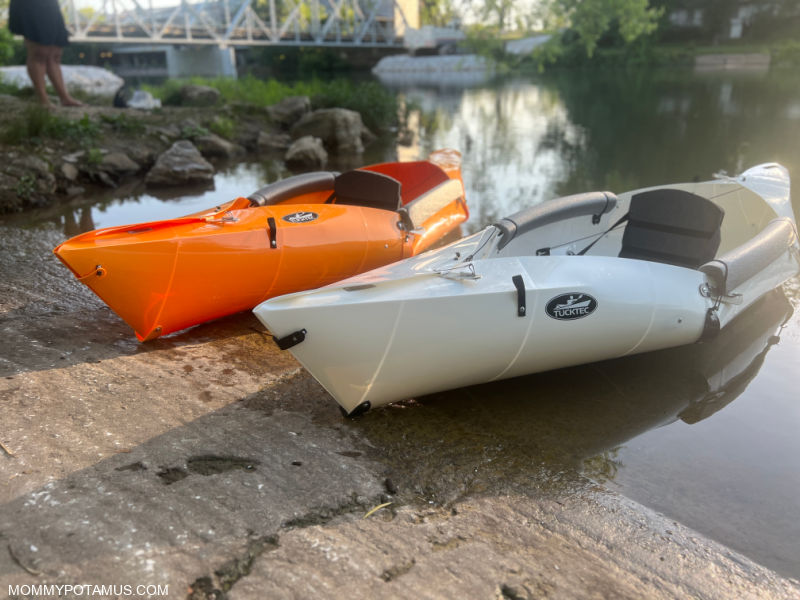 It's no secret that spending time in nature carries many of the same benefits as meditation and exercise – reducing stress levels, lifting mood, enhancing mental clarity, supporting immune function and so much more, but you know what else? Couches are really comfy.
My couch specifically, but probably yours, too.
Years ago my family managed a 40-acre farm, and now we live near the ocean with tons of hiking trails nearby. Getting outside is not exactly a new thing for us, but lately we've added new activities that have pushed it lower on the priority list . . . chess club, writing club, and even college prep. Yep, my fifteen year-old, Katie, is dual enrolling this fall.
With all we've got going on it's tempting to just flop on the couch when we have free time, but personal experience has taught me that becoming disconnected from nature is a recipe for physical, mental and emotional burnout.
I don't want that for myself or my family, so I've been streamlining other activities in order to move outdoor time back up on our priority list while still getting a fair amount of couch flopping in, too. Some things that have worked for us are:
Prepping meals in bulk – We eat the same thing for lunch several days in a row, but from a different location (forest, river, beach, etc.)
Stacking tasks – For example, if my kids have a book assignment, we don't wait for them to finish before we pile into the car. Instead we take the books with us so our kids can read while they're waiting for their turn to paddle out.
Kayaking has become one of our favorite ways to spend time in nature, in large part due to our Tucktec kayaks. Unlike our old, ridiculously heavy kayak which was such a pain to load and unload, they weigh just 25 lbs each and fold up small enough to fit in the trunk of nearly any car.
Before I dive into why we love our Tucktecs specifically, here are some of the main reasons kayaking has become one of our go-to activities.
Physical & Emotional Benefits of Kayaking
Nervous System Reset – When I'm out on the water it's a fully immersive experience. I feel so drawn into the moment, especially the feel of my oars pulling through the water – it's like a "reset" that melts away the tension of day-to-day stressors.
After a session I usually find that I have a different perspective on whatever challenges I'm facing at the moment. Sometimes I think of a creative solution that hadn't occurred to me before, and sometimes the challenges just seem smaller and more manageable.
Strength & Cardio – Kayaking is a low-impact way to engage major muscle groups like your arms, shoulders, and core. Depending on how fast you paddle it's also possible to get a pretty good cardio workout in, too.
More Potential Benefits – Depending on the environment (specifically the presence of trees around the water), kayaking can be considered a form of forest bathing. (1) According to Dr. Qing Li, a physician, professor at Nippon Medical School in Tokyo, and president of the Japanese Society of Forest Medicine, the benefits of forest bathing include:
Reduced blood pressure
Lower stress levels
Improved cardiovascular and respiratory health
Lower blood sugar levels
Improved concentration and memory
Mood lift
Improved energy
Better sleep
Better immune function due to an increase in natural killer (NK) cells (2)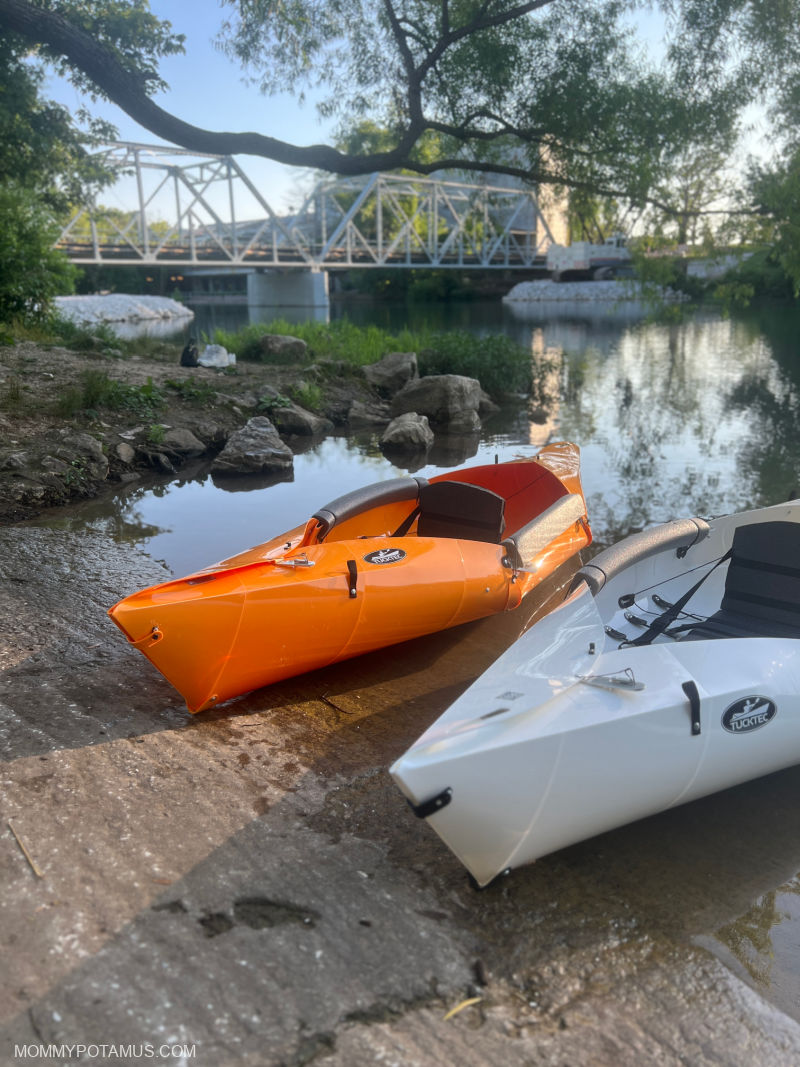 Why I Chose Tucktec Folding Kayaks
A few years ago my husband and I picked up a used traditional hard shell kayak, and we loved taking it out on the water. However, it was so heavy and bulky it was a huge hassle to load and unload it, so we only took it with us when we could devote a whole day to being on the water.
That was our approach until this year, when my husband injured his foot and needed to be in a boot for awhile. The kayak was too heavy for me to load by myself, so we stopped going altogether. We weren't sure when he'd be back to full capacity – he's actually still in physical therapy – so eventually I started looking into lightweight options I could load by myself.
After researching a wide variety of models, including folding and inflatable options, I decided to buy two 10 foot Tucktec's. Here's what I think after having them for 6+ months: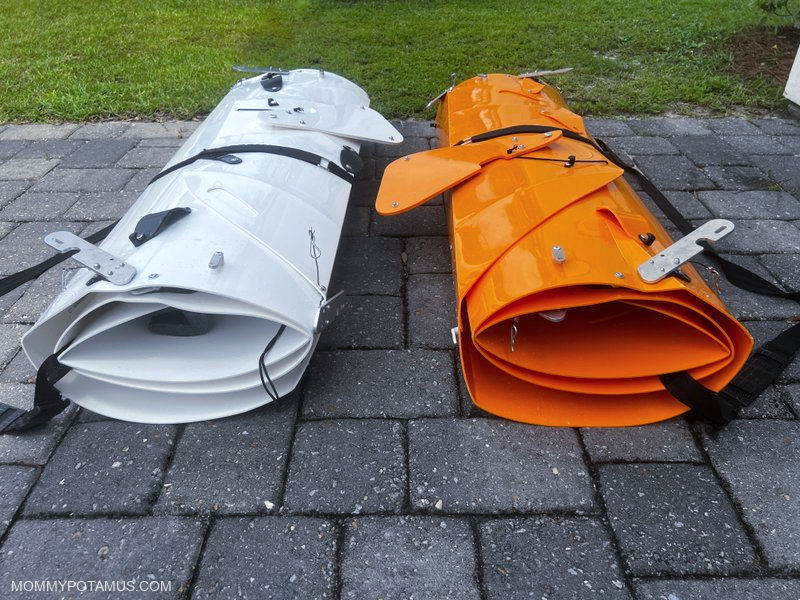 Pros
✔️ Affordability – A few other companies make folding kayaks, but they tend to be significantly more expensive because they're designed for intermediate to advanced kayakers.
✔️ Durability – Unlike inflatable models which are susceptible to punctures, the Tucktec is a tough, hard shell kayak that folds up origami-style when not in use. We have launched ours from very rocky banks, which I would not have been comfortable doing with an inflatable kayak.
✔️ Lightweight & Compact – In my experience, the hassle of loading a kayak onto a roof rack or pulling it a trailer takes away from the enjoyment of using it. At just 25 pounds, Tucktecs are light enough to carry and small enough to fit in just about any trunk. Also, because they're so compact, they don't take up a lot of storage space in my garage.
✔️ Easy To Maneuver – Some folding kayaks can be difficult to maneuver, but Tucktecs are very stable and therefore a great option for beginners/casual kayakers. I just want to paddle around and have fun, not go on expeditions, so I decided to go with something that would be easy for any casual kayaker to use.
✔️ Easy To Assemble (No Tools Required) – I'll admit, the first time my family folded our Tucktecs there was a learning curve. It took about 20 minutes, but now it goes much more quickly. Our goal is to get to the point where we can set up in three minutes.
✔️ Coast Guard Approved – The Tucktec Folding Kayak exceeds US Coast Guard Manufacturing & Safety requirements.
✔️ Warranty – Tucktec says each kayak is designed to handle thousands of folds and comes with a 3 year warranty.
✔️ Weight Capacity – Can handle passengers up to 250-280 pounds.
✔️ Made In The USA With Recycled Plastic
Cons
❌ Flat Water Only – Tucktecs are great for calm water conditions that can be found in lakes, ponds, bays and inlets. They're also good for use on rivers and creeks up to class 2. They are not recommended for whitewater, beach waves or choppy water.
❌ Cost – Even though they're more affordable than many options, they're still an investment.
How To Fold A Tucktec Kayak
I'm terrible at packing our car for road trips or pretty much doing anything that involves spatial relationships, so my kids can actually put together our Tucktec's faster than I can. Even with my geometry-related struggles, though, I can still set them up using the step-by-step instructional video you'll find below. Eventually I won't need it, but it's really helpful for now.
Our Experience
Everywhere I've lived, there have been beautiful places tucked away that I never visited because I took them for granted . . . until I moved away and regretted it. That's why these days I think of myself as a "local tourist" and actively look for adventures that are within driving distance (aka a few hours or less).
With our Tucktecs, we've able to get the health benefits of spending time in nature while also exploring new places and making memories. Also, because they're so compact, we've even taken them to explore waterways in different states.
Below is a video that I took when we were in Missouri recently. One thing to keep in mind is that Tucktek recommends that you always wear a life jacket, even if you're a strong swimmer. We aren't wearing them in the video because I actually just came across that recommendation while writing this review.
Everywhere we've explored we have encountered other kayakers and none were wearing vests. Maybe that's because the water was so still and shallow or some other reason, but I have picked up Coast Guard approved life vests for us to use from now on.
Pro tip: Pick a spot to setup without rocks or tree roots – your knees will thank you!
Final Thoughts
Tucktec recently introduced an 8 foot model for kids and smaller adults, but the 10 foot ones were the only option when I ordered. Fortunately, my nine-year-old can maneuver the larger one just fine, and Tucktec says there's absolutely no reason he can't use it. If the 8 foot had been available I probably would have ordered it for my kids, but I'm glad I got the larger model so they don't outgrow them.
In terms of value, they cost a fraction of other folding kayaks and seem more durable than inflatable ones. There is a learning curve in terms of assembly, but even the first time around should only take 15-20 minutes followed by hours of fun. I'm already planning our next adventure. 🙂
University of Wisconsin (2022) What is forest bathing?
Li, Qing (2018) Forest Bathing: How Trees Can Help You Find Health and Happiness