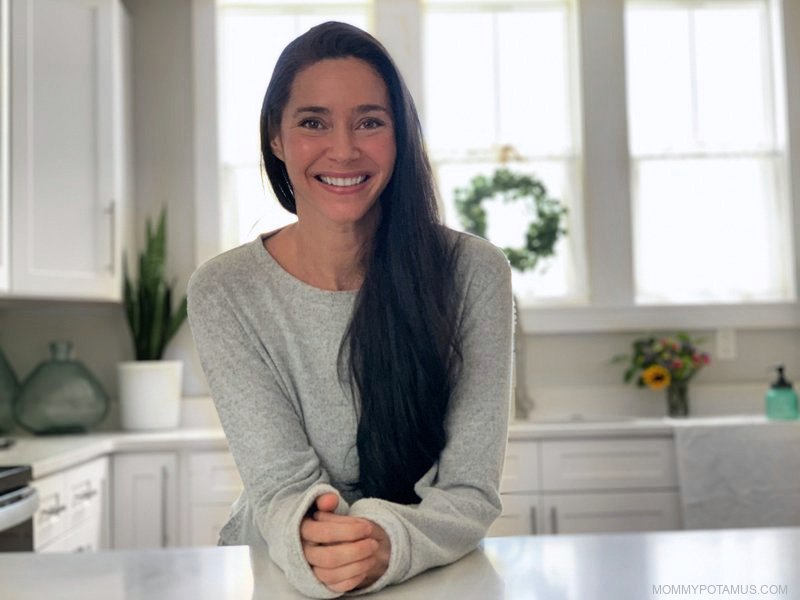 I love clutter-free kitchen counters, which is why when I started researching all the contaminants in our water supply I knew I wanted an under counter water filter. But researching WHICH filter . . . well, that was quite an undertaking.
After researching for about a year, I recently put together this in-depth buying guide that covers different filtration materials, methods and more. In this article, we'll cover the pros and cons of under sink systems, plus my top recommendations.
Advantages of Under Counter Water Filters
1. Clutter-Free Counters – Although most (but not all) under counter filters take up a significant amount of space under your sink, they leave your counters clutter-free and available for other tasks. This can be a huge benefit if you have limited counter space to work with or just loathe visual clutter like I do.
2. Filtered Water on Demand – Unlike many countertop filters which require you to manually fill them with water, with an under counter filter all you have to do to is turn on your tap.
3. Performance – Though there are a few exceptions, under counter filters tend to outperform their countertop peers in terms of contaminant removal.
4. Low Maintenance – With most under counter filters, replacing filters occasionally is generally the extent of maintenance that is required.
5 Long-Lasting Filters – Countertop models often need frequent filter changes, while under counter filters tend to last quite a bit longer.
6. Removes More Harmful Contaminants Than Most Whole-House Filters – When I first started researching water filters I was most interested in whole-house options, because why not have pure water in every faucet, bath, shower, etc., right? Unfortunately, most whole house systems are less thorough than point-of-use systems. There is one system that filters around the same number of contaminants including fluoride, but it's not currently available.
Disadvantages of Under Counter Water Filters
1. Installation – Some (but definitely not all) can be tricky to install and may require a professional plumber.
2. May Need To Drill A Hole In Your Counter – Some models require that you install a dedicated faucet, which involves drilling a hole in your counter to install it. This can be a problem for people who are renting or plan to move soon. If you have a veggie sprayer that you don't use often sometimes you can use that hole instead.
3. Filtered Water Is Only Available At Point-of-Use – Unlike whole house water filters which filter all the water that comes into the home, countertop filters only filter water for one area (usually the kitchen sink). They do tend to remove more contaminants than whole house systems, though, so even people that have whole-house systems often invest in a point-of-use filter for their drinking water.
4. Holding Tanks May Harbor Bacteria & Mold – Reverse osmosis filters generally have a very slow flow rate, so they're designed to filter water in advance that is stored in a holding tank for instant access. Critics of this approach point out that the holding tanks can become a breeding ground for bacteria and mold if not regularly cleaned and sanitized. Personally, I'm not convinced that regular cleaning/sanitizing is enough, so you won't find filters with holding tanks on this list.
With that in mind, here the best under counter water filters I came across in my research.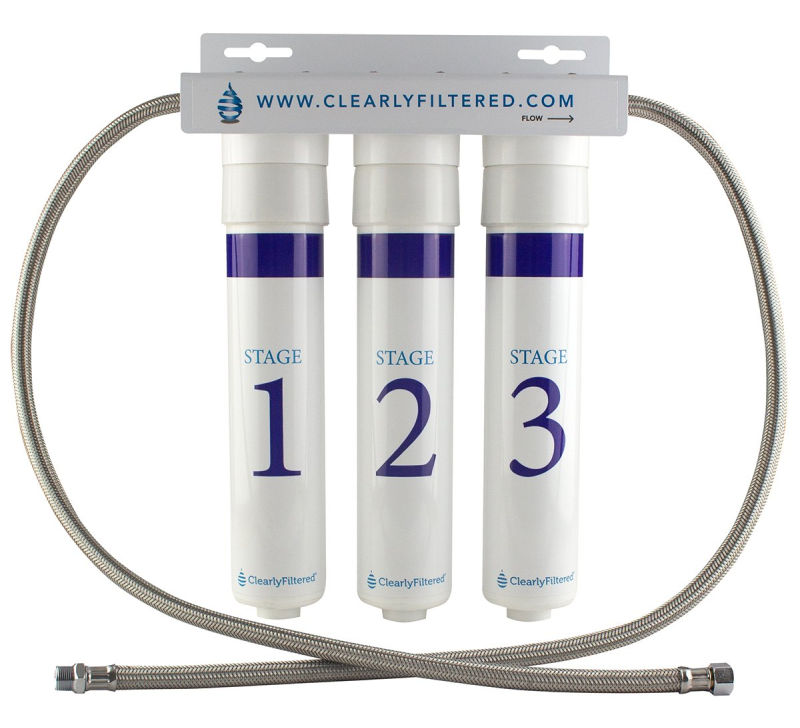 Clearly Filtered 3-Stage Under the Sink System
Price Range: $550 (Save 15% with MP15)
Clearly Filtered makes a water pitcher filter that is my top pick in terms of performance and price, so it's no surprise I love their under counter filter, too. In fact, the more I learn about this company the more impressed I am, which is why I decided to go with this system.
Clearly Filtered says their products perform as well OR BETTER than reverse osmosis systems while keeping beneficial minerals intact. Big claims should come with verifiable data, and Clearly Filtered delivers on that front.
All of their filters have been independently tested and verified by EPA-accredited laboratories at levels exceeding NSF standards, and they post the results directly on their website.
Of all the filters mentioned on this page, Clearly Filtered is certified to remove the most contaminants. The only exception might be the HydroViv, which is customized based on the water in your area and therefore removes a different number of contaminants depending on the filtration materials used.
When I asked Clearly Filtered why their water pitcher is certified to remove/reduce 365+ contaminants instead of the 232+ listed for the under sink system, they told me that they tested the pitcher for a wider range of contaminants and therefore can report the higher number.
I asked if the filtration material is the same in both products (yes) and if they are considering testing the under sink system for a wider range of contaminants (also yes), so it may be that the list of covered contaminants is expanded in the future.
Pros
Independent 3rd party testing by EPA-accredited laboratories has found it to meet NSF/ANSI standards 42, 53, 244, 401 and 473.
Certified to remove 232+ contaminants including heavy metals, haloacetic acids, microplastics, viruses, bactria, cysts, thorium and cesium, pesticide, herbicides, phthalates, VOCs, some pharmaceutical drugs, and fluoride with a 90.7% removal rate. A link to the full list can be found in the top right corner of the product page.
Built in the USA with medical-grade materials
Long lasting filter life
Doesn't remove beneficial minerals from water
Doesn't waste water like reverse osmosis systems
Non-permanent & easy installation (Doesn't require a plumber, dedicated faucet, or storage tank)
If you're worried about remembering to order replacement filters, you can use their subscription option to have them delivered automatically
Cons
Some reviews say that it reduces water pressure by about 15-25%. Thorough filtration takes time, so this makes sense. I've been trying to buy this filter for MONTHS after completing my research and just finally ordered one yesterday, so I'll update you on my experience once I have it installed.
Filtration Technology Used
Clearly Filtered uses a 3-stage filtration process:
Stage 1 uses a stainless steel mesh screen to filter out large particles.
Stage 2 uses granulated coconut carbon to remove chlorine, bad tastes and odors.
Stage 3 uses their Affinity® filtration technology, which according to the company combines "eight different filtration materials, each of which is known for its strong absorbent properties. Together these materials work harmoniously in a process called ionic absorption. As your tap water passes through the filter, the contaminants will ionically bind to the materials, permanently removing them to give you expertly filtered water. "3 The filtration media does not use activated alumina (aluminum oxide) or bone char.
My Take On Clearly Filtered
I haven't found any other option that removes as many total contaminants (including fluoride) as this system. If your water isn't fluoridated there are a few other options below that are worth looking at.
Where To Buy The Clearly Filtered 3-Stage System
Due to high demand and global supply issues, this filter has sold out several times over the past few months.
As of today they do have a few in stock – click here and use code MP15 to save %15
If they sell out again and you're looking for a workaround while you wait for the under sink system to come back in stock, they make two other awesome products that I've used and recommend:
Refrigerator Filter – Unlike most fridge filters that just focus on removing chlorine to improve taste, this filter removes 232+ contaminants while retaining beneficial minerals. Each filter is good for 365 gallons of water, and just like with the under-sink system, it hooks directly into your water line and filters water on-demand
Water Pitcher Filter – I bought this filter to use in my kitchen (while waiting for the under-sink system comes back in stock) and to take with me on road trips so my family has access to clean water without buying single-use bottled water. It's a great option for dorm rooms, offices, and at-home use.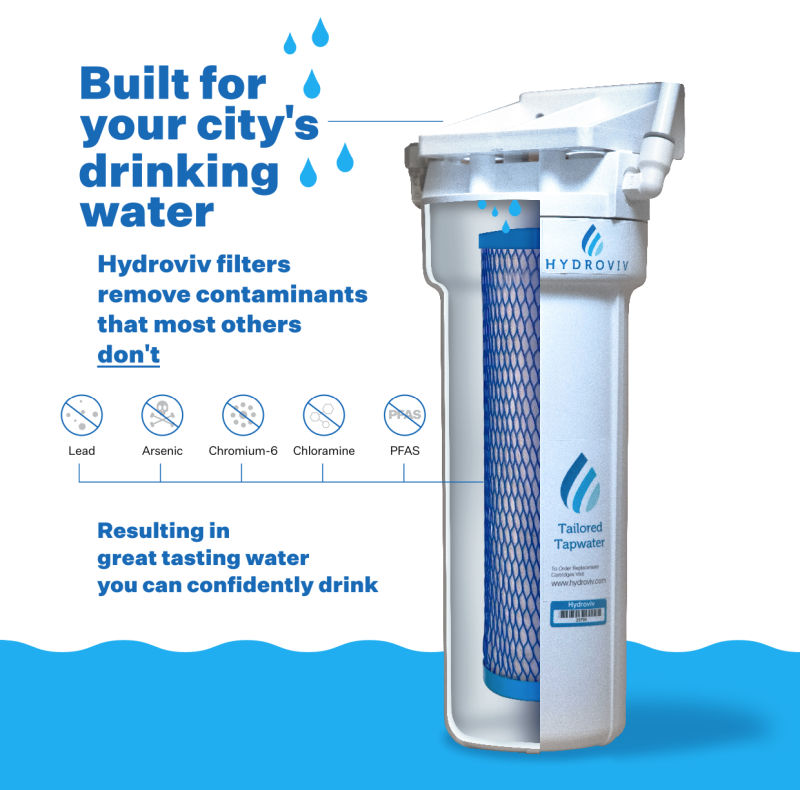 HydroViv
Price: $179.99 (check it out here)
This company is interesting because it creates a unique filter for you based on your local quality report. It's not just a basic system, either. HydroViv's filters carry NSF certifications to Standards 42 and 53 and are independently tested to remove hundreds of contaminants.
Unfortunately, fluoride is not on the list of contaminants removed, so if you live in an area that adds fluoride or have naturally occurring fluoride in your water supply, this may be one to skip.
According to HydroViv, "To build a filter that removes fluoride, we'd have to compromise the cartridge's performance against things like lead, arsenic, VOCs, Chromium 6, PFAS and other contaminants where there is conclusive evidence of negative health effects, and as scientists, we're just not comfortable doing this… even upon request. So no, our systems don't remove fluoride."
Pros
Hydroviv's filters carry NSF certifications to Standards 42 (aesthetic effects) and 53 (health effects) and are independently tested to remove/reduce hundreds of contaminants.
Each water filter system is customized to address local water supply concerns, but the list of contaminants removed includes arsenic, lead, chromium 6, volatile organic compounds (VOCs), PCBs, MTBE, mercury, cysts, pesticides, pharmaceuticals, petroleum-based chemicals, chlorine, chloramine, disinfection byproducts, PFOA, PFOS, PFAS and more.
They can make a customized filter for well water if you send in your water test results
Easy 15 minute DIY installation – all the connections are screw-on and screw-off. There's no cutting, drilling, or anything of the sort required.
They email you when it's time to replace your filter, or you can sign up for autoship.
Con
Filtration Technology Used
Each filter is tailored for a specific area so the exact filtration media used varies, but it seems to be pretty standard stuff like activated carbon.
My Take On HydroViv
If fluoride is not a concern for your area, this is definitely one to consider.
Where To Buy The HydroViv Under Sink Filter
ProMax FS10 Under Sink Filter (From ProOne)
Price Range: $369.95
The ProMax FS10 has been independently tested and shown to remove 220+ contaminants including fluoride, VOC's, lead, heavy metals, pesticides, SVC's, disinfectants, herbicides, pharmaceuticals, PFOA, PFOS, microorganisms and more.
Pros
Independently lab tested to NSF/ANSI 42, 53, P231 and 401 standards
Removes/reduces 220+ contaminants
Can be used with most tap and well water
Can be installed inline (directly hooked up to main faucet) or can be set up to have a dedicated faucet
Filters are long-lasting – up to one year if inline or two years if dedicated faucet
Can be installed without a plumber and includes wrench for easy filter replacement
Uses lead-free fitting
Cons
ProOne is well-respected in the industry and their filters have rave reviews overall. However, some Amazon reviews state that the filter cartridge in this particular model filled up quickly and caused the water pressure to slow significantly within 1-3 months of installation.
When the filter cartridge was replaced the water flow returned to normal. Replacement filters are $199.95, so replacing every 1-3 months would be pricey.
In the past, I have seen high-quality products have one not-so-great manufacturing run and then get back to normal. Given how positive user experiences have been with ProPur overall, I'm wondering if that's the case with those handful of reviews.
Right now there aren't a lot of reviews on this particular model to compare them with, so I'm waiting for more to come out before I develop an opinion.
Filtration Technology Used
ProOne says their multi-stage system includes:
Electro absorptive non-woven technology which removes a wide range of submicron particulates, pathogens, trace pharmaceuticals and cellular debris using its naturally occurring electro-positive charge
Multiple stages comprised of infused micro-structure water filtration media in tandem, each stage comprised of a unique proprietary formula engineered to target a specific group of contaminants
Catalytic GAC (granular activated carbon) with enhanced carbon media to help improve water taste, odor and performance in contaminant removal
My Take On ProOne
Overall it seems like a very impressive system that meets more standards than most companies. However, since I wasn't able to find many personal reviews or experiences with this particular filter, I'm waiting until more come out before I form a full opinion.
Where To Buy The ProMax FS10
Due to high demand and global supply issues, the ProMax FS10 is currently sold out.
If you'd like me to email you when it's available, fill out the form below and I'll send you a quick update when I have one. I won't email you about anything else, promise.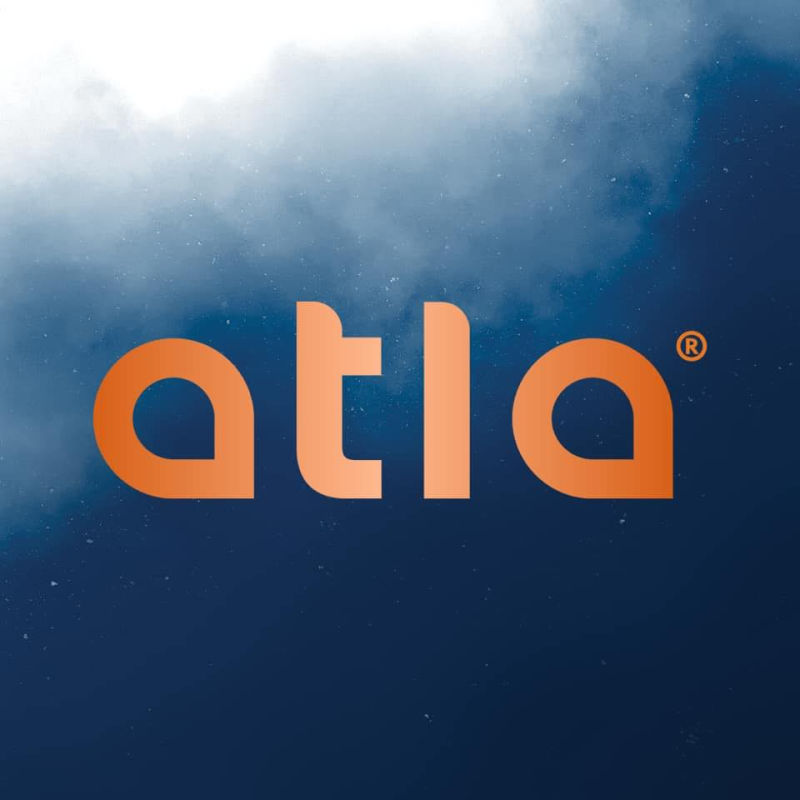 Atla Water Filter (Formerly AquaLiv)
Price Range: $589-669 depending on the faucet connection you prefer
The Atla filter claims to "recreate the dynamics of a mountain spring" using revitalization technology that "structures" water to increase dissolved oxygen (DO) and improve oxidation reduction potential (ORP).
It has also been system tested by Pace Analytical to meet NSF/ANSI Standards 42 and 53, which covers 56 contaminants.
Of all the filters I'm including on this list, this one is the most "woo" due to the structured water claims. However, after reading The Fourth Phase of Water (you can find the authors TEDx talk that summarizes his research here) I do think there's some merit to it.
Pros
Uses magnesium to make water more alkaline. Many experts say that most of us don't get enough magnesium relative to calcium so I consider this a good thing.
Constructed with NSF certified components
System tested by Pace Analytical to meet NSF/ANSI Standards 42 and 53, which covers 56 contaminants. You can find a list of the contaminants on their product page.
Water flows continuously at one gallon per minute, which is very good
Easy installation
Cons
Fluoride Removal Rate Varies – According to the company, "Based on real-world tests provided by [Atla] customers, you can expect a 10%-89% reduction of the fluoride in your water provided the filters are changed annually. (Yes, that's a wide spectrum of reduction, we know.). . . For people with fluoride sensitivity, we can supply an additional fluoride filter for the [Atla] Water System to more than double the reduction capacity over the standard system. If you want the Purification Expansion Kit and additional Fluoride Filter, we have those items available online or you may contact us to discuss your exact needs"
Requires A Little Extra Cleaning – As I mentioned earlier, I'm not recommending any units with storage tanks due to the potential for bacterial or fungal growth in them. Some tanks can't be sanitized, while others can though it seems like a hassle.
The Atla has a small black tank that is a "water revitalizer" rather than a storage tank. Unlike storage tanks which can have moisture that sits for a long period of time, the Atla is a flow-through unit (meaning that water consistently flows through the unit and therefore keeps it "fresh".)
They recommend sanitizing it once per year, or more often if you live in an area known to have bacterial issues. I don't live in an area with known bacterial issues but I'd probably clean it more than once per year just to be extra safe.
Filtration Technology Used
The Atla Water System uses Activ8™ Purification Technology includes:
A 5-micron coconut carbon block that blocks particles larger than 5 microns and adsorbs chemicals like chlorine, VOCs, etc.
KDF-55 filtration media, which reduces water-soluble lead, mercury, nickel, chromium, etc. and controls the buildup of bacteria, algae, and fungi
FLUORGON™, which adsorbs fluoride, chromium, arsenic, aluminum, etc. FLUORGON™ is made with ??, not activated alumina which I don't recommend.
0.5-micron coconut carbon block that blocks particles and parasites greater than 0.5 microns and adsorbs chemicals
My Take On The Atla
I think the structured water component is really appealing. It's commendable that they're open about the variation in fluoride removal capacity and they have a proposed solution.
This is an option I'm considering for a different sink in my home sometime in the future. If I install it, I'll test the fluoride removal rate before and after to see how it works in my area.
Where To Buy The Atla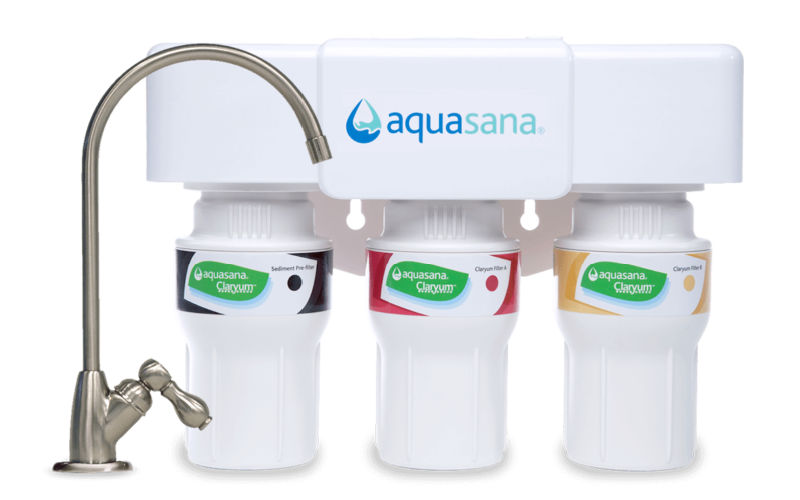 Aquasana Claryum® 3-Stage Max Flow Filter
Price: $209.99
Aquasana has a Claryum® 3-Stage Max Flow under sink system that has a 4.5 star rating and 1600+ reviews. It's rated to remove/reduce 77 contaminants and has an excellent track record in terms of reliability and performance.
Unfortunately, fluoride is not on the list of contaminants removed, so if you live in an area that adds fluoride or have naturally occurring fluoride in your water supply, this may be one to skip.
Pros
Certified to meet NSF/ANSI Standards 42, 53 (includes P473), and 401.
Removes 77 contaminants including lead, PFOA/PFOS, cysts (cryptosporidium & giardia) chlorine, pharmaceuticals, asbestos, pesticides, and more
Doesn't remove healthy minerals like magnesium, potassium and calcium
Relatively long filter lifespan (600 gallons or up to six months)
Cons
Requires a dedicated faucet
Does not remove fluoride. Only the reverse osmosis systems do, and I opted not to go that route due to storage tank microbial growth concerns.
Filtration Technology Used
The 3-stage system uses a pre-filter (sediment filter) plus activated carbon, catalytic carbon, ion exchange and sub-micron mechanical filtration.
My Take On Aquasana
If removing fluoride is not a concern, this is a budget-friendly option to consider.
Where To Buy The Aquasana Claryum® 3-Stage Max Flow Filter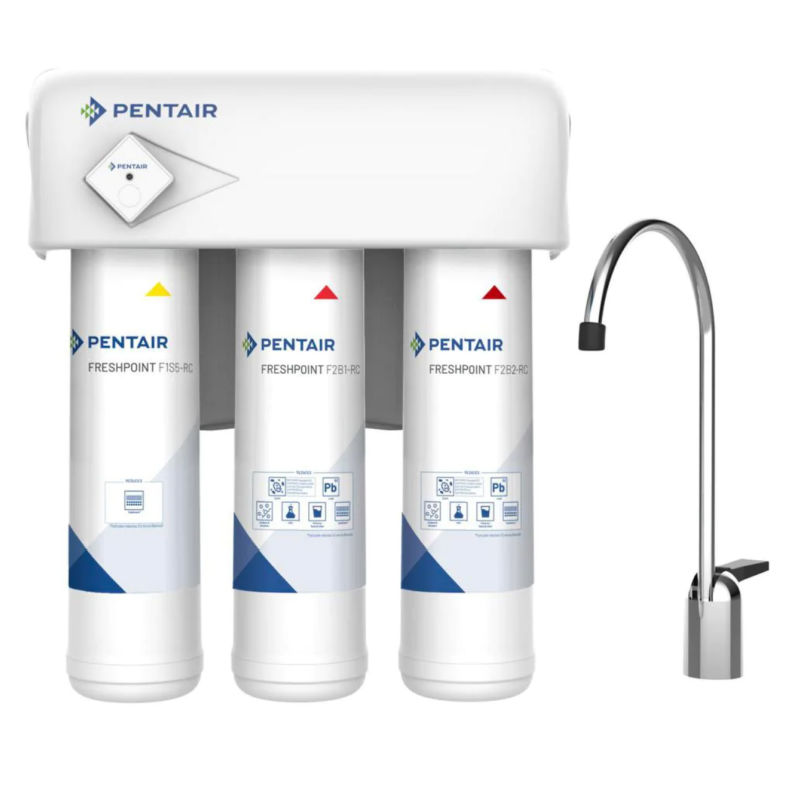 FreshPoint F3000 by Pelican/Pentair
Price: $136.80 – $154.80
The FreshPoint F3000 removes/reduces 60+ contaminants including lead, cysts (cryptosporidium & giardia), VOCs, atrazine and lindane. It doesn't remove fluoride – only the reverse osmosis systems do, and I opted not to go with storage tank systems due to microbial growth concerns.
Pros
Certified by NSF International – the actual organization that sets the standards everyone is trying to meet – against NSF/ANSI Standard 42, 53, and CSA B483.1
Removes 60+ contaminants including lead, cysts (cryptosporidium & giardia), VOCs, atrazine and lindane
Keeps healthy minerals intact
Relatively long filter lifespan (675 gallons or up to six months)
Cons
Requires dedicated faucet
Does not remove fluoride
Filtration Technology Used
Uses a 5 micron sediment filter and two carbon block filters.
My Take on Pelican
If removing fluoride is not a concern, this is a solid option to consider.
Where To Buy The FreshPoint F3000
Other Filters I Researched
Any time I publish a review of several products at once, I get asked if I've considered a different brand. Below are some that I did look into. If you think there's another one I should please let me know in the comments!
Waterdrop G3 Reverse Osmosis System
When I first started researching water filtration, I thought reverse osmosis was the most effective removal technique. Sure, it also removes minerals, but I figured it might be worth it.
After a lot of reading, I think there are other systems that perform as well as RO systems and are less vulnerable to filtration problems. The membrane that RO systems use, for example, can become damaged and ineffective if the pre-filters (that remove sediment) are not meticulously maintained.
With that said, I did consider the Waterdrop G3 Reverse Osmosis System. It doesn't have a storage tank that is vulnerable to microbial growth, and it has a better-than-average water usage ratio of 1:1. That means that for every gallon filtered, only one gallon of waste water is created. Many systems waste four gallons of water in order to purify one.
However, although the manufacturer says it filters out fluoride, one independent tester found that it only removed about half of the claimed amount. It also requires a dedicated faucet.
Given all the other high quality options available, I decided RO wasn't for me.
CuZn UC-200
This under sink water filter system was recommended to me a few times over the years and it looks interesting, but it's not NSF certified or certified by any other organization that I know of, doesn't have any published performance data that I can find, and doesn't reduce fluoride.
More About Water Filtration
Here's how to find out what contaminants are in your water, and here's my in-depth guide to choosing the best filter for your specific needs.
Do you have a question about under counter water filter systems?
Please let me know in the comments below!
Sources