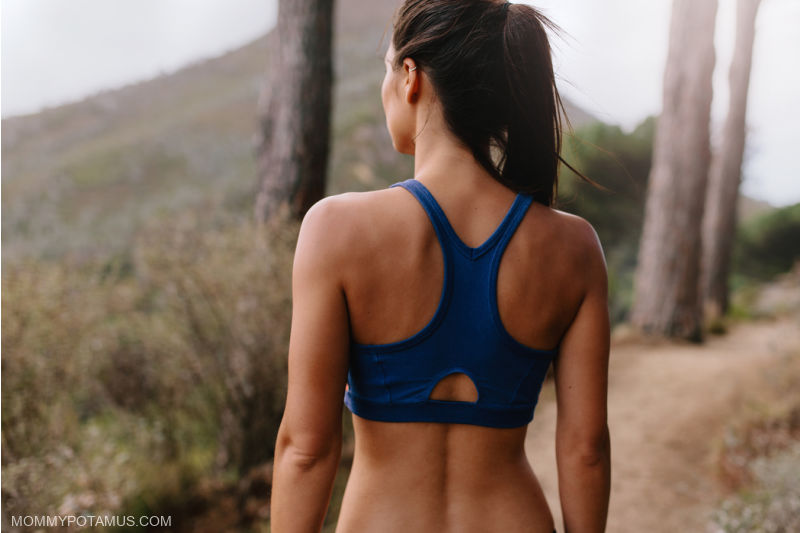 So, you've switched to non-toxic personal care products, tossed your sketchy plastic water bottle, and swapped old plastic food containers for stainless steel or glass. When the cashier at your local store asks if you want a BPA-infused paper receipt, you usually opt for a digital version instead . . . so you've eliminated most of the BPA exposure in your life, right?
That's what I thought until recently when the Center for Environmental Health – a non-profit watchdog organization – released a report showing high levels of bisphenol A (BPA) in popular sports bras and other athletic clothing made by Athleta, PINK, Asics, The North Face, Nike, FILA, and other popular brands. According to the report, these bras can contain up to 22 times the safe limit of BPA established by California law.
Yikes.
This would probably be good time to mention that I've basically been living in bralette-style sports bras in order to avoid lymph-constricting underwire bras. Double yikes.
Is BPA in sports bra's really a big deal?
The short answer is yes.
The long answer is definitely yes, and here's why:
1 – BPA exposure is linked to a wide range of negative health effects. BPA is often added to fabrics like polyester and spandex to improve colorfastness and make materials more resistant to static, but it comes with significant risks.
Unfortunately, according to Dr. Jimena Díaz Leiva, Science Director at CEH, "The problem with BPA is it can mimic hormones like estrogen and block other hormone receptors, altering the concentration of hormones in our bodies, and resulting in negative health effects." (1) Exposure has been linked to diabetes, heart disease, cancer, weight gain, and even premature death. (2) (3) (4) (5)
She adds that, "Even low levels of exposure [to BPA] during pregnancy have been associated with a variety of health problems in offspring." (1)
2 – BPA is easily absorbed through skin. According to Kaya Allan Sugerman, Illegal Toxic Threats Program Director at CEH:
Studies have shown that BPA can be absorbed through skin and end up in the bloodstream after handling receipt paper for seconds or a few minutes at a time. Sports bras and athletic shirts are worn for hours at a time, and you are meant to sweat in them, so it is concerning to be finding such high levels of BPA in our clothing."
Also, though the chemical studied was different, research suggests that prolonged exposure to toxins in clothing can significantly impact chemical absorption: (6)
Better Bra Options
For some of you, the solution might be to burn your bra – not literally, of course, since that would just cause you to inhale the toxins. But while going bra-free is an option, for most of us there are times when a bra is preferable.
I'm currently testing some wool sports bras to use for workouts, but so far I haven't found one I love. When I do, I'll make sure to update this article.
In the meantime, if you're like me and gravitate toward sports bras as an alternative to underwire bras, here are some healthy alternative options to consider: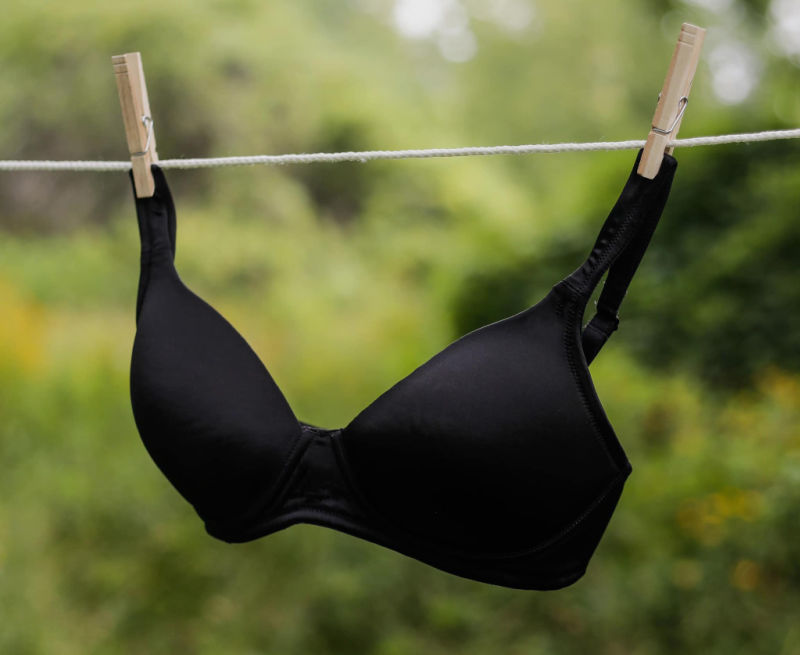 Vibrant Body Company
I turned to bralette-style sports bras because I couldn't find an underwire-free regular bra that I liked – that is, until I discovered the semi-demi and full coverage options from Vibrant Body Company. I'm working on a review for you, but here's a quick overview of the pros and cons I've found:
Pro #1: Comfort + Clean Ingredients – They're comfortable and truly supportive thanks to a unique design that does not include underwires, and they're made with OEKO-TEX® Standard 100 certified clean ingredients.
Pro #2 : Custom Virtual Fitting – If you're like me and haven't had a proper bra fitting in awhile (let's just say three kids ago), you can take advantage of their free virtual fitting consult. I learned I was wearing the wrong size, discovered a new favorite style, and felt weirdly relaxed after the consult because it had a very pampering, self-care focused vibe. (My fitting specialist had a lovely English accent which didn't hurt.)
The main con I've found is that they carry a limited selection of sizes. They're a relatively small company, and though I haven't talked with the owner my guess is that it's because they need to streamline production costs while they get their message out. I wouldn't be surprised if they increase their offerings as they grow.
If you want to try them out, click here and use code MP20 to save 20%.
Pact
Pact offers several organic cotton bras that offer lighter support than Vibrant Body Company. I consider them more "loungewear" than "out-and-about" bras, but they might work for you depending on your preferences and cup size.
I'm sure there are other great options out there, I'm just sharing the ones I have personal experience. In general, look for high-quality materials like organic cotton, OEKO-TEX® Standard 100 fabrics, or GOTS certified fabrics.
FREE Ebook: DIY Body Care Gifts Made Simple
Do you want to give gorgeous, handcrafted gifts for family and friends, without spending a bunch of time on them?
Then I'd love to give you a free copy of DIY Body Care Gifts Made Simple – my step-by-step guide to making gorgeous handcrafted gifts without stressing yourself out – as a gift for signing up for my newsletter. I'll show you how to make vintage labels, luxurious lotion bars, lip balms, sugar scrubs, body sprays and more like a pro. Sign up for my newsletter and you'll be redirected to the download page immediately!
Sources