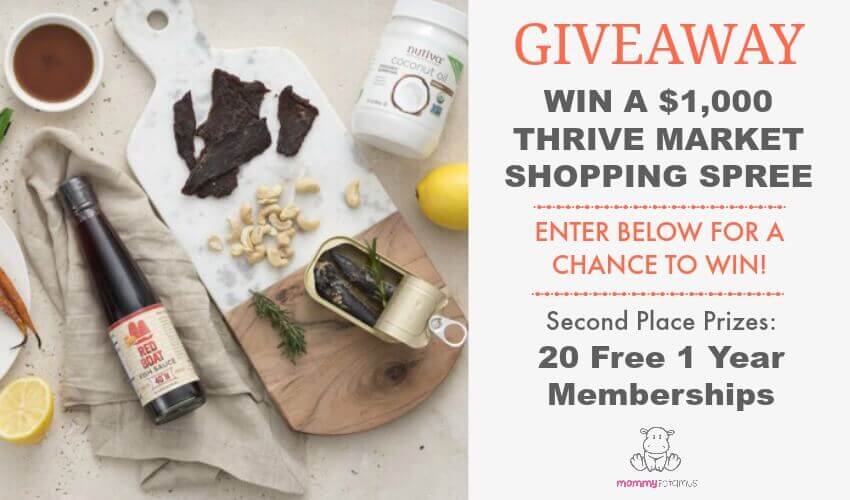 Gone to the grocery store for "just a few things" and then had to pick up your jaw off the floor when the cashier read out your total? Or shlepped to a faraway health food store for gelatin, only to find out they're out of stock? Chances are, then, that you're going to LOVE today's giveaway!
My search for real food bargains has led me to some pretty odd places. I've driven hours to meet farmers in Walmart parking lots, joined co-ops for everything from maple syrup to coconut oil, and generally spent a lot of time tracking down the best deals. And while I still buy fresh items like meat and produce locally, I'm happy to say that I've found a much more simple way to save on staples.
You guys, Thrive Market is a busy mom's dream. Instead of spending tons of time trying to find money-saving deals, or spending more money to save time, Thrive helps you save time AND money at the same time. Seriously.
If you haven't heard of them yet, they're a new online store that delivers real food, supplements, personal care, beauty products and home goods straight to your door at wholesale prices with FREE shipping on orders over $49.
We're talking brands like Dr. Bronner's, Spectrum Naturals, Bob's Red Mill, Real Salt, and Navitas Naturals. I'll admit, I was skeptical when I checked Thrive out for the first time. Not everything offered there is stuff I'd personally buy, but with over 3500 of the world's best-selling items to choose from I've found more than enough to make shopping with them a huge money saver for my family.
In fact, my first order came to $59.85 – on Amazon it would have cost $120.39!! (And I have Amazon Prime, so that's even with free shipping.) The savings from just that one order covered the cost of my entire membership – you can see a breakdown of what I bought here.
Every couple weeks, I order a host of staples that we used to purchase from Whole Foods Market or the healthy section of the local grocery store. Now we save a lot of cash that can go to special family night activities or date nights with the hubs.
Check out Thrive Market. I'm guessing you'll find a few dozen items you already buy for less than your local grocery store. If you could save a nice chunk of change each week, what would YOU put that money towards?