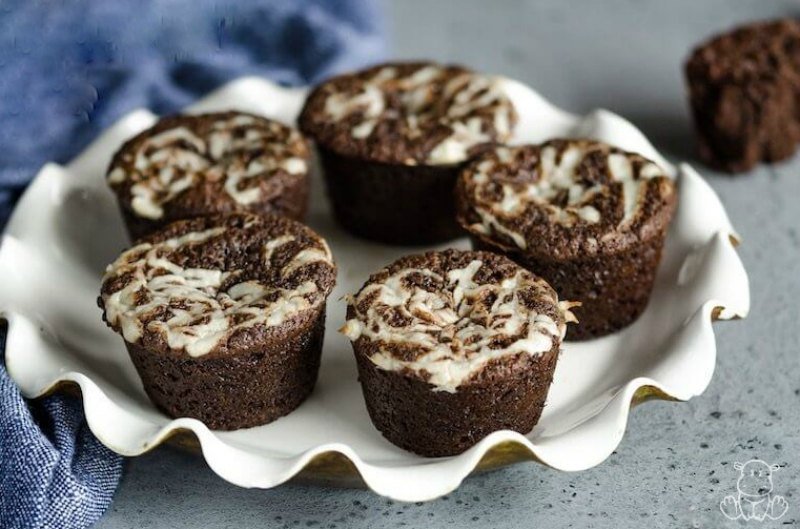 Besides wine, chocolate is the number one guilty pleasure of most moms. And it makes sense. Chocolate contains neurotransmitters that stimulate the brain in a similar way to amphetamines. Chocolate also contains high amounts of fats and sugars that our bodies crave. Chocolate just makes us feel good! This gluten-free chocolate cheesecake brownie recipe is a perfect way to get your chocolate fix without a sugar spike!
Is Chocolate Good for You?
As a matter of fact, chocolate can be very good for you. Dark chocolate contains magnesium that is important for heart health, blood sugar control, protein synthesis, and over 300 other functions in the body. But many of us are chronically deficient in magnesium due to poor soil, stress, and consuming caffeine and sugar. Some people who live close to the ocean and eat magnesium-rich foods each day may not be deficient, but many of the rest of us are.
Chocolate also contains antioxidants called flavonoids and polyphenols. These antioxidants help fight oxidative stress and protect the heart.
But most chocolate you find in the store contains ingredients that are not so healthy. These ingredients can include:
GMO sugar
high fructose corn syrup
hydrogenated oils
soy lecithin
artificial flavoring
Carrageenan
Some chocolate includes milk or other dairy products too. Even if you aren't avoiding it, the dairy used in commercial chocolate is almost certainly not pastured dairy.
That's why I choose to make homemade chocolate treats like these chocolate cheesecake brownies instead of indulging in store-bought treats.
Is Cream Cheese Healthy?
It depends. Cream cheese from a healthy source is perfectly healthy (in moderation, and as long as you aren't sensitive to dairy). Conventional cream cheese probably isn't. Here are some things to look for when choosing a cream cheese:
Organic – Choose organic whenever possible for all dairy products. This ensures cows weren't fed GMO grains.
Grass-fed – If possible, choose grass-fed. It's much harder to find grass-fed cream cheese than milk or butter but, it can be done.
Full-fat – It's surprisingly hard to find full-fat cream cheese (and yogurt) at the grocery store!
Find healthy cream cheese at a natural food store, farmer's market, or co-op. You can also look at your local farm store or stand. If you can't find it locally, consider making your own. Here is a tutorial.
Cheesecake Swirl Brownies (Gluten Free) Recipe
A decadent (but healthy!) dessert that is perfect for bringing to a party or family gathering.
Ingredients
For the Cheesecake Swirl:
Instructions
Preheat the oven to 350°F.

Grease a muffin pan and set aside.

Melt the butter or coconut oil.

In a medium size bowl whisk together the melted butter/coconut oil, coconut sugar, vanilla extract, salt, and eggs until. Set aside.

In another bowl, mix together the cocoa powder, almond flour, and baking powder. Add the almond/cocoa mixture to the bowl of wet ingredients and stir until combined.

Use a ¼ cup measure to scoop the batter into the prepared muffin pan.

Bake for 4 minutes in the preheated oven.

While the brownies are baking, combine all the ingredients for the cheesecake swirl in a bowl and use a fork to mix well.

Drizzle the cheesecake mixture over the partially baked brownies and continue baking for another 12-18 minutes or until a toothpick inserted in the center comes out clean.

Let the brownies cool completely, remove from the muffin pan, and enjoy!
Notes
Try individually wrapping and freezing these!
Nutrition
Serving:
1
brownie
|
Calories:
184
kcal
|
Carbohydrates:
21.7
g
|
Protein:
3.2
g
|
Fat:
10.6
g
|
Saturated Fat:
6
g
|
Polyunsaturated Fat:
0
g
|
Monounsaturated Fat:
0
g
|
Trans Fat:
0
g
|
Cholesterol:
65
mg
|
Sodium:
133
mg
|
Potassium:
0
mg
|
Fiber:
1.2
g
|
Sugar:
18.9
g
|
Vitamin A:
0
IU
|
Vitamin C:
0
mg
|
Calcium:
0
mg
|
Iron:
0
mg
How to Serve Gluten-Free Chocolate Cheesecake Brownies
These brownies are perfect on their own, but if you want to make them really special, try serving them in some of the following ways:
Top them with organic coconut cream or whipped cream.
Cut brownies into small squares and dip in melted chocolate. Let cool and give as gifts (or eat them yourself!).
Top these brownies with a scoop of homemade ice cream (strawberry or cherry would be amazing!).
Use cookie cutters to make fun shapes. Try hearts, stars, and animal shapes.
Add slices of strawberries to the top.
Serve alongside a masala chai tea latte or other healing drink.
Want more delicious, easy recipes?
No problem, I've created a free ebook for you – 35+ Gluten-Free Desserts – as a gift for signing up for my newsletter. Every Sunday you'll get recipes, actionable health tips, and highly-vetted product recommendations delivered fresh to your inbox.
Sign up using the form below.
Are you a brownie lover? Do you like yours swirled with cheesecake?