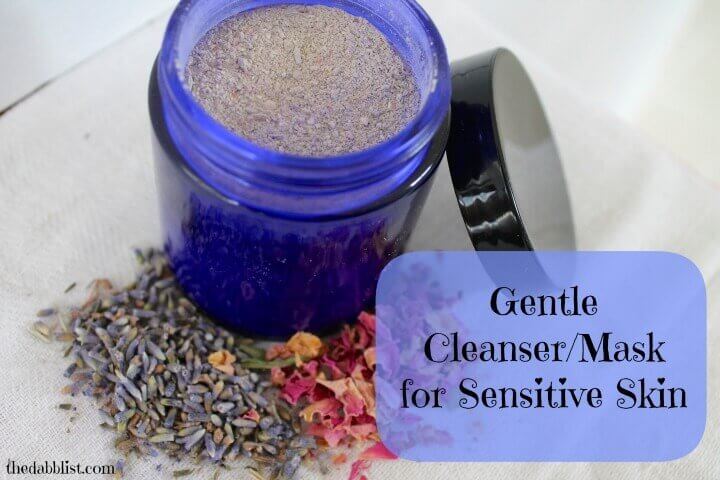 Note from Mommypotamus: Today's guest post comes from Becca of The Dabblist. Check out her blog for real food recipes, tutorials, life hacks and inspiration to live a healthy, happy life. Thank you for sharing with us today, Becca!
This year has been the year of skincare for me.
It started off with a bit of a bang. My hormones went completely out of whack after a minor medical procedure, and my skin was the first to let me know. I had cystic acne, patches of dry skin, and overall discomfort.
I've been a fan of store-bought natural skincare products for some time but, when they would do nothing for my skin, I went back to basics and looked to nature's purest ingredients (because nature seems to always know best, right?). I started cleansing my face with raw manuka honey every day, and started making my own cleansers, masks, and moisturizing oils. Within several weeks, my skin started to re-balance and I felt like a normal person again. But this time, I had so much knowledge about making my own effective skincare and wanted to share it with everyone!
This recipe is for a delicately fragranced, gentle cleanser / mask double whammy, and it's great for those of us that don't wear a lot of makeup day to day.
What I love about this product is that it won't spoil as long as you don't let moisture get into the container. You can take it in your bag on a flight no problem, and it makes a really lovely handmade gift for a dearly loved lady in your life.
The Star Ingredients
Oatmeal – A great gentle abrasive base for facial scrubs that soothes all type of skin irritations.
Lavender – Soothes irritated and acneic skin. The oil is one of the most gentle and widely used essential oils for the skin.
Rose Petals – Promote skin cell regeneration while acting as a mild astringent.
Bentonite clay – Absorbs and removes toxins and impurities from the skin, while allowing oxygen to get to cells.
Rosehip Seed Oil – High in essential fatty acids that helps heal environmental damage to the skin.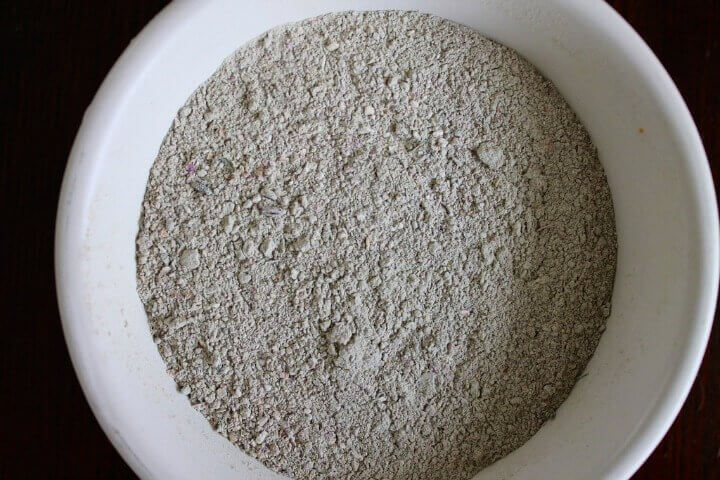 Lavender & Roses Gentle Cleanser and Mask for Sensitive Skin
Combine the oatmeal, lavender, and rose petals in a clean coffee grinder and grind into a powder. Combine with clay in small bowl, then drop in the essential oils. Mix thoroughly (I like to use a whisk) to evenly distribute the oils all throughout the powder.
Package the finished powder in individual jars or bags for gifting. No refrigeration is required, but it should be stored in a cool, dry cupboard and used within 6 months for maximum freshness.
To Use:
As a Cleanser
Place 1-2 tsp of the powdered cleanser into the palm of your hand, and sprinkle in water (I like to use homemade rose water or some milk if my skin is feeling dry) and work into a spreadable paste. Apply the entire mixture to cover the face, throat, and décolleté, massaging in a circular motion. Rinse with warm water.
As a Mask
Follow the same directions as above, but gently spread the paste across your cleansed skin and let sit for 10-15 mins, or until mask completely dries. Rinse with warm water.
About Becca
Becca is the face behind The Dabblist – her manifesto to declare freedom from the taboo of being known as a "dabbler." She has found that, through sharing our stories and creations with each other and not being afraid to get our hands dirty, we can remember what our great great great grandmothers once knew – that we can be the creators of our own joy.
You can follow The Dabblist on Pinterest & Instagram.
FREE Ebook: DIY Body Care Gifts Made Simple
Do you want to give gorgeous, handcrafted gifts for family and friends, without spending a bunch of time on them?
Then I'd love to give you a free copy of DIY Body Care Gifts Made Simple – my step-by-step guide to making gorgeous handcrafted gifts without stressing yourself out – as a gift for signing up for my newsletter. I'll show you how to make vintage labels, luxurious lotion bars, lip balms, sugar scrubs, body sprays and more like a pro. Sign up for my newsletter and you'll be redirected to the download page immediately!