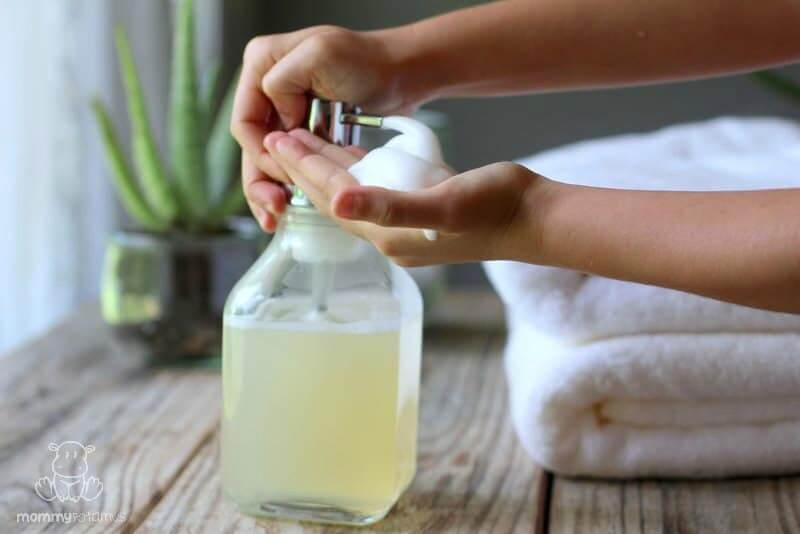 Have you ever done the castile soap squint? You know, the face you make when you try to get some liquid castile soap out of a hand pump, only it squirts you in the eye instead? I LOVE castile soap for so many reasons. It's gentle enough to be used in homemade body wash, yet powerful enough to make sinks, counters and tubs shine. Unlike most hand soaps that contain hormone disrupting chemicals, it's made with simple, wholesome ingredients. But oh, the castile soap squint. Undiluted castile soap easily clogs soap dispensers, so I've done it more often than I'd like to admit.
Diluted, on the other hand, well that's another story! In general, I avoid using water in my DIY recipes because it increases vulnerability to spoilage. However, in a moment of squinty-eyed desperation awhile back I emailed the lovely people at Dr. Bronner's and asked if they could recommend some guidelines for safely using their product in a foaming hand soap recipe.
They suggested using at least 1 part soap to 4 parts water, and using the mixture within a month, but I found that 2 parts soap to 4 parts water created the consistency I preferred. (More soap is better in terms of shelf life, which appealed to me as well.)
I'm happy to report that thanks to this recipe I haven't squinted weirdly at anyone in a long time, and my bathroom counters/walls are cleaner now that globs of undiluted castile soap don't randomly fling through the air. And because I'm using the guidelines recommended by Dr. Bronner's, I'm super comfortable making this for my family.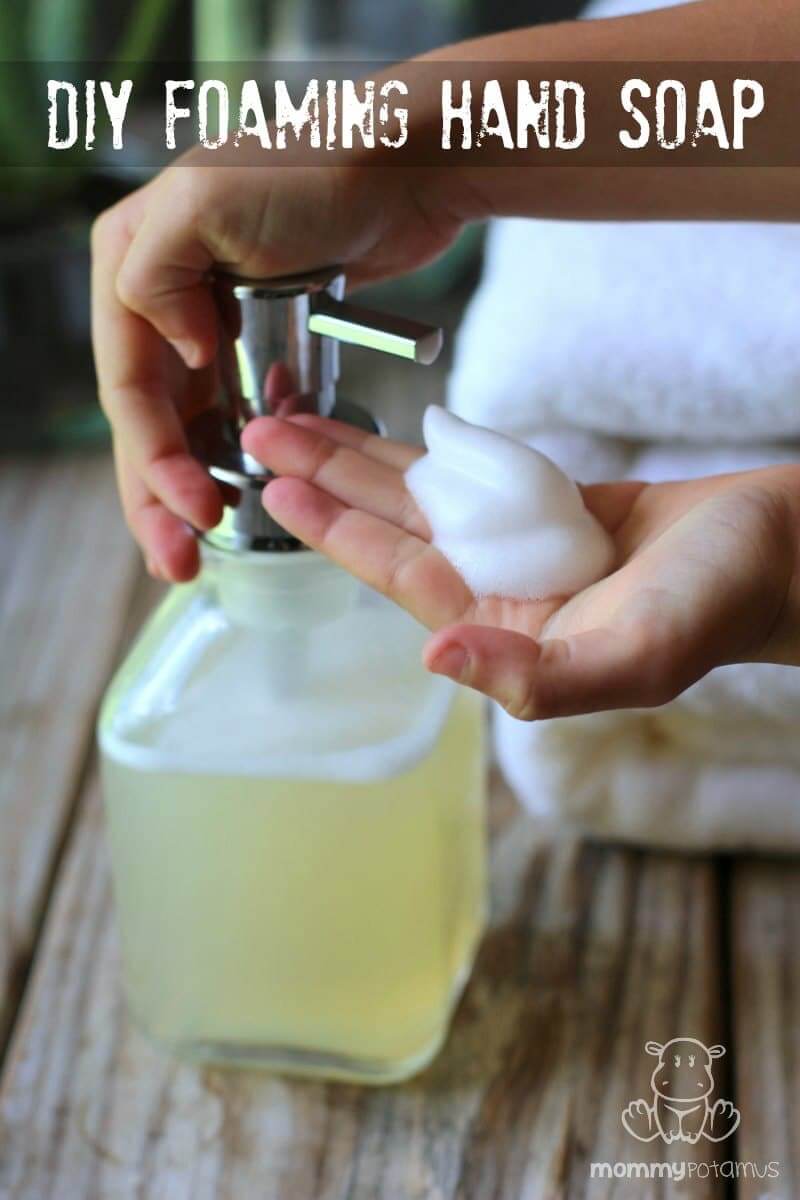 How To Make Foaming Hand Soap
This recipe makes 8 fluid ounces. You can cut the recipe in half (or double it!) as needed.
Ingredients
*Although rosemary essential oil is not generally recommended for use with children (see a list of oils that are considered appropriate here), since soap is a "wash off" product and the concentration is incredibly low, it's fine. (Source: Lea Harris, clinical aromatherapist and the founder of Using Essential Oils Safely and the Using Essential Oils Safely community on Facebook.)
Instructions
Add the essential oil to the castile soap and stir together. Though essential oils don't mix with water, they do in soap so by adding them first you're ensuring that the oil is well distributed throughout. Once the oils are stirred in, add the water and pour the liquid into a clean foaming hand soap container. (I used this one. It holds about 16 ounces, so I double the recipe above.)
Use within one month.
FREE Ebook: DIY Body Care Gifts Made Simple
Do you want to give gorgeous, handcrafted gifts for family and friends, without spending a bunch of time on them?
Then I'd love to give you a free copy of DIY Body Care Gifts Made Simple – my step-by-step guide to making gorgeous handcrafted gifts without stressing yourself out – as a gift for signing up for my newsletter. I'll show you how to make vintage labels, luxurious lotion bars, lip balms, sugar scrubs, body sprays and more like a pro. Sign up for my newsletter and you'll be redirected to the download page immediately!