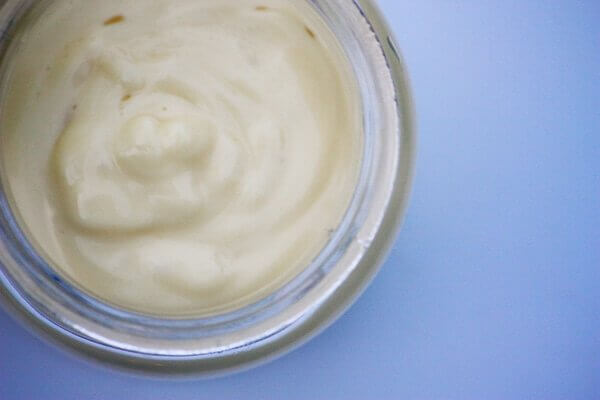 Lesson #1 from my first job, Bath & Body Works . . .
Do not climb the stockroom shelves like catwoman. Ever.
Lesson #2: Those luscious looking photos are meant to distract you from cancer causing dioxane and formaldehyde in shower gels and lotions with unpronounceable ingredients.
But is the solution homemade lotion??? That's waaaay too complicated, right? Nope, this recipe is simple and it works! Even better, it absorbs much more quickly than straight coconut oil, which is great if you're dressing in a hurry.
UPDATE: Though I say in the video that this lotion can be stored at room temp for 3 months (based on the tutorial I linked to), that is not the case. Based on research I've done since then you can store at room temp for at the very most two weeks or keep in the fridge for up to 3 months. For info on how to keep at room temp for a longer period of time check out my new ebook, DIY Organic Beauty Recipes.
You will need:
3/4 cup oil (The video says one cup, but I've found that's too much and can sometimes cause separation. Olive oil, avocado oil or coconut oil are great choices*)
3 tablespoons beeswax
3/4 cup water, rose water, or herbal tea – room temp or slightly warmer
essential oil for fragrance (optional)
* If you use coconut oil keep the lotion you want to use at room temperature because it will become solid in the fridge.
Method:
Note: Use 3/4 cup water instead of the 1 cup water mentioned in the video. Though it may work, it is much more prone to separation.
FREE Ebook: DIY Body Care Gifts Made Simple
Do you want to give gorgeous, handcrafted gifts for family and friends, without spending a bunch of time on them?
Then I'd love to give you a free copy of DIY Body Care Gifts Made Simple – my step-by-step guide to making gorgeous handcrafted gifts without stressing yourself out – as a gift for signing up for my newsletter. I'll show you how to make vintage labels, luxurious lotion bars, lip balms, sugar scrubs, body sprays and more like a pro. Sign up for my newsletter and you'll be redirected to the download page immediately!