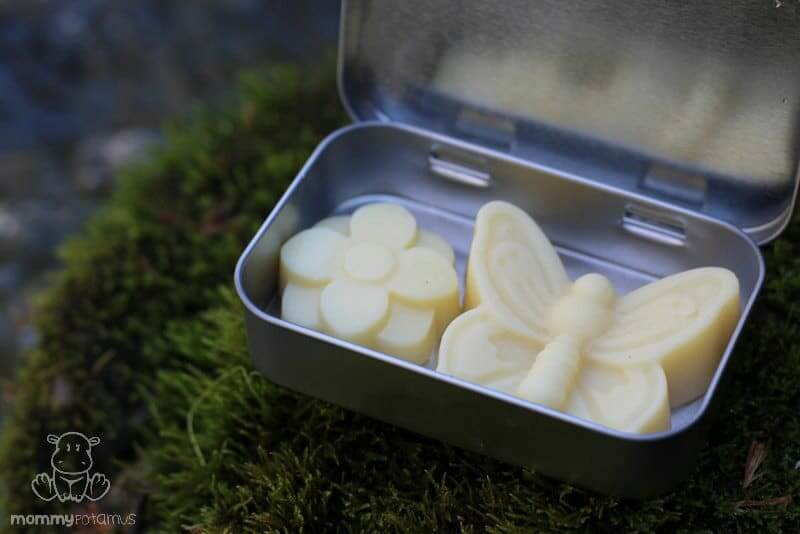 "Kids won't remember their best day of television." ~ Unknown
If you happen to stop by and see an open bottle of vodka next to my morning omelette, it's because it's the base ingredient for something my potami go through A LOT of this time of year homemade bug spray. And that's just fine with me, because I know that the time they spend outdoors:
. . . . and may even protect their eyes from nearsightedness! (source) Oh and it also gives me some time to enjoy a bit of quiet, or get outside and spend some time in the sunshine as well.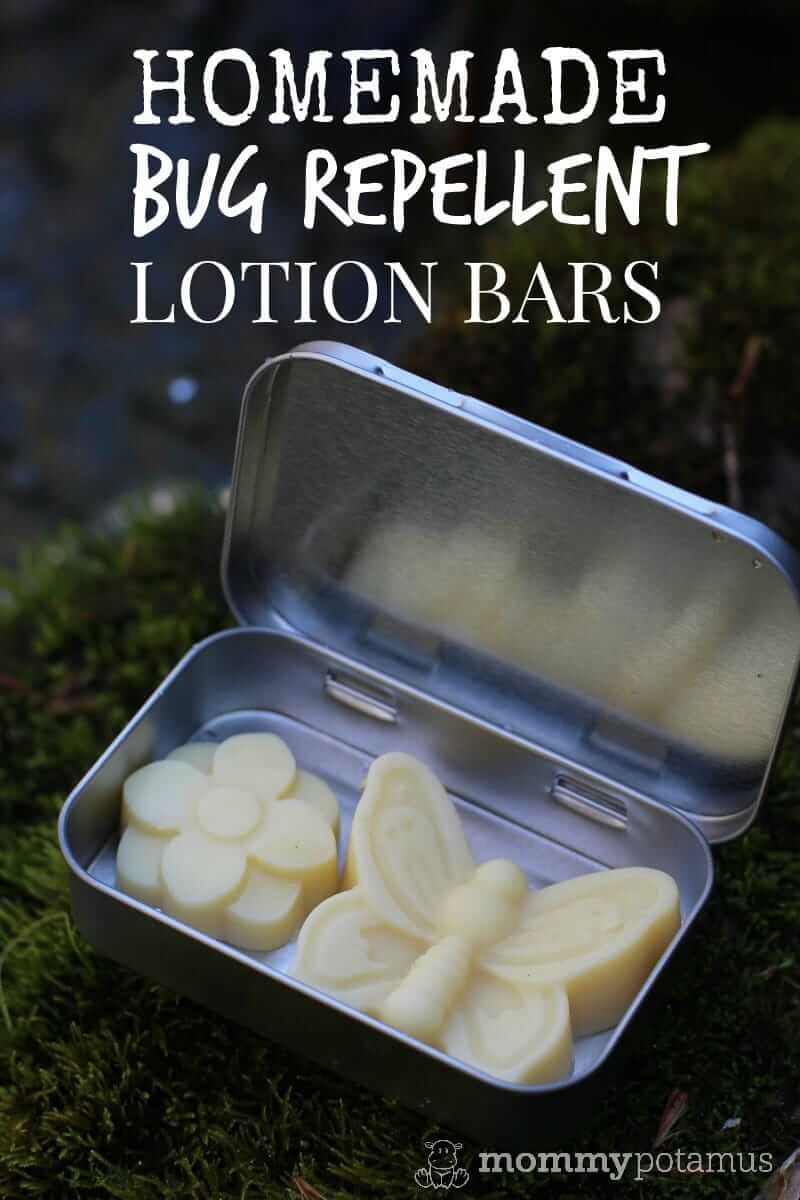 Natural Bug Spray vs. Bug Repellent Lotion Bars – Which works better?
I love our bug spray for home-use, but in a few weeks the Potamus clan is heading up to Colorado, and that's why I decided to create this homemade bug repellent lotion bars. Here's a breakdown of the benefits of both:
Homemade bug spray – Has a light finish that some people prefer. This is my favorite to use with children under two because I can spray their clothes instead of their skin.
Bug repellant lotion bars – Scent tends to stay strong longer than the spray, so fewer applications may be needed. Also nourishes and hydrates skin, which is a plus for some people. Also very convenient for travel because there's no risk of it leaking inside your luggage.
Is this recipe safe for kids?
Yes, this recipe is safe for kids over two at a 2% dilution. For kids under two I avoid topical application in most cases, instead opting to spray their clothes with this homemade bug spray.
What about pregnant and nursing moms?
Yes, these recipes are safe to use during pregnancy and nursing. However, as I mentioned in this post on safe essential oils for pregnant and breastfeeding mamas, according to clinical aromatherapist and Aromahead Institute founder Andrea Butje, "Since we're assuming that essential oil constituents cross the placenta, it is generally suggested that the mother use very little essential oil during the first trimester, and only as needed at a 1% dilution. For anyone concerned about the use of oils they should be avoided completely during the first trimester."
She adds that, "The more you use, the more you absorb… so don't use essential oils every day during pregnancy. Reserve essential oil use for health support, such as relieving nausea, calming anxiety, or supporting sleep. By minimizing use, essential oils can be safely used in times of need."
Special note on dilution ratios: For general use, a topical dilution of 1% is usually recommended during pregnancy – the typical dilution suggested for adults is 2.5%. However, there are instances when a higher dilution ratio is considered appropriate after the first trimester, such as to repel bugs.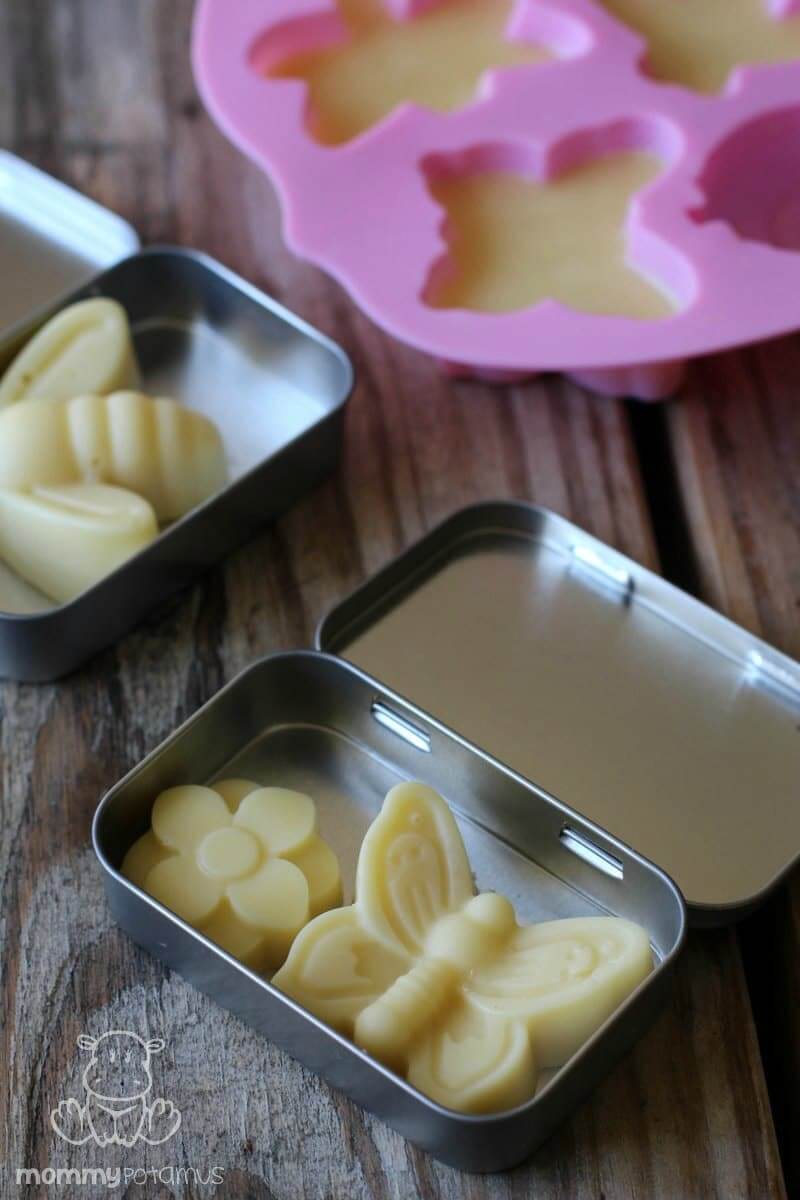 Homemade Bug Repellent Lotion Bars
This recipe makes a six fluid ounce bar. Using these silicone molds, that would be four butterfly/dragonfly/ladybug lotion bars (1.5 ounces each), 2 large flower lotion bars (3 ounces each) or six small flower lotion bars (.75 ounces each)
The dilution ratio in this bar ranges from 2% (84 drops), which is considered appropriate for regular body use, and 3% (126 drops), which is considered appropriate for once-in-awhile use. For a general repellent I'd go with the Shield Me synergy. For a tick specific one I'd go with the same one I use in my homemade tick repellent – geranium bourbon.
Ingredients (By Weight)
If no scale is available, try:
How To Make Lotion Bars
Fill a medium pot with about two inches of water and bring to a boil. Place a smaller pot or heat-proof stainless steel bowl inside the larger pot to create a double boiler. Add coconut oil, beeswax and cocoa butter to the bowl/pot. Stir occasionally until it is fully melted, then remove from heat.
Allow the mixture to cool a little before adding essential oils and vitamin E (if using). Note: If you measured ingredients by volume instead of weight, you can double-check your final volume to ensure that the essential oil dilution is correct by by pouring the liquid into a measuring cup. For a 2% dilution, add 12 drops essential oil per ounce. For a 3% dilution, add 18 drops essential oil per ounce.
Pour the liquid into your molds and allow lotion bars to cool fully before unmolding them. If you want to speed things up, pop them into the fridge or freezer for ten to twenty minutes.
How To Use Lotion Bars
Rub lotion over the desired areas, then allow a few minutes for it to absorb. Reapply every 2-3 hours, or more often if needed.
Shelf Life
Because there is no water in this formula, it is shelf stable for up to a year without the use of preservatives. Store out of direct sunlight and away from heat – it will melt!
Want more research-backed natural remedies?
No problem, I've created a free ebook for you – Kitchen Apothecary: 25+ Natural Remedies Using Ingredients From Your Pantry – as a gift for signing up for my newsletter. You'll also get updates when I post about safe essential oils for pregnant/breastfeeding mamas, exclusive gifts and coupons (I was able to give away a jar of free coconut oil to anyone who wanted it recently!), plus other goodies.
Sign up using the form below.