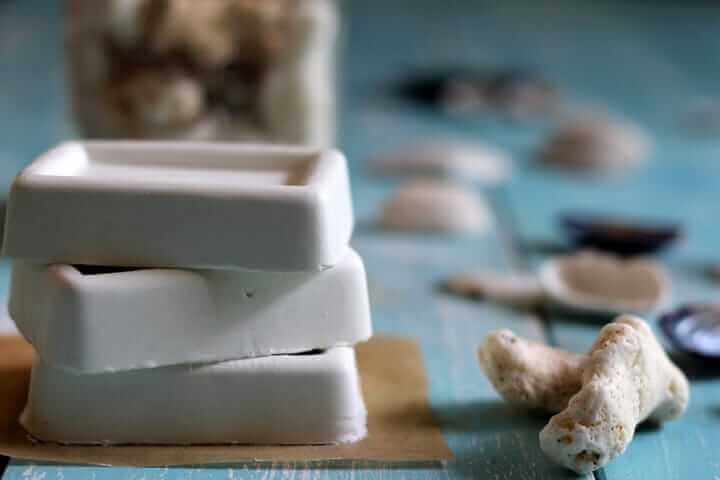 Seven Hours And Thirteen Minutes
Give or take a few, seven hours and thirteen minutes is the distance from my front porch to sugar white sand beaches. My husband and I are hoping to take the kids to our favorite getaway spot sometime this summer, but we'll probably have to work it in with just a teeny bit of notice.
Though I've been making homemade sunscreen for years, I don't usually make it in advance because the shelf life of the base –  my homemade lotion – is shorter than those preserved with chemicals. Most days we skip sunscreen altogether and use antioxidants instead, but on days we are going to be out much longer than usual we do use sunscreen.
Inspired by a conversation with a friend, I decided to re-work my lotion bar recipe into something we could use in the sun. This recipe should last about one year, so we're ready to go anytime. Crossing my fingers – it's been way too long!
Why These Ingredients?
These sunscreen lotion bars use ingredients that are considered uniquely beneficial for nourishing and protecting sun-exposed skin.
Coconut Oil – According to this study, coconut oil has an SPF of around 8. Though it is unclear from the summary whether refined or extra virgin coconut oil was used, other studies I've read suggest that it was probably the antioxidant-rich extra virgin variety.
Shea Butter – This decadent moisturizer contains cinnamic acid, which absorbs UVB rays. It is generally thought to have an SPF of around 6, but that can vary depending on how refined it is and whether or not it has been sitting on the shelf a long time.
Beeswax – Though it's main purpose in this bar is to hold everything together, it is considered by some skin care companies to have antioxidant and moisturizing properties
Zinc Oxide – Many of the new generation of sunscreens – and this includes almost all "healthy" mineral sunscreens listed by the Environmental Working Group – contain titanium and/or zinc nano particles. Unlike chemical sunscreens which absorb rays, zinc oxide provides a physical barrier between us and the sun. These minerals are considered non-toxic in their natural forms, and it was assumed the mini-sized versions would be equally safe. Unfortunately, new research links them to accelerated skin aging, cancer and environmental toxicity.
What Does SPF Really Mean?
Huge differences in SPF numbers are actually pretty insignificant when it comes to differences in protection. SPF 100 blocks 99 percent of UVB rays, while SPF 50 blocks 98 percent. SPF 30 blocks 96.7 percent, SPF 15 blocks 93%.
When deciding how much zinc oxide to add, anywhere from 5-20% of the total solution is often used. Though it will vary a little from batch to batch, the bars I made with this recipe are about 12% zinc oxide by weight. I have not tested it in a lab for SPF value.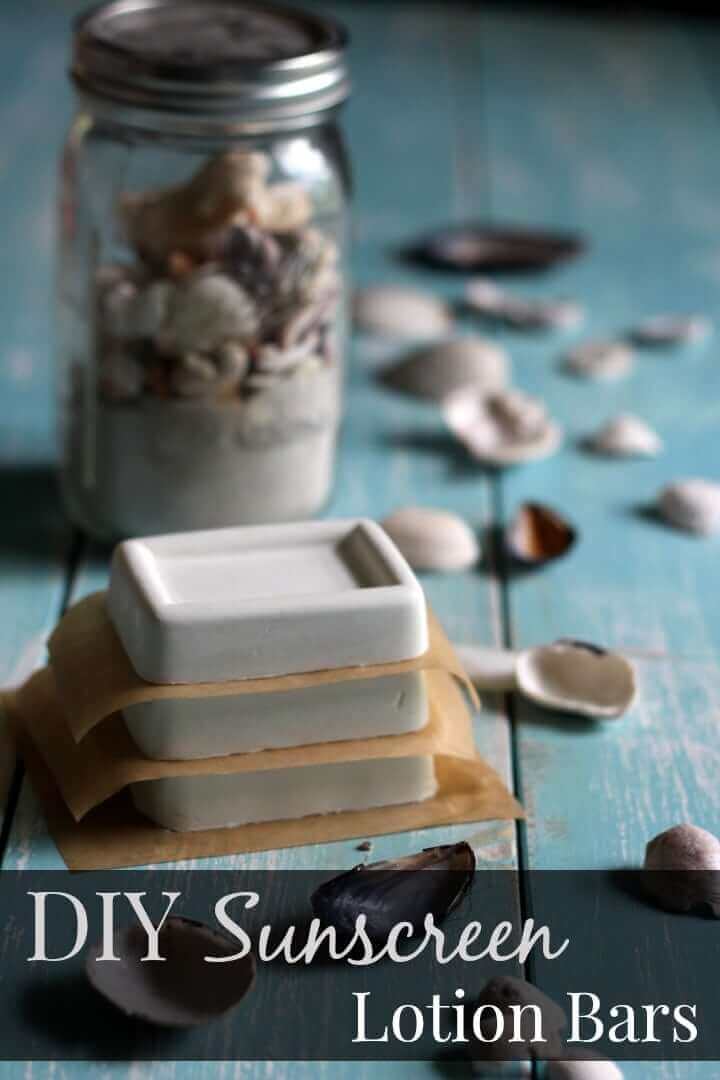 Sunscreen Lotion Bar Recipe
Makes approximately two 2.75 oz bars
Ingredients (By Weight)
1 teaspoon cacao or cocoa powder, for tint (optional)
Special Equipment
silicone mold, muffin tin or other mold
Instructions
Gently melt coconut oil, beeswax, and shea butter in a double boiler.
Stir ingredients until smooth and melted.
Remove from heat. Add zinc oxide. If you're adding optional essential oils/Vitamin E, add them, too.
Stir until blended, then pour into molds. Silicon muffin tins work well.
Allow to cool before removing from tin. If you'd like to speed things along, pop the in the freezer for 10-20 minutes.
Cleanup Tip
Clean your pot, stirring utensils, etc. before the mixture cools. Start by wiping everything with paper towels and then scrub in hot, soapy water.
To Apply
Rub on skin and massage in. I apply generously and frequently on days that we are going to be out for a long time.
Important Note
These bars will melt in the hot sun. Store indoors and apply before going out.