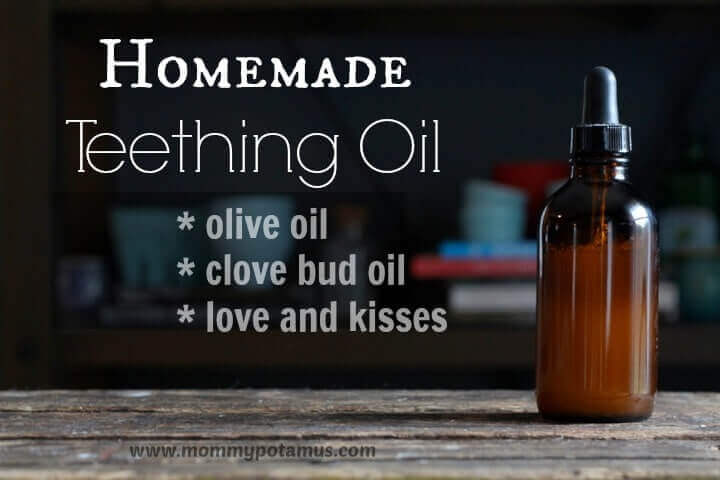 Do you wake up in the morning and put both contacts in one eye, find your dustpan in your fridge and your milk on the floor next to the broom?* Have you ever fallen asleep with the car running in the driveway, or pulled into a Starbucks drive-thru and tried to order from the trash can? Well then, you just might have a teething baby on your hands!
Fortunately, there's an easy, inexpensive and completely natural alternative that really works! It's homemade teething oil and I'll show you how to make it below.
Clove oil is a natural analgesic (numbing agent) with a long history of safe use in dentistry. In fact a 2006 study conducted by dentists found it was just as effective as store bought gels. This popular remedy for teething contains clove oil, which is an indication of just how effective many parents have found it to be.*
Because of it's potency, clove oil must be diluted before application. Below is the recipe I use, which was adapted from a product I recommended in this post on natural remedies for teething.
Homemade Teething Oil
UPDATE: Though there is historical precedent for using clove for teething and there is a company that sells it commercially, newer guidelines provided by Essential Oil Safety do not recommend using clove as an analgesic with babies. Instead I recommend investing in a raw 100% baltic amber teething necklace. This recipe can be helpful for toothaches, though.
Ingredients
To Make
Combine ingredients and test a little on yourself to make sure it's not too strong. Once you're comfortable with the ratio's pour your mixture into a clean container. Light oxidizes oil, so a dark amber or cobalt is best if you plan to leave it on the counter. Another option is a clear glass container that is kept in a cool, dark cabinet.
To Use
Shake well, then apply sparingly to gums with your finger tip. Reapply every 1-2 hours as needed. Test the mixture on yourself before applying to make sure it is not too strong. 
Warning: According to aromatherapists, clove oil absolutely must be diluted before application in order to be used safely. As with any remedy, please observe your baby for any potential reactions. There are people in the world that are allergic to water, so just because something is natural does not mean it is beneficial for every individual.
Need More Teething Help?
Click here for the scoop on 5 more things you can do to make teething easier, and here's one on why Hyland's teething tablets don't work for everyone (plus what to use instead).
* This post was inspired by this one on sleep deprivation. Click over if you need a good laugh!
Want more research-backed natural remedies?
No problem, I've created a free ebook for you – Kitchen Apothecary: 25+ Natural Remedies Using Ingredients From Your Pantry – as a gift for signing up for my newsletter. You'll also get updates when I post about safe essential oils for pregnant/breastfeeding mamas, exclusive gifts and coupons (I was able to give away a jar of free coconut oil to anyone who wanted it recently!), plus other goodies.
Sign up using the form below.
Sources:
Discovery: Alternative Medicine Aromatics International: Clove Bud Oil