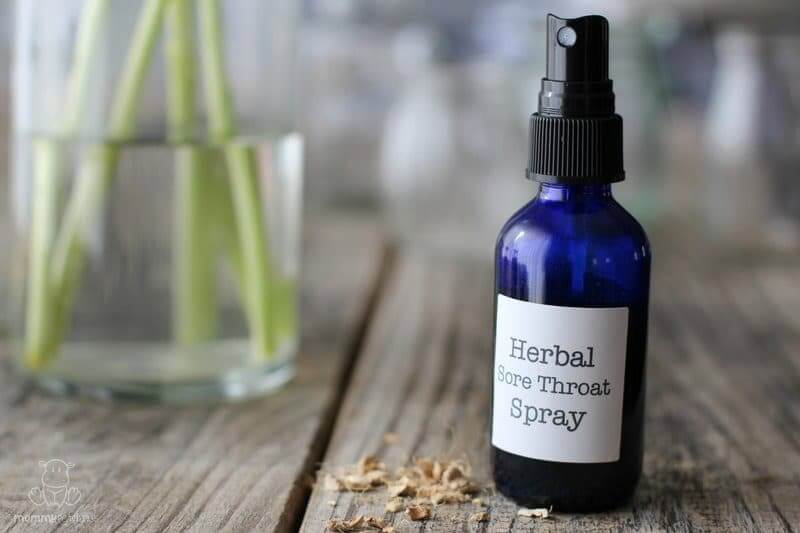 Earaches? Been there. Pinkeye? No problem. Fevers, coughs, and tummy aches? I've seen those, too. But the most common family health issue has to be sore throats.
Last week I noticed that my daughter's voice dropped a couple of octaves, and then my son started feeling a little off – yep, sore throats! Fortunately, it was nothing an afternoon on the couch watching The Secret Garden and a soothing homemade throat spray couldn't handle.
This recipe incorporates slippery elm bark, which takes on a silky, gel-like texture when heated. It's long been used to coat and soothe sore throats, but it's helpful to have on hand for other purposes, too.
If desired, you can add licorice root, which according to herbal folk wisdom can also be helpful for soothing sore throats. (Interestingly, modern research is exploring the potential benefits of licorice, too. In this study, they found that using licorice water as a gargle soothed patients throats after surgery.)
A pinch of cayenne – which contains capsaicin – is also a great addition for adults. It is thought to stimulate blood flow to the area, which supports the body's natural healing processes. Flavorings such as warming ginger or soothing peppermint can also be added in.
What about using essential oils?
Because strep throat can sometimes lead to complications, when the potami developed sore throats I decided to take them to our family doctor and have them checked out. On my way, I messaged my friend Lea – essential oil safety advocate and founder of the Using Essential Oils Safely Facebook group – to ask what "big guns" she might suggest if the culture came back positive. I wanted some possible immune support strategies to discuss with our doctor just in case.
Lea suggested up to a 3% dilution of tea tree oil in water as a throat spray. That would be up to 9 drops per tablespoon of water or tea, shaken well before use. We didn't end up needing it and I wouldn't use it unless absolutely necessary, but I was thankful for her advice and wanted to pass it along. Like gargling, the tea tree in the spray would simply have contact with the back of the throat rather than being ingested.
I checked with her on what ages this would be appropriate for, and she said that as long as the child is old enough to cooperate with you spraying the back of the throat rather than on the tongue, it should be fine. Also, she said that an even better alternative to water would be to mix the tea tree with a little honey (to help it disperse better), and then add it to chamomile tea.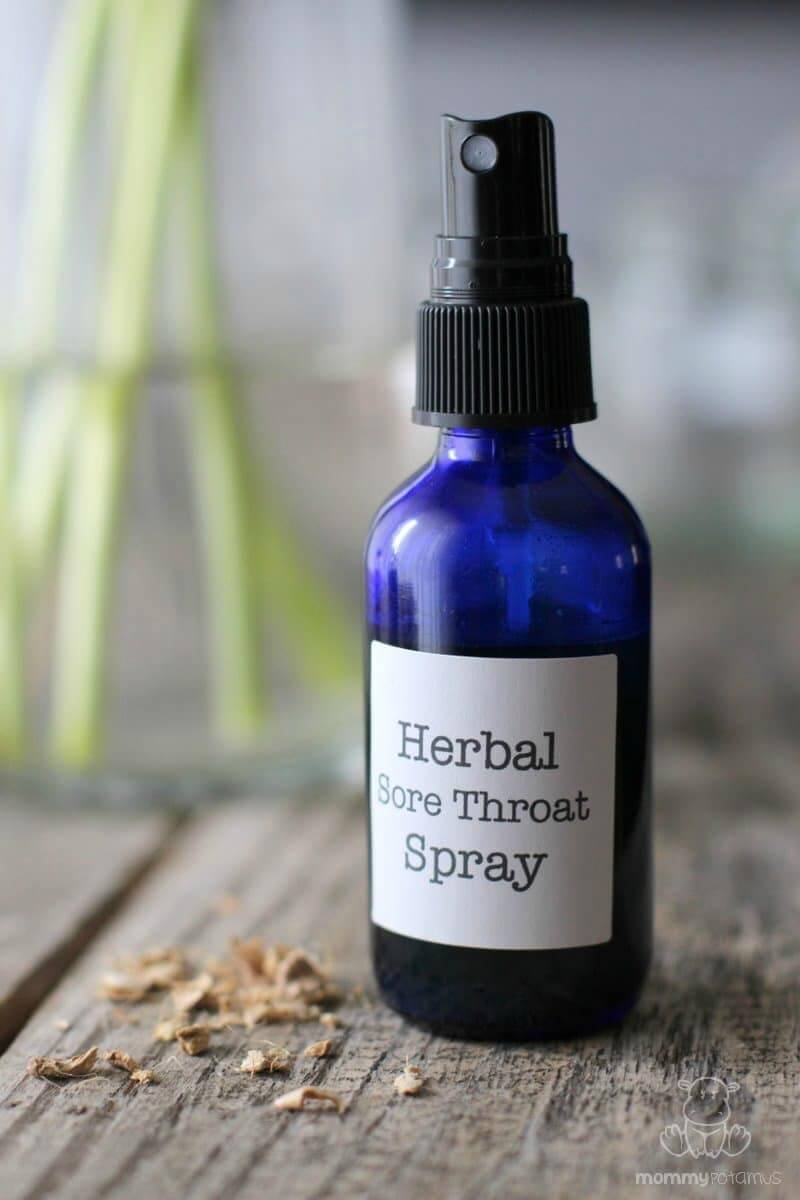 Homemade Herbal Throat Spray Recipe
Because this is not something my family needs often, I prefer to make it in small batches so that it doesn't go bad. It's technically a syrup according to the definition in Rosemary Gladstar's Herbal Recipes For Vibrant Health, and therefore should last in the fridge for several weeks.
Ingredients
1½ teaspoons teaspoons whole slippery elm bark (find it here)
1/3 cup water
1/4 cup raw honey*
pinch cayenne (optional, probably not the best idea for little ones)
1/2 teaspoon licorice root (this is what I use)
Optional flavorings:
1/8 to 1/4 teaspoon peppermint extract
1/16 – 1/8 teaspoon dried ginger or 1½ teaspoons grated fresh ginger
*Honey is not recommended for children under one-year-old.
Instructions
Bring water to a boil and pour it over slippery elm. If using ginger or licorice, add it in as well. Allow to steep for 30-45 minutes, then strain the liquid well using cheesecloth. Stir in the honey and any flavorings you haven't already added, such as peppermint extract. Pour the liquid into a clean spray bottle and store in the fridge when not in use.
Want more research-backed natural remedies?
No problem, I've created a free ebook for you – Kitchen Apothecary: 25+ Natural Remedies Using Ingredients From Your Pantry – as a gift for signing up for my newsletter. You'll also get updates when I post about safe essential oils for pregnant/breastfeeding mamas, exclusive gifts and coupons (I was able to give away a jar of free coconut oil to anyone who wanted it recently!), plus other goodies.
Sign up using the form below.