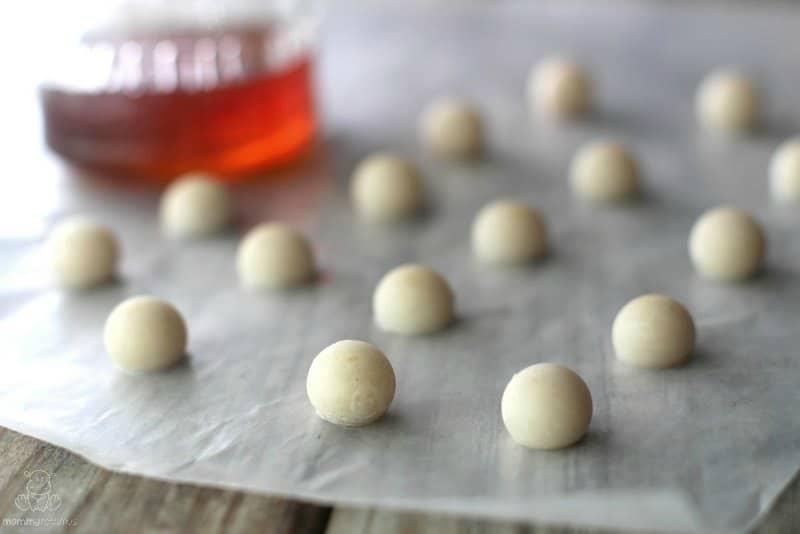 Stories of Canadian Thanksgiving pranks, ordering coffee in French, and the construction of "Terabithia" by my little ones and their compadres < <– These are the souvenirs I'm thankful to have brought home from my family's recent meetup with friends in Quebec.
Unfortunately, we brought an additional one as well – a sore throat and cough that kept us up at night. Now, normally I'm ready for these things with some elderberry syrup, fire cider, and homemade throat spray or cough syrup. But this time I had . . . nothing.
Yep, totally unprepared. In fact, when my daughter developed crazy chapped lips due to the chilly weather, I didn't even have any homemade chapstick on hand. Because it was Canadian Thanksgiving and most shops were closed, all I could give her was my lipstick. She's eight. We were touring Parliament.
Fortunately, on the last leg of our trip we stopped by my mom's house, and I was able to whip up these soothing sore throat meltaways. They dissolve more quickly than store-bought cough drops, but still last for several minutes. I think of them as a hybrid between traditional cough drops and homemade cough syrup.
Sore Throat Meltaways – About The Ingredients
This recipe is based on my friend Robyn's constipation candy recipe, but I added in some some herbs that have been traditionally used to soothe achy, scratchy throats.
Coconut Oil
In addition to its ability to coat and soothe, coconut oil contains lauric acid, a medium chain fatty acid that is believed to support a healthy oral microbiome. Although I haven't come across any research directly related to coconut oil and the throat, I thought it might be helpful to incorporate coconut oil as our bodies worked to restore a healthy microbial balance in the throat. Coconut oil also makes the lozenges hard, giving the herbs time to slowly distribute and do their thing.
Honey
Honey has long been used in folk medicine for sore throats, and as mentioned in this cough syrup recipe, new research has found that at least one variety helps children (and their parents!) with a sore throat and cough get more sleep at night.
If you happen to have more time to prepare than I did, this pre-made cough syrup from Genexa is a great option. Made with organic honey that has been infused with echinacea, elderberry and acerola cherry extract. It's delicious, soothing, and great to have on hand. (I'm a partner, just FYI.)
Slippery Elm Powder
According to Penn State Medical Center, "Slippery elm contains mucilage, a substance that becomes a slick gel when mixed with water. It coats and soothes the mouth, throat, stomach, and intestines."
Ginger
In addition to adding some flavor, warming herbs such as ginger have long been used as a sore throat remedy.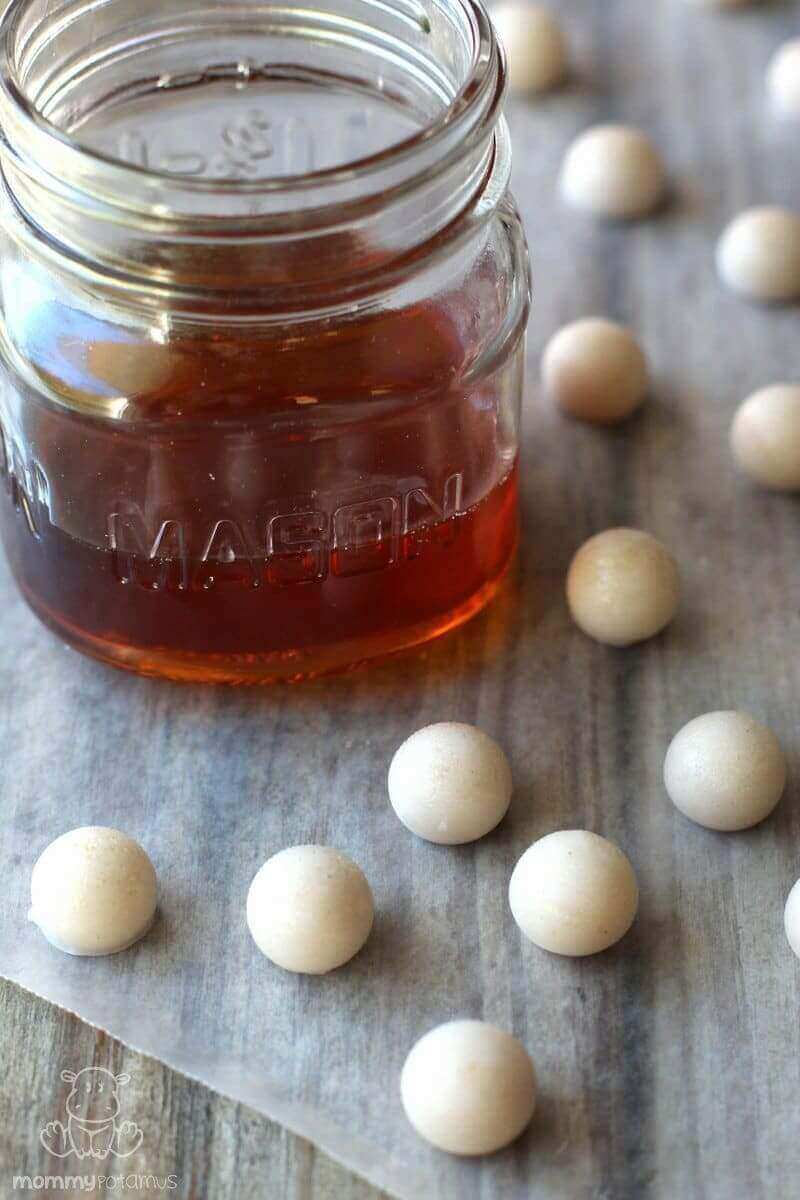 Sore Throat Meltaways
Makes 36 small cough drops using this mold or 14 large cough drops using these molds
Ingredients
5

tbsp

coconut oil

(room temperature so that it is soft but not melted)

1 ½

tsp

raw honey

1 – 2

tsp

slippery elm powder

½

tsp

ground ginger

(or more to taste – optional)
Instructions
Stir together coconut oil, honey, slippery elm powder and ginger if using. Pour mixture into molds – stirring a few times to make sure the honey is evenly distributed – and place in the freezer until hard. Pop cough drops out of the mold and place in a jar to use as needed. Store in the fridge or freezer.
Nutrition
Calories:
0
kcal
|
Carbohydrates:
0
g
|
Protein:
0
g
|
Fat:
0
g
|
Saturated Fat:
0
g
|
Polyunsaturated Fat:
0
g
|
Monounsaturated Fat:
0
g
|
Trans Fat:
0
g
|
Cholesterol:
0
mg
|
Sodium:
0
mg
|
Potassium:
0
mg
|
Fiber:
0
g
|
Sugar:
0
g
|
Vitamin A:
0
IU
|
Vitamin C:
0
mg
|
Calcium:
0
mg
|
Iron:
0
mg
Want more research-backed natural remedies?
No problem, I've created a free ebook for you – Kitchen Apothecary: 25+ Natural Remedies Using Ingredients From Your Pantry – as a gift for signing up for my newsletter. You'll also get updates when I post about safe essential oils for pregnant/breastfeeding mamas, exclusive gifts and coupons (I was able to give away a jar of free coconut oil to anyone who wanted it recently!), plus other goodies.
Sign up using the form below.