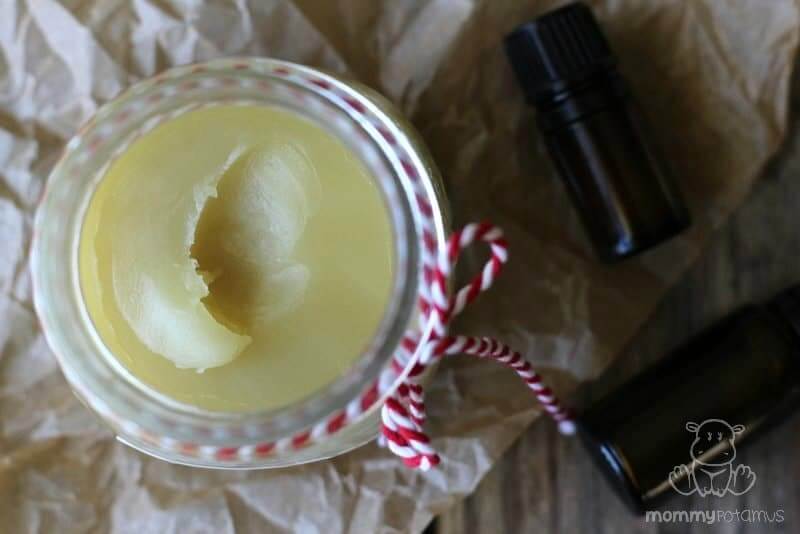 Have you been lifting cars to save trapped kittens again? Bench pressing two year-olds who keep flinging themselves onto you while you read a book? Or maybe you just exercised a little more than usual and discovered a muscle (or ten) you hadn't noticed in awhile? Well then, I have just the thing for you. This homemade rub is a relaxing treat that soothes tense, tired, or achy muscles.
Unlike this homemade muscle rub that creates a warming sensation and then transitions to a cooling sensation – which is AMAZING but not safe for pregnant mamas and kids – this blend offers an option safe for everyone over age two. But don't think that just because it's safe for kids that it's not a powerful muscle soother, because it absolutely is.
Special Note About Essential Oils & Pregnancy
As mentioned in this post on safe essential oils for pregnant and breastfeeding women, according to clinical aromatherapist and Aromahead Institute founder Andrea Butje, "it is generally suggested that the mother use very little essential oil during the first trimester, and only as needed at a 1% dilution. For anyone concerned about the use of oils they should be avoided completely during the first trimester."
She adds that, "The more you use, the more you absorb… so don't use essential oils every day during pregnancy. Reserve essential oil use for health support, such as relieving nausea, calming anxiety, or supporting sleep. By minimizing use, essential oils can be safely used in times of need." In the recipe below, that means you'd cut the number of drops in the 2% dilution by half.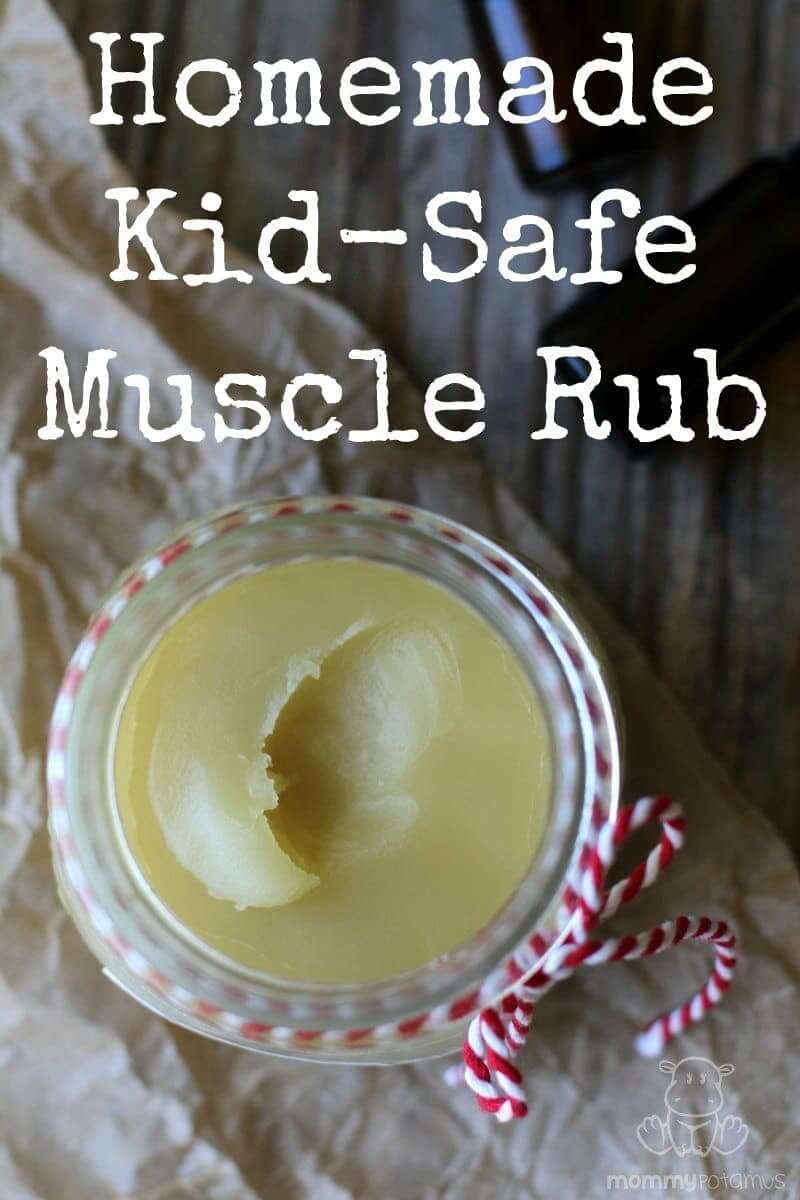 Homemade Muscle Rub for Pregnant Mamas and Kids Ages 5+
This recipe makes 6 fluid ounces.
Ingredients
Essential Oil Blend For Pregnant Mamas
This blend starts at a 2% dilution, but if needed you can increase it to a 5% dilution. Neither peppermint nor eucalyptus are recommended for use around small children or breastfeeding mamas (they may affect milk supply and wouldn't feel good if accidentally rubbed near a nursing baby's eyes!). For breastfeeding mamas, I've included an alternative essential oil blend below.
2% dilution:
5% dilution:
70 drops peppermint essential oil or eucalyptus globulus
55 drops copiaba essential oil
55 drops juniper berry essential oil
Essential Oil Blend For Breastfeeding Mamas And Children Ages 2+
For breastfeeding mamas and children over two, a 2-5% dilution of Plant Therapy's blend, Tame The Pain, is considered appropriate.
a 2% dilution is 72 drops
a 5% dilution is 180 drops
Equipment
double boiler (or a pot that fits inside another pot)
Instructions
Place coconut oil, shea butter and grated beeswax in a double boiler and allow to fully melt.
Remove from heat and stir in essential oils. Store in an airtight jar – Amber or cobalt are best but a clear jar is fine if kept out of direct sunlight (which promotes oxidation).
Storage and Shelf Life
I recommend storing this rub in the fridge to preserve shelf-life, which should be around 6-12 months.
Want more research-backed natural remedies?
No problem, I've created a free ebook for you – Kitchen Apothecary: 25+ Natural Remedies Using Ingredients From Your Pantry – as a gift for signing up for my newsletter. You'll also get updates when I post about safe essential oils for pregnant/breastfeeding mamas, exclusive gifts and coupons (I was able to give away a jar of free coconut oil to anyone who wanted it recently!), plus other goodies.
Sign up using the form below.
This article was medically reviewed by Dr. Sheila Kilbane, MD, a board-certified pediatrician, trained in integrative medicine. As always, this is not personal medical advice and we recommend that you talk with your doctor.