Like a certain store brand that rhymes with Icy-Yacht, this homemade muscle rub creates a soothing, warming sensation, then transitions to a refreshing, cooling sensation. It's perfect for soothing tense muscles after an uncomfortable night's sleep, or sore muscles after strenuous activity.
About The Ingredients
Cayenne Powder
Cayenne stimulates circulation and increases blood flow to the affected area, which supports healing. It also contains capsaicin, which reduces the amount of Substance P – a chemical pain transmitter in the body. (source 1, source 2)
Obviously, pain is good thing because it's our body's way of communicating that we need to slow down and take time to heal, but I'm fine with lowering the volume on the signal once I've gotten the message. (Quick note: According to WebMD, capcaicin should be avoided two weeks before surgery and two weeks after.)
Essential Oils
Peppermint, eucalyptus, wintergreen, copaiba and juniper berry extracts and essential oils have long been used to soothe sore muscles, and research is beginning to support their traditional applications.
Coconut Oil & Shea Butter
Is this blend safe for pregnant/nursing mamas and children?
Short answer: This muscle rub recipe is a better option for pregnant/nursing mamas and children.
Long answer: There isn't enough safety data on topical cayenne during pregnancy/breastfeeding to say for sure, but WebMD says it is likely to be safe. However, for children they recommend taking a break after two days of consecutive use. Wintergreen, which is an optional essential oil in this recipe, is not recommended for pregnant/nursing women or children.
Peppermint and eucalyptus are considered fine for pregnancy, but peppermint is not recommended during breastfeeding as it may reduce milk supply. Additionally, both peppermint and eucalyptus may cause respiratory distress in young children and are not recommended for use in their presence. That's a lot to keep track of, which is why I'd go with the recipe I mentioned earlier.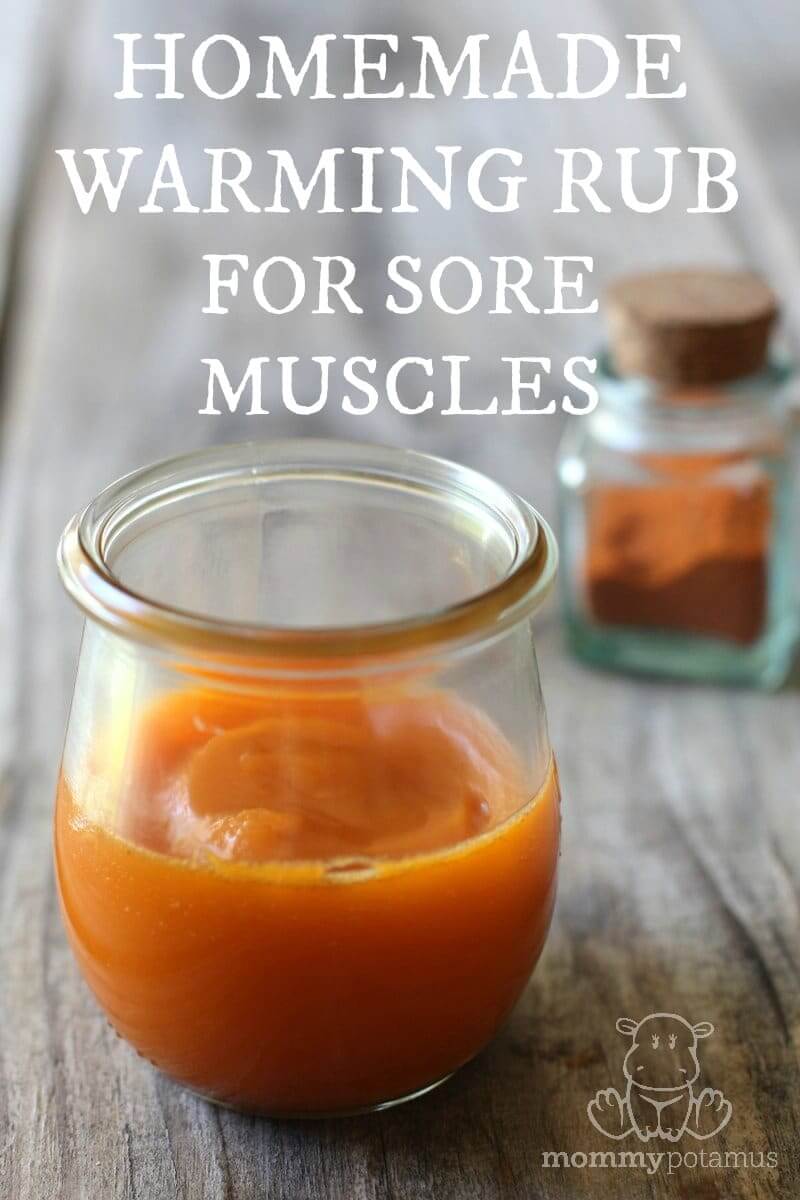 Homemade Muscle Rub Recipe
The blends below start at a 5% dilution, which combined with the cayenne-infused oil should be sufficient for most situations. However, in some cases you may find that more is needed to relax and soothe. A 10-20% dilution is considered appropriate for very sore muscles if used only on an occasional basis. To increase the dilution ratio to 10%, simply double the number of drops. To increase it to 15%, triple the number of drops. To increase it to 20%, quadruple the number of drops.
Ingredients
*Note About Wintergreen Essential Oil: This oil should be avoided by pregnant and breastfeeding mamas, children, anyone on anticoagulant medication, anyone who has recently undergone surgery or will soon undergo surgery, individuals with hemophilia or other bleeding disorders, and anyone who has a salicylate sensitivity (this often applies to individuals with ADD/ADHD). (Source: Essential Oil Safety)Individuals with the MTHFR mutation may also have a problem with wintergreen due to it's high salicylate content. If this applies to you, replace the wintergreen with 50 more drops of peppermint or eucalyptus globulus essential oil.
Equipment
double boiler (or a pot that fits inside another pot)
Instructions
Place coconut oil and cayenne in a double boiler and gently warm the oil. Be careful not to let it get hot because the smell of cayenne will fill the room and make you cough. (Not that I would know that from experience – ahem).
Once the oil is slightly warm give it a stir and then turn off the stove. Allow it to sit for half an hour and then repeat the process.At this point you can move on to step 3, or you can warm it again and allow to infuse 1-2 more times for a stronger oil. Overall this process should take 1-2 hours, depending on how many times you reheat the oil to intensify the infusion.
Using a cheesecloth or old t-shirt, strain the mixture mixture over a measuring cup. After straining out the cayenne, add enough coconut oil so that the final amount is 1/4 cup.
Melt beeswax and shea butter in a double boiler and add to the coconut oil. Stir in essential oils and allow to cool completely.
Store in an airtight jar – Amber or cobalt are best but a clear jar is fine if kept out of direct sunlight (which promotes oxidation).
Storage and Shelf Life
I recommend storing this rub in the fridge to preserve shelf-life, which should be around 6-12 months.
Want more research-backed natural remedies?
No problem, I've created a free ebook for you – Kitchen Apothecary: 25+ Natural Remedies Using Ingredients From Your Pantry – as a gift for signing up for my newsletter. You'll also get updates when I post about safe essential oils for pregnant/breastfeeding mamas, exclusive gifts and coupons (I was able to give away a jar of free coconut oil to anyone who wanted it recently!), plus other goodies.
Sign up using the form below.