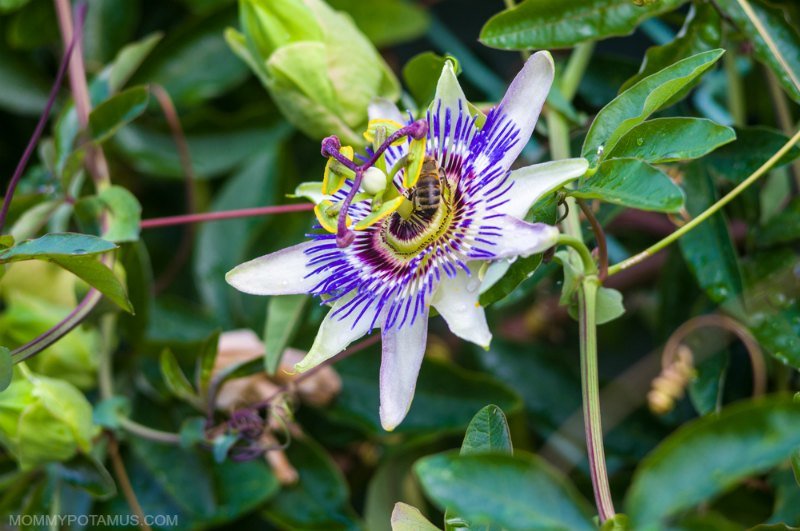 Used for centuries throughout South and Central America, the stunningly gorgeous passionflower vine (Passiflora incarnata) has long been renowned for its ability to support restful sleep, calm mental chatter and more.
Of course modern life is very different – we always get enough sleep (especially parents) and never feel like like our minds won't shut off – so now it's just cultivated for its beauty.
Or not. 🙂
Also known as apricot vine, purple passionflower, passion vine and corona de cristo, passionflower has become an essential part of my herbal toolkit. It's therapeutic effect on the nervous system is helpful for both kids and adults, and it's super easy to prepare as a tea.
What is passionflower?
It's a climbing vine that produces gorgeous flowers and bright yellow passion fruits – also called maracujas or maypops – that are around the size of an egg. If you've ever tasted store-bought fruit punch, you've experienced the distinctive flavor of passion fruit. (Or at least something similar to it. I'm not sure what the ingredients were when I tried it as a kid, but these days the most the most popular brand uses corn syrup and flavorings instead of the real fruit.)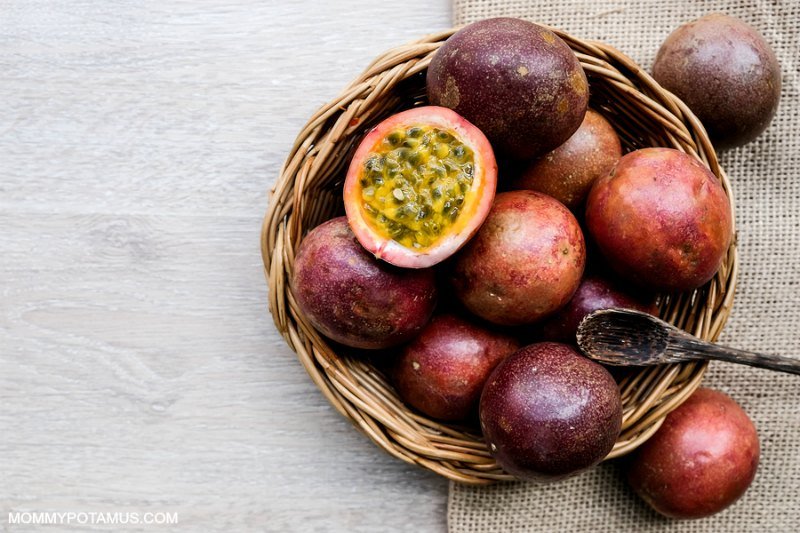 According to one of my herbal books, they're called "maypop because children in the south jump on it, to make it pop." It can be peeled and eaten raw, or made into juice or jam.
From a therapeutic standpoint, the petals, leaves and vine of the passionflower vine are what you want for brewing tea, making a tincture, or using topically as a poultice. All three contain bioactive compounds that produce a gentle sedative effect, including:
Indole alkaloids: harman, harmin, harmalin, harmol, and harmalol (3)
Amino acids: Including GABA
Fatty acids: linoleic, linolenic, palmitic
Maltol
We'll dive into the benefits of passionflower soon, but first I want to mention that – as always – none of these statements have been evaluated by the FDA, this article is not medical advice, and it is not meant to diagnose or treat any condition. If you have a question about whether this herb (or any other) is right for you, please talk with a qualified healthcare provider. Okay, let's dive in!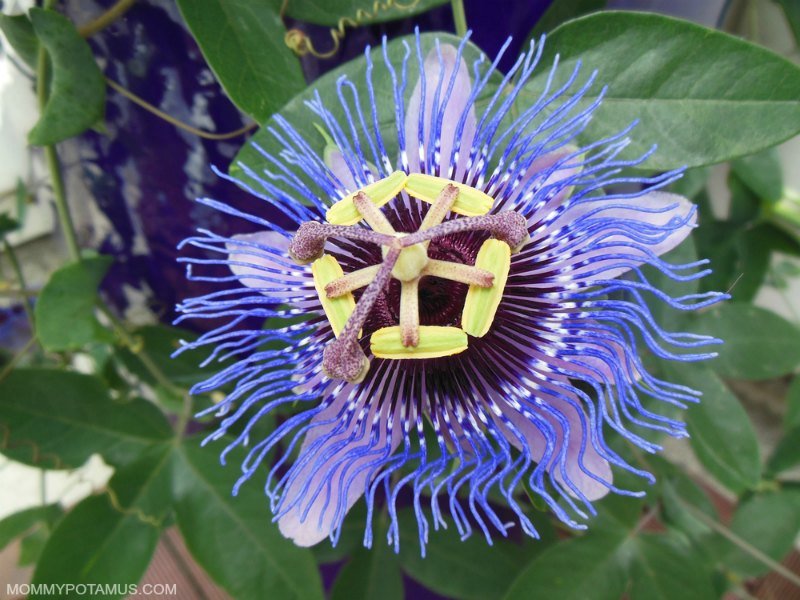 5 Benefits of Passionflower
Although its name has led many to believe that it's an aphrodisiac, passionflower doesn't refer to romantic passion. The name was coined by 16th century travelers who thought that different parts of the flower symbolized the passion of the Christ.
So what's special about passionflower, and how does it compare to other herbs? In Medical Herbalism, David Hoffman classifies the relative strength of hypnotic herbs (aka herbs that support restful sleep) like this:
Mild: Mugwort (Artemisia vulgaris), Wood Betony (Stachys officinalis), Motherwort (Leonurus cardiaca), Chamomile (Matricaria recutita), Big-leaved Linden (Tilia platyphyllos)
Moderate: California Poppy (Eschscholzia califonrica), Pasque flower (Pulsatilla vulgaris), Skullcap (Scutellaria lateriflora), Vervain (Verbena officinalis)
Strong: Hops (Humulus lupulus), Wild Lettuce (Lactuca virosa), Jamacian dogwood (Piscidia erythrina), Passionflower (Passiflora incarnata), Valerian Root (Valeriana officinalis)
Although not a comprehensive list, you can see that passionflower and another herb I've written about – valerian root – are considered among the most potent sleep-supporting herbs. That may be in part because both herb support gamma-aminobutyric acid (GABA) production, which is one of the main sedative neurotransmitters our brain makes. (4) (5)
GABA is associated with a positive mood, a sense of tranquility, restful sleep, and calm focus. (6) (7) (8) (9) Stress and poor sleep can cause us to burn through our stores more quickly than usual, so in challenging times it may be helpful to support GABA production.
According to WebMD, low levels of GABA may be linked to anxiety and/or mood disorders and chronic pain. (8) Other possible symptoms of low GABA are difficulty relaxing, feeling overwhelmed, becoming easily frustrated, and bowel issues. (10) The conversion of serotonin to melatonin, which is often called "The Sleep Hormone," is dependent on GABA. (11)
Other supplements that may be helpful for supporting GABA are:
The relationship between passionflower and GABA plays a significant role in the benefits we'll talk about later below, but the other constituents I mentioned earlier also contribute to the benefits.
Here are the top traditional uses, plus what modern research has to say about them.
1. Improves Sleep Quality
According to herbalists David Winston and Steven Maimes, passionflower is helpful for:
"The person [who] can't shut off his mind at night, and . . . lays in bed thinking about the day, yesterday, tomorrow, last month, next month, what if this, and if only that. I have had patients tell me it's like having a talk radio station in their heads and they can't find the off switch. Passionflower is the off switch." (12)
Modern research seems to support this perspective. In this clinical trial, an extract containing passionflower, valerian root and hops had a beneficial effect on both sleep quality and duration.
2. Provides Stress Support
Passionflower is a nervine, which is "a category of herbs with the capacity to act therapeutically on the nervous system by eliciting a calming effect on excited nerves. By helping us navigate high-stress demands on a cellular level, these plants and nutrients can deepen and strengthen our energetic reserves and support our ability to rebound more quickly from challenging situations." (13)
Nervines are often used along with adaptogens during challenging times to increase our resilience during acute or long-term stress. (13) (14)
3. Mood Lifting
The indole alkaloids in passionflower may have a positive effect on neurotransmitters other than GABA – dopamine, serotonin and noradrenaline to be specific – that are tied to our overall mood. (15)
4. Quiets Mental Chatter & Promotes Relaxation
"Passionflower is a relaxing nervine, often combined with other nervines to reduce stress and tension and to aid sleep. It helps to quiet mental chatter." – The Modern Herbal Dispensatory
Commission E, which is basically the German version of the FDA, supports its use for easing nervous restlessness. (16)
Some research suggests that it may be also helpful for hyperactive children. (17)
5. May Improve Memory
Although more research is needed, a 2016 study found that passionflower reduced stress levels and improved spatial memory in rats. The researchers believe these effects are likely due to passionflower's effect on GABA.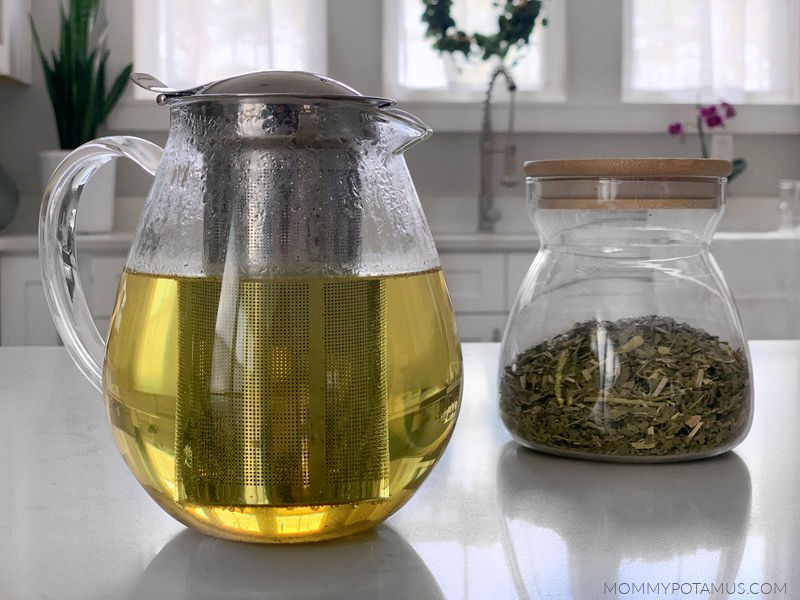 How To Make Passionflower Herbal Tea
This relaxing passionflower tea recipe can be consumed before bed to support deep, restful sleep. It can also be sipped throughout the day to quiet mental chatter, increase resilience to stress, and lift mood.
How To Make Passionflower Tincture
Tinctures are potent (even at small doses), rapidly absorbed (making them fast-acting), portable, and long-lasting (they have the longest shelf-life of any herbal preparation). Here's how to make one using dried or fresh passionflower:
Dried Passionflower Ingredients
You'll want to use 1 gram (by weight) dried herb and 5 milliliters (by volume) menstruum, aka the liquid used to extract the herb. This ratio can be doubled, tripled or more, as long as the ratio stays the same.
Although intuitively it seems like a menstruum with a higher alcohol content would be best for extraction, it's actually best to use a vodka (or brandy or whatever you prefer) that is 50-65% alcohol by volume (100-130 proof). Here's why: Alcohol and water extract different constituents, so using a menstruum that has a lower alcohol content and more water yields a more full-spectrum extraction.
Fresh Passionflower Ingredients
You'll want to use 1 gram fresh herb (by weight) to 2 milliliters (by volume) menstruum. Because fresh passionflower leaves, stems and flowers naturally contain a lot more water than the dried herb, you'll want to use a menstruum with a higher alcohol content. The menstruum will draw out the water and dilute the final product so that it's similar in alcohol content to the one made with dried passionflower. Many herbalists suggest 160-190 proof
Time needed: 14 days and 15 minutes.
How to make a tincture with fresh or dried passionflower: 
If you're using fresh passionflower, chop it up. 
Using a kitchen scale, weigh your herb and then place it into a jar. 
Pour the alcohol over the herb.

Use 5 ml for every gram of herb.

Put a lid on your jar and place it in a dark, cool place.

I like to label my tinctures with the name and date started so I can keep track of what I've got. 

Shake the jar daily for two weeks or longer.
Strain out the herb and transfer the liquid to a dark amber or blue dropper bottle to protect it from light.
Store in a cool, dark place and use as needed. 
How To Make A Passionflower Poultice
Some people apply passionflower directly to the skin to soothe hemorrhoids, burns or other forms of inflammation. The most common way to do this is via a poultice.
To make a poultice with fresh passionflower:
Grind the passionflower in a food processor. Next, mix in just enough water to form a thick slurry.
Once the slurry is ready, wrap it in a thin layer of cheesecloth and place it on the affected area. If desired, bind with gauze wrap to secure it in place. Leave the poultice on for 20-30 minutes. Refresh with a new poultice if desired, then clean the area.
To make a poultice with dried passionflower:
Mix the dried herb with just enough boiling water to form a thick slurry. Wrap the slurry in a thin layer of cheesecloth and place it on the affected area. If you'd like, you can bind with gauze wrap to secure it in place. Leave the poultice on for 20-30 minutes. Refresh with a new poultice if desired, then clean the area.
Passionflower Dosage
Here are the suggestions outlined by The Modern Herbal Dispensatory
Standard tea infusion: 4-8 ounces up to 4 times daily
Tincture: 2-8 ml (0.4 – 1.6 tsp) up to 4 times daily
Does passionflower have side effects?
According to the Botanical Safety Handbook: 2nd Edition, its a Safety Class 1A herb, which is the safest rating possible. Herbs in this category are described as:
"Herbs that can be safely consumed when used appropriately.
History of safe traditional use
No case reports of significant adverse events with high probability of causality
No significant adverse events in clinical trials
No identified concerns for use during pregnancy or lactation
No innately toxic constituents
Toxicity associated with excessive use is not a basis for exclusion from this class
Minor or self-limiting side effects are not bases for exclusion from this class"
However, the National Center for Complementary and Integrative Health says that passionflower should be avoided by pregnant women because it may stimulate contractions.
Herbalists David Winston and Steven Maimes also note that "Passionflower may increase the effects of prescription sedatives, antispasmodics, and anxiolytics; use them together with caution. Do not use passionflower with older type antidepressants called monoamine oxidase inhibitors (MAOIs). (12)
Got a question about passionflower?
Please leave it in the comment section below!
Want more research-backed natural remedies?
No problem, I've created a free ebook for you – Kitchen Apothecary: 25+ Natural Remedies Using Ingredients From Your Pantry – as a gift for signing up for my newsletter. You'll also get updates when I post about safe essential oils for pregnant/breastfeeding mamas, exclusive gifts and coupons (I was able to give away a jar of free coconut oil to anyone who wanted it recently!), plus other goodies.
Sign up using the form below.
Sources:
1. Mirrodi, M et. al. (2013) Passiflora incarnata L.: ethnopharmacology, clinical application, safety evaluation of clinical trials
2. Rodriguez-Fragaso, Lourdes et. al. (2007) Risks and Benefits of Commonly Used Herbal Medicines in Mexico
3. Soulimani, R et. al. (1997) Behavioral effects of Passiflora incarnata L. and its indole alkaloid and flavonoid derivatives and maltol in the mouse
4. Penn State Medical Center. Passionflower
5. Elsas, S.M. et. al. (2010) Passiflora incarnata L. (Passionflower) extracts elicit GABA currents in hippocampal neurons in vitro , and show anxiogenic and anticonvulsant effects in vivo, varying with extraction method
6. Kapalka, George. (2009) Nutritional and Herbal Therapies for Children and Adolescents: A Handbook for Mental Health Clinicians (Practical Resources for the Mental Health Professional)
7. Swanson, CJ et. al. (2005) Metabotropic glutamate receptors as novel targets for anxiety and stress disorders
8. Cavadas, C. et. al. (1995) In vitro study on the interaction of Valeriana officinalis L. extracts and their amino acids on GABAA receptor in rat brain
9. WebMD. GABA (Gamma-Aminobutyric Acid)
10. Jockers, David. Is Your Brain Making Enough GABA?
11. Balemans, MG et. al. (1983) The influence of GABA on the synthesis of N-acetylserotonin, melatonin, O-acetyl-5-hydroxytryptophol and O-acetyl-5-methoxytryptophol in the pineal gland of the male Wistar rat
12. Winston, David (2019) Adaptogens, Herb for Strength, Stamina and Stress Relief
13. Yance, Donald (2013) Adaptogens in Medical Herbalism
14. Pursell, JJ (2018) The Woman's Herbal Apothecary
15. Hamid, Hazrulrizawati A. et. al. (2017) Indole Alkaloids from Plants as Potential Leads for Antidepressant Drugs: a Mini Review
16. Blumenthal : The complete German Commission E monographs; therapeutic guide to herbal medicines, Austin, American Botanical Council, 1998.
17. Shahin Akhondzadeh et. al. (2005) Passiflora incarnata in the treatment of attention-deficit hyperactivity disorder in children and adolescents