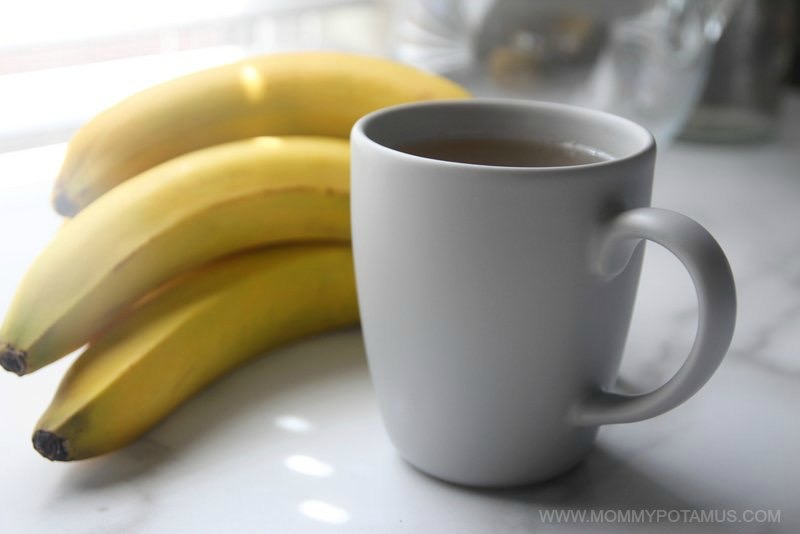 I thought I had bananas all figured out. They're delicious in banana walnut muffins, stirred into yogurt with a drizzle of honey, or dried for an on-the-go snack. Pretty straightforward, right?
Not so much. Bananas are so much weirder than they seem. First of all, they don't even grow on trees. Banana plants are actually arborescent (tree-like) perennial herbs, and the banana itself is considered a berry. (Pelletier, Broome et. al.)
Second, the peels we've been throwing away all these years? Totally valuable. In fact, from now on I might start throwing away the bananas and keeping the peels. (Not really, but that's how crazy throwing away the peels sounds to me now.)
So, what's special about banana peels?
For starters, they contain potassium and magnesium, which are both natural muscle relaxants. (Haikan, Szalay) Magnesium is often called "magic mineral" because it also helps with hormone balance, stress support, detoxification and more. (Read more about the benefits of magnesium here.)
They also contain "the amino acid L-tryptophan, which gets converted to 5-HTP in the brain. The 5-HTP in turn is converted to serotonin (a relaxing neurotransmitter) and melatonin" aka the sleep hormone. (Haikan, Ramikrishna et. al.) Although I don't recommend regularly supplementing with melatonin directly, I think it's a great idea to supply the body with all the materials it needs to make it's own.
Oh, and one more thing – they're rich in heat-stable (not destroyed by boiling) antioxidants like lutein, which helps to protect the eyes and skin from ultra-violet light. (Subagio et. al., Roberts et. al.)
Why banana peel tea?
Some people like to blend banana peels into their smoothies, but I'm personally not a fan of the texture when they're used that way. For that reason I prefer to make them into a delicious, mildly sweet relaxation tea.
Should I use fresh or dried banana peels to make tea?
It's up to you. You can use a fresh banana peel, or a peel that has been placed in the freezer until you need it, or peels that you chop and dehydrated to use like you would any loose tea.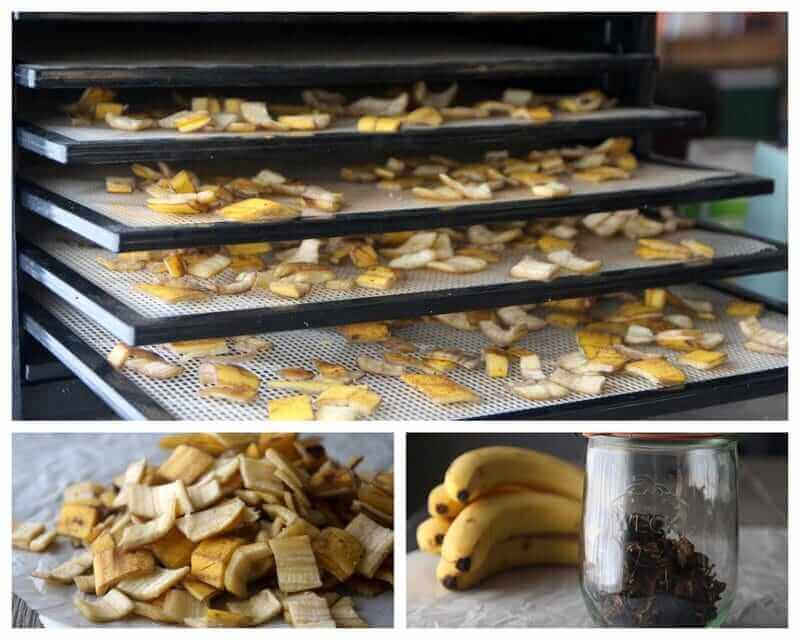 If you want to dry them, just chop them up and place them in a dehydrator at 155F for 6-8 hours. One banana usually makes about 3 tablespoons of dried peel, which is what I use to make a single cup of tea.
Banana Tea Recipe
Ingredients
1

organic banana peel

(ends trimmed off or 2 tablespoons dried banana peel)

1¼

cup

water

¼

tsp

vanilla extract
Instructions
Place peel and cinnamon stick (if using) in the water and bring to a boil. Cover, reduce heat and simmer on low for 8-10 minutes. Remove from heat and strain out peel. Add vanilla extract (if using) and sweetener if desired before serving.
Nutrition
Carbohydrates:
0
g
|
Protein:
0
g
|
Fat:
0
g
|
Saturated Fat:
0
g
|
Polyunsaturated Fat:
0
g
|
Monounsaturated Fat:
0
g
|
Trans Fat:
0
g
|
Cholesterol:
0
mg
|
Sodium:
0
mg
|
Potassium:
0
mg
|
Fiber:
0
g
|
Sugar:
0
g
|
Vitamin A:
0
IU
|
Vitamin C:
0
mg
|
Calcium:
0
mg
|
Iron:
0
mg