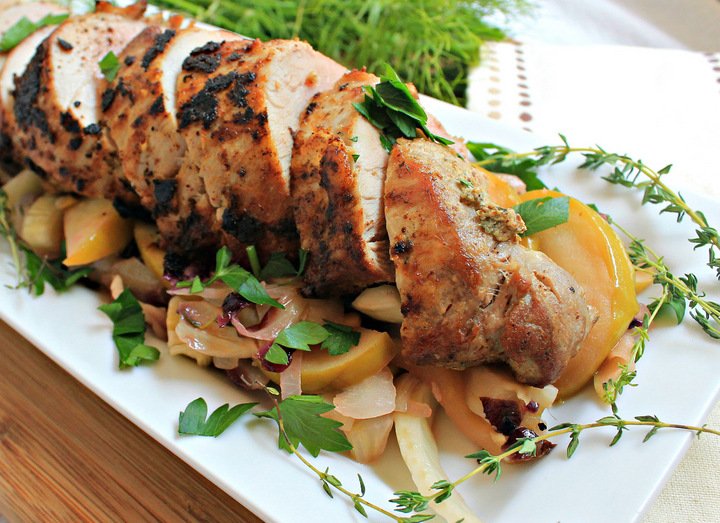 Note From Mommypotamus: Today the Potami clan is on the road – we're headed to the BEACH! Camp fire cookouts on the sand here we come. (You can follow our adventures here.) While we're away, Kelli Fras from Happy Healthnut is sharing her recipe for "fake fancy" pork tenderloin – it's the perfect way to kick off the fall season. Also, I recommend that you check out her note on new USDA recommendations for cooking pork in the instructions. Thank you for stopping by today, Kelli! 
Every year around this time, the leaves begin to change, the air gets crisp in the morning, and I start to feel the urge to break out the cable-knit sweaters, brew up a chai tea latte, and hit up the apple orchard down the street. Ahhhh fall in Michigan! There is no better time of year! I know that autumn brings beauty to many parts of the country, but as a mid-western girl, I have to say, I'm partial to my Michigan falls.
When autumn rolls around, along with the turnover of the leaves comes the turnover of a new batch of seasonal produce. Say goodbye to the tomatoes and zucchini, and hello to the apples and pumpkins. Don't get me wrong, I love the crisp, fresh flavors of summer, but I welcome the warmth and heartiness that fall produce offers.
As a child, one of my favorite fall meals was a good ole' "pork chopsh and appleshaushe" (insert obligatory Humphrey Bogart impression). It's a classic fall dish, and it was my grandmother's specialty. But one of my great pleasures in life is taking old, tired classics (delicious, but tired) and putting my own spin on them to make them modern and fresh. Enter mustard and thyme rubbed pork tenderloin with apple and fennel saute! That's right, folks. It's not your mama's (or grandmama's) pork chops and applesauce.
This roasted pork tenderloin recipe is what I lovingly refer to as a "fake fancy"
It sounds all kinds of fancy-schmancy and complicated to make, but it's actually really simple to prepare. In fact, it is delicious and elegant enough to serve for company, yet it's quick and easy enough to prepare for any weeknight meal. With a little bit of preparation, you can have this scrumptious meal on the table in under thirty minutes.
Before I get to the recipe, let's have a little chat about brining pork, shall we? Brining is essentially just soaking or marinating your meat in a salty solution, that has some sort of acidic medium added to it. I'm telling you, people, if you're not brining your pork products, you are doing yourself a major disservice! First of all, a simple brine imparts amazing flavor on whatever protein (in this case pork) you're cooking up. Second, brining your pork slowly and gently begins to break down the proteins in the meat just enough to perfectly tenderize it. It also keeps the meat incredibly moist! Then, as if the aforementioned reasons weren't convincing enough, brining your meat in an acidic medium may also help reduce the inflammatory effect that consuming pork may have on the body. To read more about that, check out this post from Food Renegade.
Enough chit chat….on with it.
How to Cook Pork Tenderloin in the Oven
Pork tenderloins frequently come in packages of two. So if the label says it weighs 3 pounds, chances are there are two 1.5 pound pork tenderloins in there. This recipe uses both tenderloins and serves 6-8 people, so if you are cooking for less or don't want too much leftover, just halve everything and only use one tenderloin.
(Not too familiar with cooking in a cast-iron skillet? Check out this article for great tips about the versatility of these pans)
Oven Roasted Vegetables Are The Perfect Side Dish
Since the oven is going to be on anyway I like to just toss my sides in there too. This is the perfect protein to pair with roasted veggies like cabbage slices, sweet potato fries, or Parmesan and sea salt asparagus. You can roast just about any vegetable by tossing it with oil, sprinkling with salt pepper and other seasonings, and roasting until tender. The oven gives the veggies a depth of flavor that you don't get from sautéing or steaming.
Pork Tenderloin Recipe Sautéed with Apple, Thyme, and Mustard
This simple, but delicious pork tenderloin is sauteed with fennel, apples, garlic, onions, radicchio and herbs before being pan seared and finished in the oven.
Ingredients
For the Sauté:
1

yellow onion

(medium-sized, sliced)

2

heads

fennel

(cored and sliced)

2

granny smith apples

(skin-on, cored and sliced)

1

head

radicchio

(cored and shredded)

3

cloves

garlic

(minced)

2

inch

fresh ginger

(minced)

1

tbsp

fresh thyme

3

tbsp

apple cider vinegar

3

tbsp

raw honey
sea salt

(to taste)

black pepper

(to taste)

1

tbsp

ghee

(or cooking fat of choice)
Instructions
Night Before – For the Brining:
Dissolve the sea salt by stirring it into a large bowl filled with 6 cups of hot water.

Once the salt is dissolved, add the peppercorns, bay leaf and vinegar to the mix. 

You can either wait until the brine cools, or if you're impatient like me, you can add in enough ice cubes to cool it down. You just don't want the brine to begin to cook the pork. 

Add the pork tenderloins to the brine, cover, and pop it in the fridge. Twenty-four hours is optimal, but twelve will do. It's best to do this step the night before. If not, just be sure to do it before you leave for work in the morning!
Cooking the Pork:
Preheat the oven to 400°F.

Remove the pork from the brine and pat it dry. Often times, pork tenderloin will come with a silver skin on it. The silver skin is tough, so remove by slicing it off gently with a sharp knife.

You'll notice that one end of the pork is tapered, so you'll want to tie the skinny end underneath itself with some kitchen twine so that the pork cooks evenly.

In a small bowl, combine the stone ground mustard and 2 tbsp of fresh thyme and set it aside.

Heat two large skillets on the stove top. I like to use cast iron for the pork because it's oven safe, and you'll be transferring the pork to the oven to finish cooking. Heat the pan you'll be cooking the pork in over medium high heat. Heat the pan you'll be cooking your saute in over medium heat. Add your ghee to their respective skillets to heat.

Season each pork tenderloin generously with sea salt and pepper on all sides, and rub the mustard and thyme mixture into the meat….really massage it. Get personal with it.

Add the pork to the hot skillet and sear it on all sides until it's nicely browned.

At the same time, add the reserved, chopped veggies to the other skillet. Season generously with sea salt and pepper and add the rest of the fresh thyme. Toss to combine.

When seared on all sides, transfer the pork pan to the oven and cook uncovered for 12-15 minutes, or until the pork reaches an internal temperature of 145°F. The USDA used to recommend cooking to an internal temp of 160°F, but they have since amended that recommendation to 145°F. 160 was overkill and dried out the pork!

While the pork is in the oven, finish up the saute. When the onions and fennel are translucent and the apples have softened slightly, add in the vinegar and honey. Stir, and cook until the vinegar has reduced, about another 2-3 minutes. Taste and season with sea salt and pepper. Remove from the heat and set aside.

Remove the pork from the oven. Take it out of the pan and set it on a cutting board to rest for five minutes! This is important! Don't skip this step. The meat will continue to carry-over cook during this time, and the juices will redistribute. If you cut into it right now, the juices will all come running out.
Notes
If the pan you are browning the pork in on the stove is not oven proof, you can simply transfer the meat to a baking pan before putting it in the oven.
Nutrition
Serving:
3
slices
|
Calories:
221
kcal
|
Carbohydrates:
6
g
|
Protein:
32
g
|
Fat:
7
g
|
Saturated Fat:
3
g
|
Cholesterol:
102
mg
|
Sodium:
1289
mg
|
Potassium:
723
mg
|
Fiber:
1
g
|
Sugar:
3
g
|
Vitamin A:
67
IU
|
Vitamin C:
5
mg
|
Calcium:
27
mg
|
Iron:
2
mg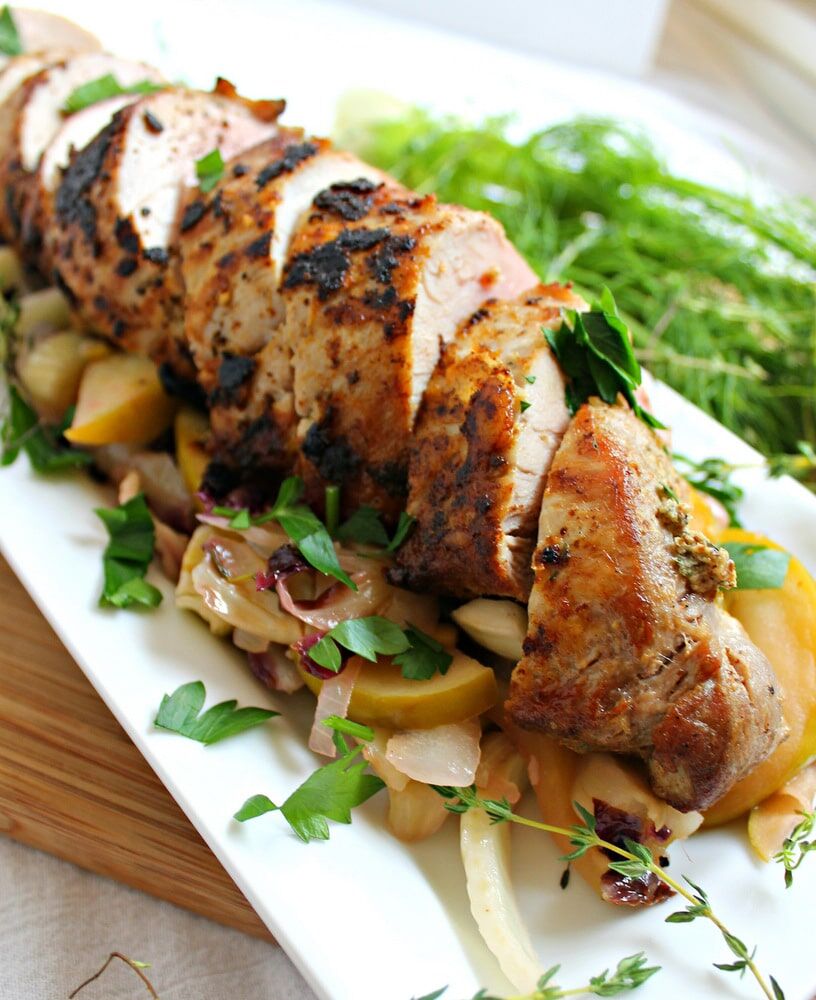 Have you ever tasted a to-die-for pork tenderloin? Share below!