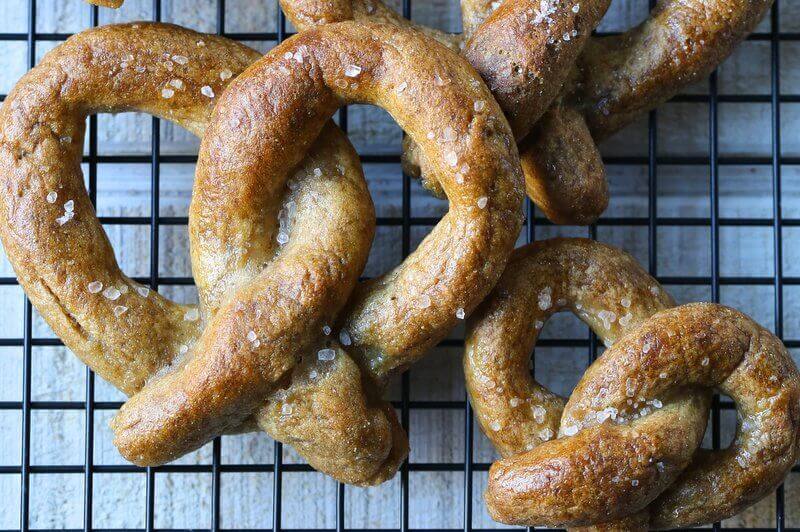 Note from Mommypotamus: Goat sitters – check! The potamus clan is thankful for the capable hands caring for our homestead while we have a little adventure in the mountains. While I'm breathing in the crisp, fresh air, Jennifer of Predominantly Paleo has graciously agreed to share a sneak peek from her upcoming Paleo Kids Cookbook. You know I'm all about creating meals kids love – old favorites like chicken nuggets with ketchup along with more adventurous fare – and all I can say is GET. YOURS. NOW. Jennifer's cookbook is the real deal – there are so many deeply nourishing options plus real foodified treats like funnel cakes. Seriously, SHE FIGURED OUT FUNNEL CAKES, Y'ALL!
Remember biting into your first soft pretzel as a child? Maybe it had big crystals of coarse salt, or maybe you had it basted with butter. That warm, doughy treat has long been a favorite for so many of us. When you give up gluten (and grain) it can feel like life gets a little less fun for awhile. Then you figure out maybe where to find substitutes for your favorites but their quality is lacking and they taste like overprocessed disappointment.
My entire goal in making whole food based recipes is to recreate favorites without compromising taste but while ensuring the quality of ingredients is intact. I never want a recipe to just be "good enough", I want people to genuinely enjoy what they're eating!
I'm so happy that Heather and I finally connected as I adore her work and feel like we both want our family life to be filled with joy and enthusiasm. I hope these soft pretzels will bring back childhood memories of your own and create some new ones for your little ones!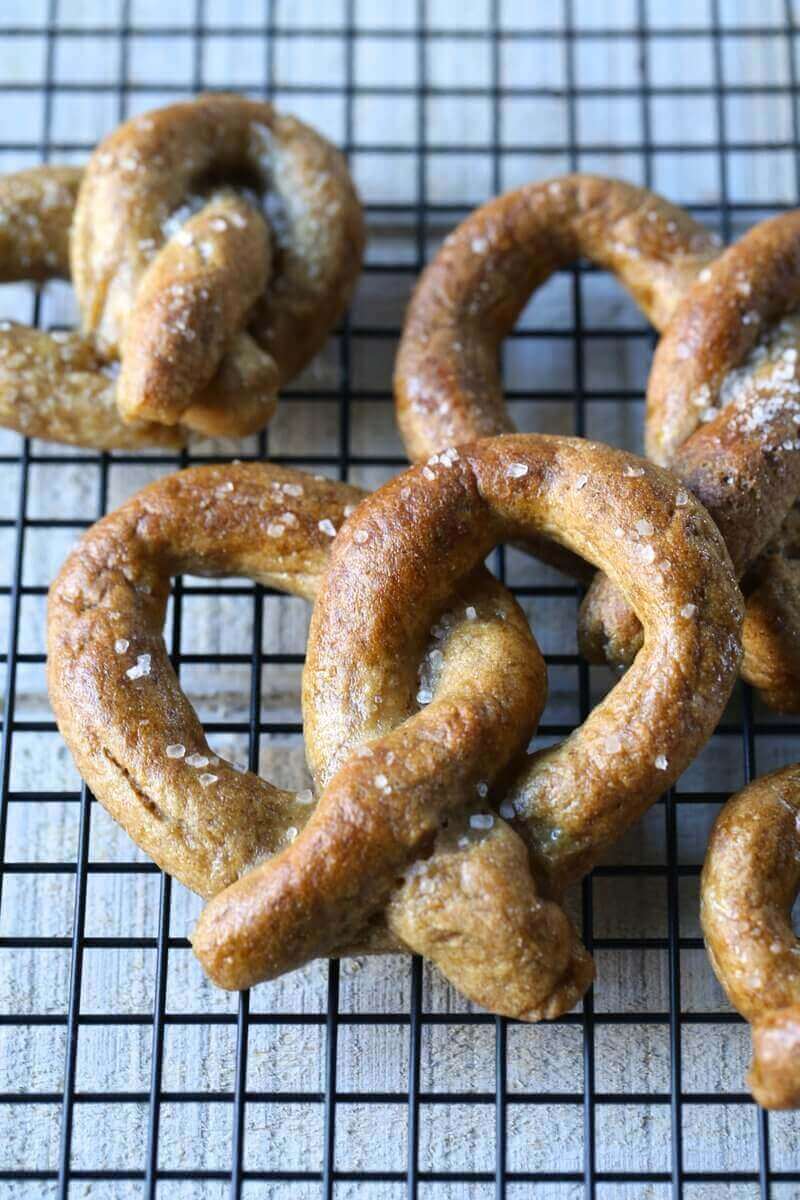 Soft Pretzel Recipe (Gluten-Free, Paleo)
Ingredients
FOR THE WATER BATH

10

cups

2.5 L water

1

tbsp

15 ml apple cider vinegar

1

tbsp

18 g sea salt

FOR THE PRETZELS

1

cup

240 ml warm water (around 110°F [43°C])

1

packet gluten-free quick acting yeast

1

tbsp

15 ml 100% maple syrup

1

pastured egg

1

cup

128 g cassava flour

2

tbsp

18 g psyllium husk powder

1

tbsp

12 g coconut flour

2

tbsp

30 g ghee, avocado oil, olive oil or preferred cooking fat

1

tsp

baking soda

1

⁄4 tsp sea salt

2

tbsp

30 g coarse sea salt
Instructions
Preheat oven to 425°F (218oC). Bring the water bath ingredients to a boil in a large pot.

Combine the cup (240 ml) of warm water, yeast and maple syrup in a mixing bowl. Allow the yeast to multiply, for about 5 to 10 minutes. If it doesn't froth or foam, toss the mixture and begin again. Either the yeast was dead or it was killed by the temperature of the water.

Once your yeast mixture is frothy, add in the remaining pretzel ingredients, except the coarse salt and 2 tablespoons (30 g) of the cooking fat, and stir to combine. It now becomes easier to use your hands to combine the ingredients together more thoroughly. If making 4 large pretzels, divide the dough into 4 large pieces. If making smaller pretzels, divide the dough into 8 equal sized pieces.

Roll one of the dough pieces into a long snake about 18 inches (45 cm) long (shorter for the small pretzels) and then make a U shape. Twist the two ends of the "U" together, crossing once then twisting again and bring them to the base of the U where you can secure the twist by pressing it into the base. Transfer the pretzel to the boiling water bath and allow it to cook for about 3 minutes. Remove the pretzel with a skimmer and transfer it to a parchment-lined baking sheet. Repeat with the remaining dough. You can just make straight pretzel twists without having them be a traditional pretzel shape.

Once all of the dough pieces have been boiled, baste them with the remaining

tablespoons (30 g) of ghee or cooking fat, sprinkle with the coarse sea salt bake them for 15 to 20 minutes. The longer you bake them, the crispier the exterior will become. e inside should be soft. These are best the same day or frozen and reheated in the toaster oven or conventional oven.
About Jennifer
After months of health crisis and illnesses, Jennifer Robins found the answer to her symptoms and diagnosis to become gluten-free and Paleo. When her three children began show similar sensitivities and intolerances, Jennifer adapted her family to follow the same lifestyle and found that omitting the same inflammatory items from their diets greatly improved their health as well.
Jennifer is back, following up her bestselling book, Down South Paleo, which was just mentioned on Bookscan's Top 100 Adult Non-Fiction list. Jennifer outlines how simple the process to transition your children to a Paleo lifestyle can be. The keys to making Paleo work for children includes having a backup plan, like bringing healthy snacks like Raw Cookie Dough Bites with you so cravings are covered and packing lunches to provide your kids with the foods they can enjoy, such as Mummy Dogs. You'll recreate favorites such as Sweet & Sour Chicken and Paleo Mac N Cheese, as kids take comfort in their favorite foods so they won't feel like they're missing anything. Also, while essentially a cookbook packed with smart recipes kids love, this book will show you how to get your family involved by putting them on the road to making their own good food choices.