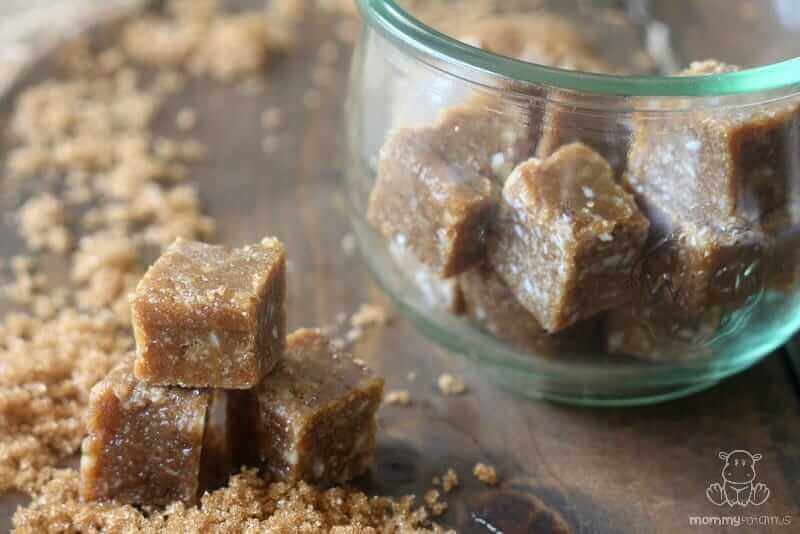 Baby shower is a funny term, don't you think? I mean sure, you get showered with gifts, but even loosely associating the word "baby" with "shower" seems ironic.
Fortunately, it does get easier, and I'm happy to say that with three little ones running around I'm now at Expert Level 5 for grabbing a shower in five minutes, or using this trick on the days that doesn't happen. Even better, I've learned to relish those moments quiet bliss like I used to relish an hour-long massage. It truly is the little things!
These 3-in-1 vanilla sugar scrub cubes are a lovely way to create a spa getaway experience in the middle of a crazy daily schedule. Make some for yourself and – if you're feeling generous – a friend who could use a little pampering, too.
About The Ingredients
Sugar
Sugar contains naturally occurring glycolic acid, which dissolves old, dead skin and makes exfoliating that much easier. Though I prefer unrefined sucanat for baking, more refined types of sugar work better for exfoliation.
Coconut Oil
Extra virgin coconut oil is rich in antioxidants and skin-nourishing saturated fat. And because it's molecular structure is relatively small, it tends to absorb better than some oils.
Soap
Unlike my skin smoothing sugar cookie body scrub, which is more moisturizing, these single-serve cubes are better classified as an exfoliator plus cleanser. That, of course, is due to the fact that soap is used to bind the sugar together. You may want to finish off the treatment with a little homemade lotion, body butter, shea butter or plain coconut oil.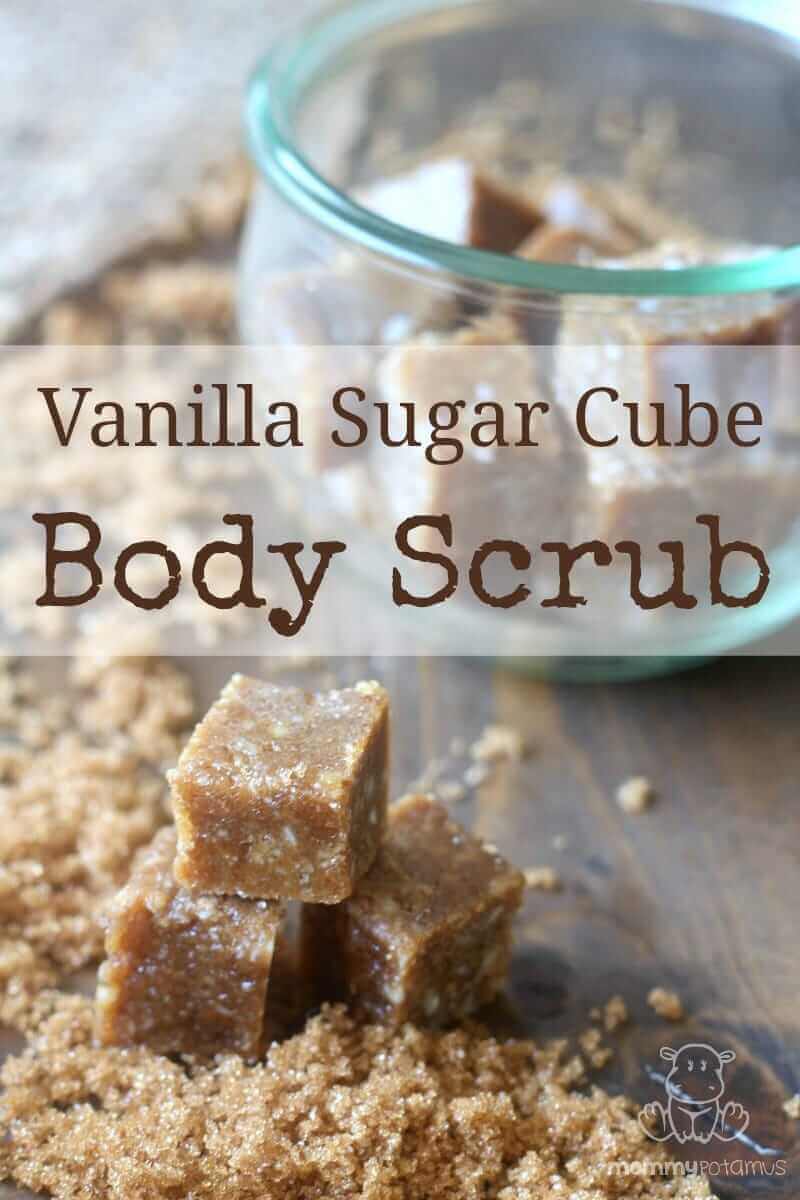 Vanilla Sugar Scrub Recipe
Ingredients
½ cup grated coconut oil soap (or any unscented bar soap with clean ingredients)
4 tablespoons coconut oil
1 teaspoon water
25-30 drops vanilla oleoresin (this is the brand I use)
1 cup brown sugar (preferably organic)
Instructions
In a small bowl mix together brown sugar and vanilla oleoresin.
Add soap, coconut oil and water to a double boiler. (If you don't have a double boiler no worries, just place a stainless steel bowl inside a pot of boiling water.)
STIR STIR STIR until the soap is creamy. It won't fully melt, but that's okay. Pour the soap mixture into the bowl of sugar and mix thoroughly, then add the scrub to the soap molds. You'll want to work quickly so that it doesn't harden, but don't worry, you don't need to be. Just don't walk away and have a 10 minute conversation with your child about how many blades of grass are in the yard and you'll be fine.
Pour the mixture into a silicone soap mold and allow to harden for an hour or two, then pop them out and cut into cubes with a knife.
More Body Scrub Recipes To Try
Dead Sea Salt Scrub Recipe – Unlike most scrubs that stay on the surface of your skin, it melts slightly as it gently exfoliates, infusing skin with minerals that support skin firmness and elasticity.
Citrus Sugar Body Scrub – This scrub has a bright, uplifting scent and is easy to make.
FREE Ebook: DIY Body Care Gifts Made Simple
Do you want to give gorgeous, handcrafted gifts for family and friends, without spending a bunch of time on them?
Then I'd love to give you a free copy of DIY Body Care Gifts Made Simple – my step-by-step guide to making gorgeous handcrafted gifts without stressing yourself out – as a gift for signing up for my newsletter. I'll show you how to make vintage labels, luxurious lotion bars, lip balms, sugar scrubs, body sprays and more like a pro. Sign up for my newsletter and you'll be redirected to the download page immediately!