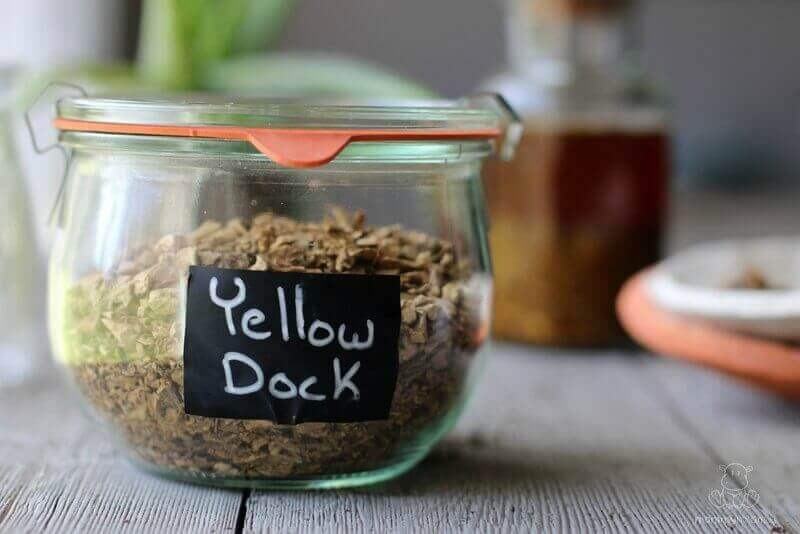 Awhile ago I shared a photo of my pantry apothecary on Instagram, and you immediately asked for a list of what's inside. I'm working on that for you – after all, curiosity makes us happier and I definitely want to encourage that – but while I'm pulling that together I want to share one of my current favorites. Yellow dock root is an herbal ally worth considering if you're looking for support with:
MTHFR detox support (or detox support in general)
Energy support during menstruation
Digestion
Blood sugar balance
Immune system support
Overall mineral status
Before we jump in, though, I want to introduce you to Dr. Lori Rose, one of my favorite herbalists to collaborate with.
Dr. Rose holds a PhD in biology and is Board Certified in Holistic Nutrition. She currently teaches biology and nutrition at the college level and is also a practicing clinical herbalist/holistic nutritionist. In her spare time we chat about everything from intermittent fasting and heat shock proteins to adaptogens and detoxification support herbs, and I am thrilled to be co-authoring this article (and several more to come) with her. Now, on to the post!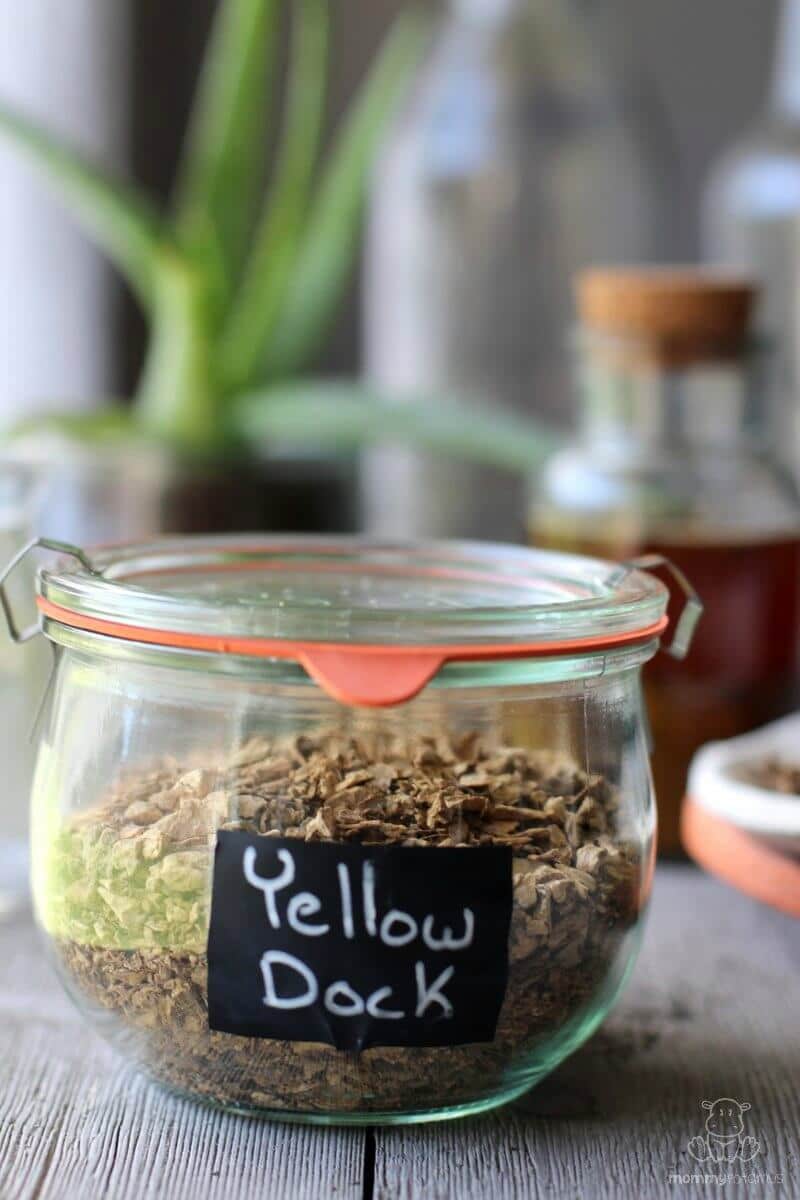 7 Health Benefits of Yellow Dock Root
Yellow dock is a fabulous herb for modern life. Not only does it support stage-2 detoxification of the liver – which most of us need because it's not practical to live in a bubble – it also promotes healthy digestion, a diverse microbiome, and more.
Yellow dock contains a unique combination of constituents such as anthraquinones, tannins, minerals, and inulin that together synergistically to support overall health. (source 1, source 2, source 3) Here are just some of the benefits:
Yellow dock is a digestive bitter
You've probably heard about digestive bitters such as Urban Moonshine's pregnancy-friendly chamomile bitters. When taken about twenty minutes before a meal, the bitter components of certain herbs can stimulate an increase of digestive enzymes and bile flow from the liver.
Yellow dock is considered a bitter herb due to the presence of tannins, and like other bitters it makes digestion and absorption of nutrients more efficient. The bitter flavor also regulates blood sugar by decreasing sugar cravings and increasing feelings of fullness. (source)
Yellow dock supports liver detoxification
Perhaps even more amazing is the benefit consuming bitters has on stimulating liver detoxification. While almost all people could benefit from detox support, those with the MTHFR mutation have genetically decreased detox efficiency. Adding detox-supportive herbs like yellow dock can assist an under-functioning liver get rid of toxins, waste products, and excess hormones. (source)
Yellow dock supports hormone balance and clear skin
The bitter components in yellow dock can also be a very useful ally for naturally balancing hormones by supporting the elimination of excess estrogen during the luteal and menstrual phases of our monthly cycles. Because many skin issues originate from sluggish detox of hormones and waste products, the benefits of consuming bitters can also result in clearer skin! (source)
Yellow dock helps with diarrhea
Yellow dock is considered helpful for nudging the body back toward balance in cases of both constipation and diarrhea (as discussed in the next section). The tannins in yellow dock are astringent, which is an herbal term for drying, healing, and toning to tissues – this is the quality which is thought to be helpful for diarrhea. (The Earthwise Herbal, Matthew Wood)
Yellow dock helps with constipation
The anthraquinones in yellow dock stimulate peristalsis of the intestines, which increases bowel transit time. Usually, people tend to use harsh, addictive laxatives to address constipation. Even naturally-occurring strong herbal laxatives can result in dependency and damage to the mucosal lining of the intestines. Because yellow dock has a smaller percentage of peristalsis stimulating ingredients, it can be used for a longer period of time with more gentle, yet still effective, benefits to digestive transit time. (source 1, The Earthwise Herbal, Matthew Wood)
Here are some other constipation and diarrhea remedies that may help as well, and here is a recipe for "constipation candy" that was shared by a mom in our community.
Yellow dock is a prebiotic
Most people have heard by now that including probiotics in the diet is just the first step to supporting a healthy microbiome. We must also include prebiotics, the food for the probiotics. The inulin in yellow dock is a prebiotic, feeding the beneficial bacteria that are essential for digestive health. (source)
Yellow dock is high in minerals
Yellow dock is believed to accumulate beneficial minerals from the soil into its roots and leaves. (source) These minerals are then passed on to the lucky consumers of yellow dock! Knowing the prevalence of mineral deficiency in our country due to modern farming practices impact on soil quality, this nutritive aspect is just one more reason to make yellow dock your herbal companion. It's high in iron and is considered a useful herbal companion during menstruation and pregnancy. (source 1, The Earthwise Herbal, Matthew Wood) It is also sometimes used to improve iron status when needed.
How safe is yellow dock?
According to the Botanical Safety Handbook: 2nd Edition, Safety Class 1A adaptogens can be described as:
"Herbs that can be safely consumed when used appropriately.
History of safe traditional use
No case reports of significant adverse events with high probability of causality
No significant adverse events in clinical trials
No identified concerns for use during pregnancy or lactation
No innately toxic constituents
Toxicity associated with excessive use is not a basis for exclusion from this class
Minor or self-limiting side effects are not bases for exclusion from this class"
Is yellow dock safe for pregnancy?
According to The Herbal Academy, "Despite its gentle laxative effect, yellow dock has not been found to stimulate the pregnant uterus (Romm, 2010). Considered safe to take in pregnancy, traditional midwives have made syrups combining dandelion and yellow dock roots with black strap molasses for added iron (Romm, 2010). To this day, I prefer that a woman take a teaspoon of yellow dock tincture rather than Feosol (a commercial ferrous sulfate supplement)." (source)
Yellow dock root has been historically used as an iron-building syrup by pregnant women. Always check with your doctor before adding herbs to your diet, and listen to your intuition to help you make the best choice for yourself.
How to use yellow dock root
All parts of yellow dock are edible, including the leaves and the seeds, but the root is the part most often used therapeutically. (source) The root can be:
What else do I need to know?
The leaves of yellow dock contain oxalates, which bind to minerals like calcium and magnesium, rendering them unavailable to the body. (source 1, source 2) If you want to consume yellow dock leaves, your safest bet is to boil them, throw out the water, and then boil them again before eating them. A small amount of raw yellow dock leaves is probably safe, but take special care if you have kidney stones.
Yellow dock may interact with some prescription drugs – more info here.
Want more research-backed natural remedies?
No problem, I've created a free ebook for you – Kitchen Apothecary: 25+ Natural Remedies Using Ingredients From Your Pantry – as a gift for signing up for my newsletter. You'll also get updates when I post about safe essential oils for pregnant/breastfeeding mamas, exclusive gifts and coupons (I was able to give away a jar of free coconut oil to anyone who wanted it recently!), plus other goodies.
Sign up using the form below.
About the authors: This article was coauthored by Heather Dessinger and Dr. Lori Valentine Rose (PhD). Dr. Rose, PhD is a college biology, nutrition, herbal, and wellness instructor, Certified Nutrition Professional (CNP), Registered Herbalist with the American Herbalist Guild, and is Board Certified in Holistic Nutrition. She created, developed, and instructs the Hill College Holistic Wellness Pathway, the most thorough, affordable, degreed wellness program in the country. She loves spreading love and light, and helping others feel awesome on the inside and out so they can live their dreams and make this world more awesome!
This article was medically reviewed by Dr. Scott Soerries, MD, Family Physician and Medical Director of SteadyMD. As always, this is not personal medical advice and we recommend that you talk with your doctor.