While every other freshman on campus was hanging out in the coed drinking soda and watching movies, my college roommate was installing our cappuccino maker while the voice of her favorite Italian tenor serenaded our entire wing. I'm tempted to rummage through storage and find a pic to post here, because you would not believe this unassuming 90 pound blonde was really a spitfire with brains.
It was funny, really, to watch people encounter her. Her open expression and elegant gestures were disarming, but this girl dominated class debates and left bewildered students wondering what hit them. By our junior year she was working downtown in an $800 designer suit.
I . . . was a waitress.
What AM I good at?
While we took most of the same classes and earned the same grades, our lives could not have been more different. She had vision. She knew how to make life happen. I didn't.
Toward the end of our college careers (I believe it was the semester she was interning as a lobbyist in Washington), I began slowly trying to figure out what to do with my life. A patron of our school had just donated $1M so that students could take the Johnson-O'Conner Aptitude Test for free, so I signed up.
The tests were crazy. I left the 3-D puzzle about 90% unfinished (which is why I'm not an architect) and failed to identify most of the "what's different about this picture" elements (not a detective, either). However, the nonsensical words that flashed up on the screen like indecipherable alien advertising was a cake walk. I was fluent in gibberish within the hour.
The results are in…
At my post-assessment conference I got some of the most important and damaging information I have ever received. On the one hand, I was good with words and ideas. "Go into teaching or marketing," the guy tells me. "You'll be really good at it." Awesome!!! Then he adds, "But teach at the college level. You're not cut out for working with young kids."
It was at that exact moment . . .
That my career as a mother flashed before my eyes and then died a slow, bloody death. After seeing all the sacrifices my mom made to care for my sis and I as a single parent I already had my doubts about whether I wanted children. But to think that I would be so lousy that they wouldn't want me . . . why bother?
That was how I felt for years. I obsessed over every late period, terrified that I was pregnant. Then out of the blue a desire more powerful than my insecurity awoke within. Children means being on-call all the time, I said to myself. It means giving your life to people that will become teenagers and tell you how uncool you are and then foregoing the beach house to help them pay for college. No fun, I said.
But you want to and you know it, replied the voice deep within. And I did. So we did. And here she is: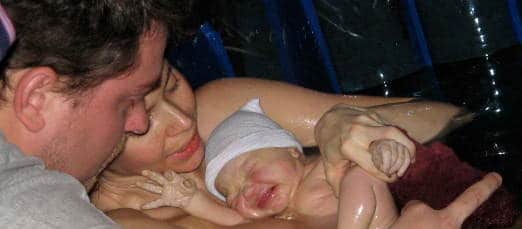 And she has been such an incredible gift, we got a little greedy (that's baby #2 below).
Born to mother?
I'll bet you can rattle off a list of women you know that are "natural born mothers." Nurturers filled with patience and insight into how little hearts and minds work. I'm not on anyone's list when it comes to that, not even my own.
There are things I'm not cut out for and I'm okay with that most of the time. But motherhood? It's too worth it. Remember the movie Rudy? It's the one about that little guy that wanted to play football at Notre Dame. Most of the time I feel like the Rudy of motherhood. We probably ALL do at some point.
Even when the playing field is level, like it was when my roommate and I made the same grades, personal vision and purpose make all the difference in how things turn out. That's why one of my all-time favorite parenting books is not a book about techniques or telling you what kind of children to raise. It's a book about gaining a vision for your family. It's about becoming the traits you want to see in your children.
Whether you are a natural mom or playing catch-up like me, this book has something for you, so come back tomorrow.
Please tell me: How do you inspire yourself when you're not feeling the "motherhood groove?"