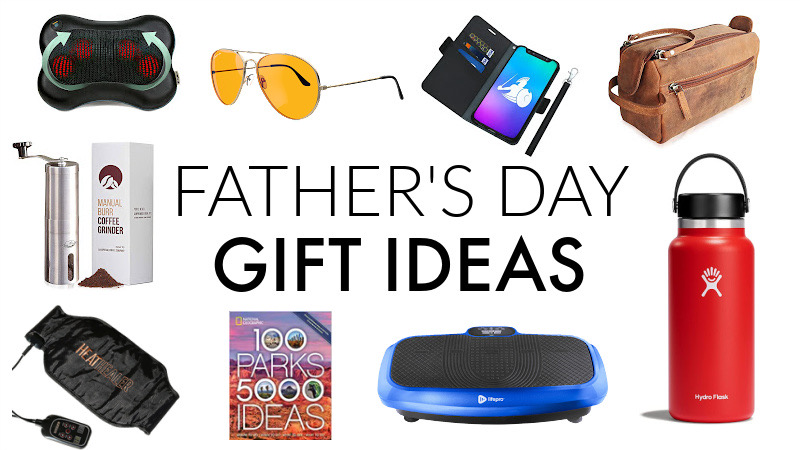 Pops. Dada. Ye old man. Whatever it is that we call fathers these days, the definition now seems to include activities such as:
A) Googling "lego nasal extraction"
B) Falling asleep five minutes after starting a movie
C) Shouting "Mayday!" through a baby monitor (My kids are bigger now, but this really happened)
Though the exact activities may look a little different in each family, there's no doubt that dads are worth celebrating. With that in mind, I've put together a list of Father's Day gift ideas that guys will actually love. If you have a gift idea that you don't see listed, please share it in the comments below!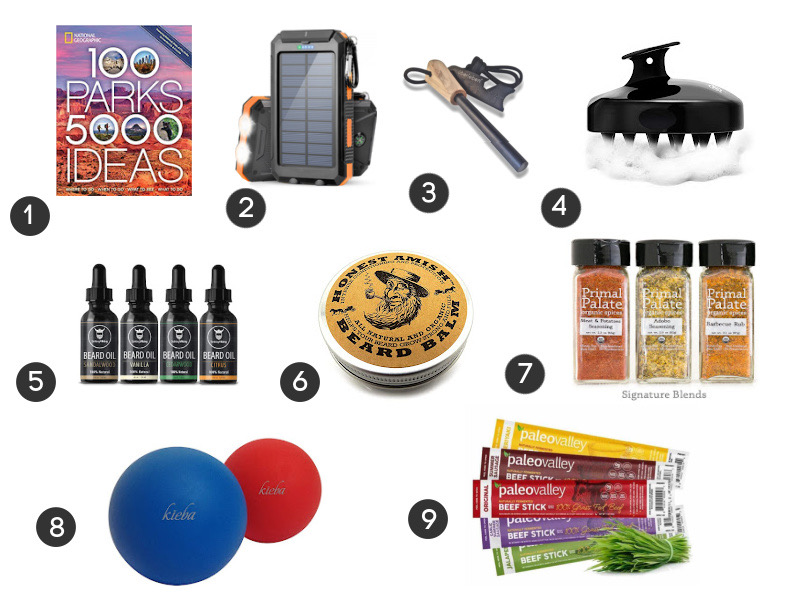 Father's Day Gift Ideas Under $30
1. 100 Parks, 5,000 Ideas: Where To Go, When To Go, What To See, What To Do – For the guy that's craving a little adventure, this National Geographic guide to U.S. and Canadian parks is perfect for planning family experiences.
2. Solar Phone Charger – This water resistant solar charger comes with two ports so that phones can be charged simultaneously. It also has a built-in flashlight.
3. Firestarter Set – Have you ever started a fire with nothing but some kindling and striker? Me neither, but your recipient can with the überleben Zünden Fire Starter. It can throw sparks in any weather and at any altitude, and it's designed to be carried around the neck for easy portability.
4. Shower Scalp Massager – In addition to just feeling amazing, this scalp massager removes dandruff and/or hair product buildup and helps clear clogged follicles. (Clogged follicles impair normal hair growth.)
5. Striking Viking Beard Oil Set – Crafted with organic ingredients, this set contains four blends (Vanilla, Citrus, Cedar & Sandalwood) that soften beard scruff and moisturize facial skin.
6. Honest Amish Beard Balm – If your guy's beard needs deep conditioning power, this balm is the way to go. It's made with organic oils and natural butters like hokum and cocoa butter, plus organic essential oils.
7. Grilling and BBQ Spices from Primal Palate – For the guy that loves to grill, these spice sets are perfect for infusing big flavor:
8. Massage Lacrosse Balls for Myofascial Release, Trigger Point Therapy, Muscle Knots, and Yoga Therapy – To use these, just tell the recipient to place the ball on the area with muscle tension and then lean their weight onto it. Super easy and so helpful!
9. PaleoValley Grass-Fed Beef Sticks – This is the only company in the US that uses old-world methods of fermenting so that their beef sticks are shelf stable without the use of chemicals or questionable ingredients. Virtually all other similar snack stick products use GMO corn-based citric acid encapsulated in hydrogenated oils to process their products. Instead, PaleoValley sticks contain gut-friendly probiotics! I personally like the jalapeno flavor, but my kids prefer the original and summer sausage flavors.
Gift Ideas Under $50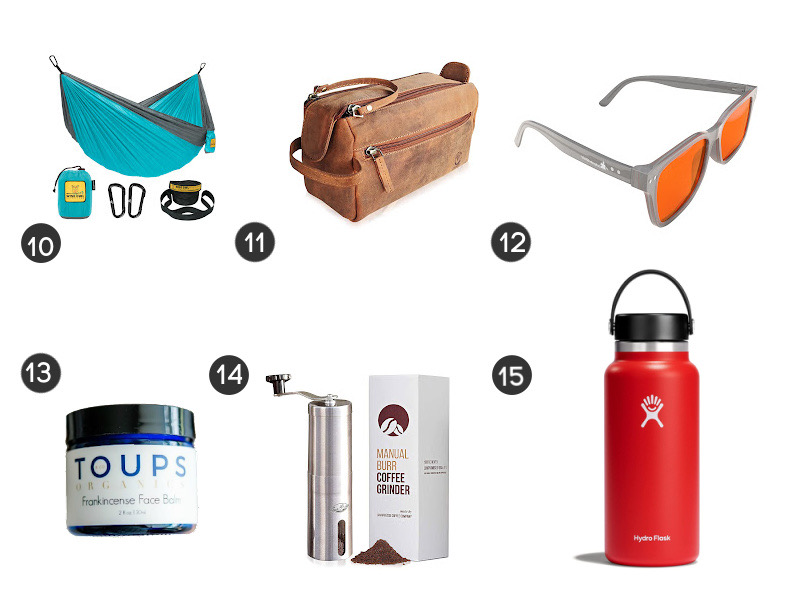 10. Portable Hammock for Backyard, Beach, Hiking, and Camping – This strong, lightweight hammock is easy to setup and very durable.
11. Leather Toiletry Case – Can be paired with tallow balm (link in this section), beard oil or balm, or a collection of travel-sized essentials.
12. Blue Blocking Glasses from Defendershield – Computer screens, TV's, phones and even regular light bulbs emit blue light, which the body perceives as sunlight. Blue light exposure after sundown can suppresses the release of melatonin, which disrupts our bodies process of preparing for sleep at night. My husband I and both wear blue blocking glasses at night – they've definitely helped us fall asleep easier and improved our overall sleep quality.
13. Toups & Co. Frankincense Tallow Balm (SAVE 10% WITH MP10) – Because men have skin, too, and this stuff smells amazing. 🙂 Tallow is uniquely compatible with our skin's biology, leaving it supple and nourished after use.
14. Stainless Steel Manual Coffee Grinder – For travel, camping and hiking. Because coffee.
15. Hydro Flask – These honeycomb insulated stainless steel bottles keep drinks cold for up to 24 hours and hot for up to 12 hours. They're extremely durable and dishwasher safe, making them a great option for workouts, travel, and more. If the guy in your life doesn't have consistent access to filtered water, I recommend considering the Clearly Filtered bottle instead. You'll find it in the next section.
Gift Ideas Over $50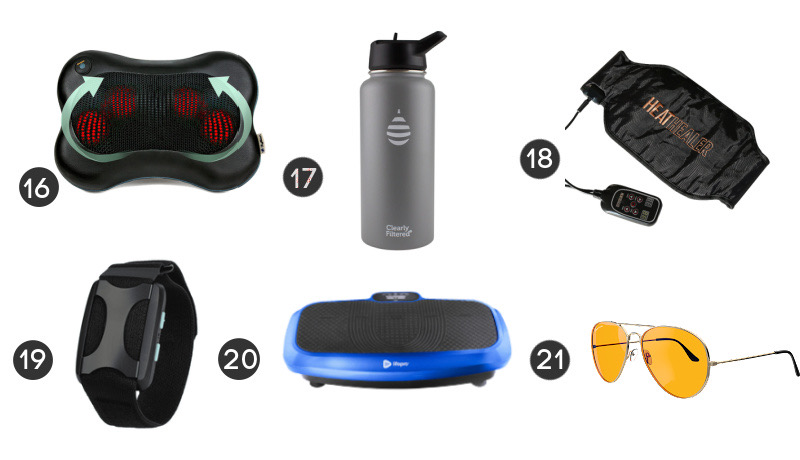 16. Shiatsu Pillow Massager with Heat – We have one of these and it's amazing for working on the neck, shoulders, lower back, thighs and calves.
17. Clearly Filtered Water Bottle (SAVE 15% ON YOUR FIRST ORDER WITH MP15) – These bottles can "transform ordinary tap water into clean and safe drinking water by simply sipping through the straw. Wherever the day takes you, you'll have peace of mind knowing your tap water is free from up to 99.9% of 220+ contaminants. Perfect for the gym, water fountains, restaurants, and more."
18. Heat Healer Body Belt With Infrared, PEMF & Red Light Therapy (SAVE 20% WITH CODE MP20) – I recently bought a Heat Healer Infrared Sauna Blanket to take on an extended road trip, and after reading my review the company founder asked if I'd be interested in trying out their newly released body belt with Triple Threat Technology™. It took 3 years to research and develop, and combines three different therapies (infrared heat, PEMF therapy and red light therapy) to target areas of the body affected by pain and inflammation.
I already have devices that deliver all of these therapies separately, but I love the idea of combining them so I agreed to let her send us one to test. My husband and I have both tried it and agree that it's a great option for easing muscle aches, supporting recovery after a workout, and general relaxation.
19. Apollo Neuro (SAVE 10% WITH CODE MP10) – This wearable device uses subtle vibrations (haptic feedback) to help our brain and body feel safe, resulting in benefits like reduced stress levels, better sleep, and improved focus. It was developed by neuroscientist and psychiatrist Dr. David Rabin MD, PhD and has been validated by "gold standard" double-blind randomized placebo controlled crossover trials.
I've written about my experience with the Apollo Neuro here, and you can see all the studies that have been completed or are in progress here.
To give the Apollo Neuro, click here and use code MP10 to save 10%
20. Lifepro Vibration Plate (SAVE $10 WITH CODE MP10) – My first experience with whole body vibration therapy was at a wellness clinic, and it made such a difference in my overall well-being that I bought one when I returned home. It supports detoxification (via lymphatic drainage) and calms the sympathetic (fight or flight) nervous system. It can also be used to amplify the effectiveness of exercise, and my husband and I use it for at-home workouts.
21. Swanwick Sleep Aviator Blue Blocking Glasses – Like the Defendershield glasses mentioned above, these blue light glasses can improve sleep by filtering out melatonin-disrupting blue light.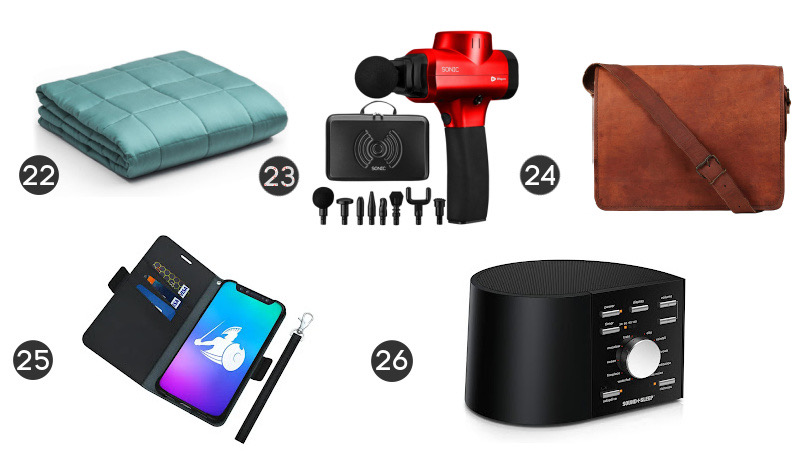 22.Cooling Bamboo Weighted Blanket from YnM – Perfect for hot sleepers, this blanket helps calm the sympathetic nervous system (fight or flight mode) and increase parasympathetic activity (rest and recuperation mode). It can be used in the daytime to create a sense of well-being.
23. Lifepro Sonic Handheld Percussion Massage Gun (SAVE $10 WITH CODE MP10) – Great for people who primarily deal with tough muscle knots and aches. This massage gun comes with 5 interchangeable heads that help release tension in both surface and deep tissue layers.
24. Eco-Friendly Leather Messenger/Laptop Bag – This bag is very sturdy and perfect for a laptop (15 inch or smaller) and a few books. It's made with natural tanning techniques and is ethically crafted by an artisan community in the desert region of Rajasthan, India.
25. DefenderShield Phone Case (SAVE 20% WITH CODE MP20) – Independently tested by the FCC, this phone case uses conductive, non-conductive and advanced absorption shielding materials together to block, divert, and absorb EMFs, Radio Frequency (RF) and heat radiation.
26. Sound + Sleep SE Noise Machine– If you've ever tried to drown out the sound of barking dogs, loud neighbors, or other disruptive sounds, you know how helpful sound machines can be for falling (and staying) asleep.
Unfortunately, white noise machines contain harsh, high-pitched frequencies that can actually raise cortisol levels, which is why many manufacturers have begun offering other (more soothing) colors of noise – particularly pink and brown.

In nature, you'll find pink noise by listening to the sound of crashing waves or rustling leaves, while brown noise is deeper . . . think rumbling thunder or the low roar of a large waterfall.
With 64 settings, the Sound + Sleep SE pretty much has it all. Most of the settings are natural sounds that have been recorded in the environment – a few are fan sounds and such – but you won't find any annoying or abrupt noises within the real-life recordings.
Here are some other reasons to consider it:
It has an adaptive microphone, which means that if your environment gets louder it will increase volume to mask it.
There are a range of pink and brown noises to try. For example, the water sounds are mostly brown noise with a little pink sprinkled in, and the plane setting is on the higher end of pink (close to white) which can be helpful for tinnitus.
The front panel dims so you're not getting loads of circadian-disrupting light at night.
Can play continuous sound all night, but also comes with an optional timer that can be set for 30, 60, 90 or 120 minutes.
DIY Father's Day Gift Ideas
Homemade Beard Oil – This homemade beard oil softens and tames scruff, reduces skin flaking (aka "beardruff"), and smells great. You only need a few ingredients to make it, too.
Bay Rum Aftershave – Clean and woodsy with spicy notes and a hint of citrus, this aftershave smells amazing.
More Gift Guides
FREE Ebook: DIY Body Care Gifts Made Simple
Do you want to give gorgeous, handcrafted gifts for family and friends, without spending a bunch of time on them?
Then I'd love to give you a free copy of DIY Body Care Gifts Made Simple – my step-by-step guide to making gorgeous handcrafted gifts without stressing yourself out – as a gift for signing up for my newsletter. I'll show you how to make vintage labels, luxurious lotion bars, lip balms, sugar scrubs, body sprays and more like a pro. Sign up for my newsletter and you'll be redirected to the download page immediately!