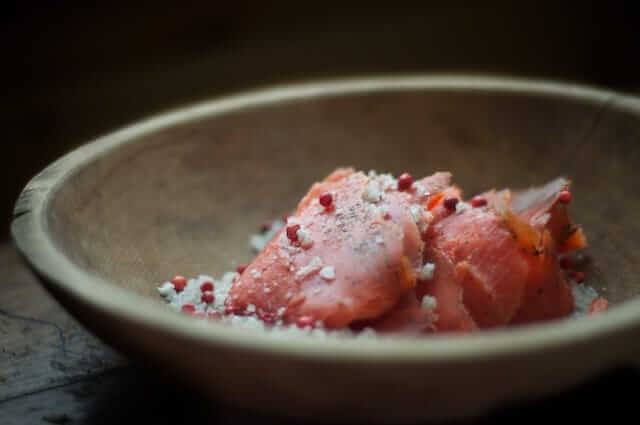 The deep, rich hues of wild-caught salmon come from astaxanthin, a potent antioxidant known to reduce inflammation, nourish the skin, and support healthy nervous system, brain and immune function. Like omega 3 fatty acids – also found in abundance in wild salmon – astaxanthin degrades when exposed to heat.
No fear, though! Today Jenny from Nourished Kitchen is sharing her secret for succulent home-cured salmon as part of an exclusive sneak peek into her online class, Get Cultured! How To Ferment Anything. This is a delicacy that even my 20 month old appreciates, so don't think it is too hoity-toity for the dinner table!
Salt-Cured Lox
difficulty: easy | yield: 2 filets | time: 5 mins (active), 3 days (marinating)
How To Cure Salmon (Lox) At Home – Exclusive Video Tutorial From Get Cultured!
For this recipe you will need: mixing bowl, spoon, plastic wrap or cheesecloth * resealable plastic bag, two plates
Ingredients
1

cup

coarse sea salt

¼

cup

spices and herbs

(choice of dill, juniper, caraway, coriander and peppercorns)

¼

cup

fresh whey

(optional)

2

wild-caught salmon filets
Instructions
Stir coarse sea salt with spices and fresh whey, if using, until the spices are evenly distributed in the salt.

Lay one salmon filet flesh side up and pour half the salt and spice mixture over the fish, sandwiching the other filet on top of the first.

Season the outside of the salmon filets with the remaining mixture, and wrap the sandwiched filets of salmon in plastic wrap or cheesecloth as tightly as you can.

Place the wrapped salmon in a resealable plastic bag on a plate. Place a second plate over the first to weight down the fish. Turn the fish once a day for three days.

Brush off excess salt and spice, slice fish as thinly as possible and serve.
Notes
Home-cured lox will keep about a week in the fridge or up to three months in the freezer. Whey is not necessary to properly cure the fish; how- ever, some newcomers feel more comfortable with using a starter culture such as whey. 
Nutrition
Calories:
0
kcal
|
Carbohydrates:
0
g
|
Protein:
0
g
|
Fat:
0
g
|
Saturated Fat:
0
g
|
Polyunsaturated Fat:
0
g
|
Monounsaturated Fat:
0
g
|
Trans Fat:
0
g
|
Cholesterol:
0
mg
|
Sodium:
0
mg
|
Potassium:
0
mg
|
Fiber:
0
g
|
Sugar:
0
g
|
Vitamin A:
0
IU
|
Vitamin C:
0
mg
|
Calcium:
0
mg
|
Iron:
0
mg