Pssst ~ Mineral makeup may accelerate aging
It's true. Many cosmetics, especially mineral-based products, use nano-particles to "protect" skin from the suns rays. The theory goes that since regular-sized particles of zinc and titanium are a non-toxic way to prevent skin from burning, smaller particles can do the same without creating the "lifeguard nose" effect. Essentially, they absorb and/or reflect light differently so that your skin doesn't turn chalky white after application.
Unfortunately, new research indicates that nanoparticles react differently with skin and may accelerate aging, cause DNA damage, and increase the production of free radicals associated with cancer. (Source 1: Many "Healthy" Sunscreens May Accelerate Aging, Source 2, Source 3, Source 4,)
For that reason, and a few others, I prefer to use whole, non-nano sized materials in my DIY foundation powder. You can buy non-nano powder here, but it's pricey.
This DIY foundation powder version . . .
Costs roughly $0.40 per ounce and provides a soft, translucent finish. Though the majority of your tint will come from cocoa powder, you can easily adjust color tones to complement your skin type: Cinnamon for warmer tones, bentonite clay for cooler tones. French green clay can also be added to soften reddish hues.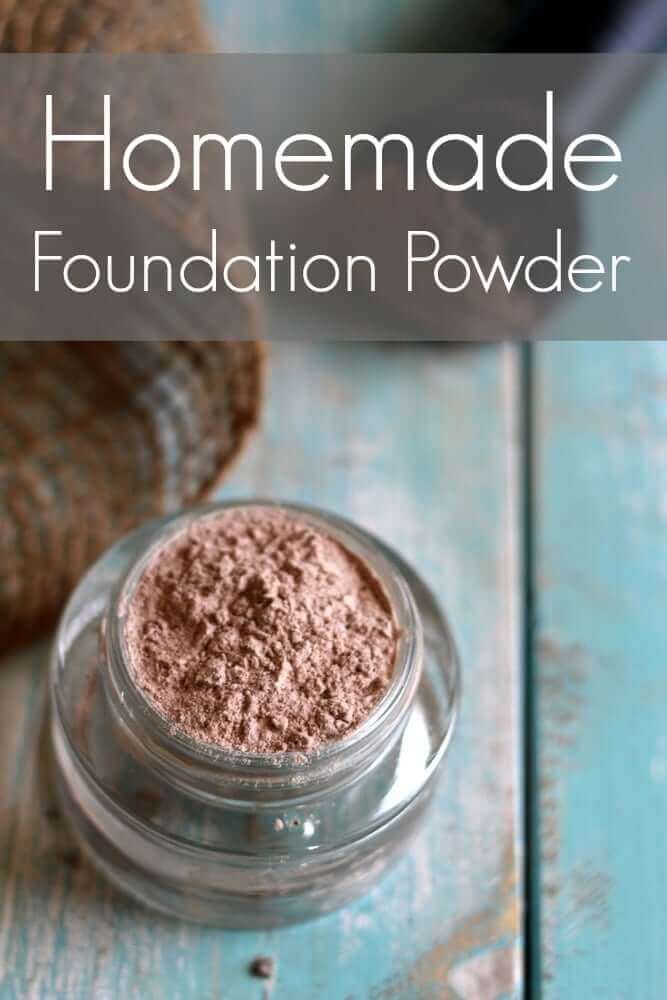 Homemade Foundation Powder
Base Ingredients:
Optional Additions
* Mixed with honey, cinnamon has a long history of topical use for acne. However, large amount may irritate skin, which is why I recommend it as a subtle addition to this recipe rather than the main source of color.
Instructions:
Blend 1 tablespoon cocoa powder and one tablespoon arrowroot, then check color intensity against your skin. I usually test on the inside of my wrist. Add additional arrowroot if a lighter color is desired, additional cocoa if a darker color is desired.
To add warm tones to your powder foundation: Mix in 1/2 teaspoon cinnamon. Add additional cinnamon in 1/4 teaspoon increments until the desired hue is reached. One thing to keep in mind is that the amount of cinnamon used should be small in comparison with the other ingredient, because large amounts may irritate skin.
To add cool tones to your powder foundation: Mix in 1 teaspoon bentonite clay. Add additional clay in 1/2 teaspoon increments until the desired hue is reached.
To reduce reddish undertones: Mix in 1 teaspoon French green clay. Add additional clay in 1/4 teaspoon increments, testing as you go. To test this formula, I recommend applying a little to the face and allowing it to sit for a few minutes. It may look a bit greenish initially, but as it absorbs a bit that will disappear.
To Apply:
Apply with a soft makeup brush.
FREE Ebook: DIY Body Care Gifts Made Simple
Do you want to give gorgeous, handcrafted gifts for family and friends, without spending a bunch of time on them?
Then I'd love to give you a free copy of DIY Body Care Gifts Made Simple – my step-by-step guide to making gorgeous handcrafted gifts without stressing yourself out – as a gift for signing up for my newsletter. I'll show you how to make vintage labels, luxurious lotion bars, lip balms, sugar scrubs, body sprays and more like a pro. Sign up for my newsletter and you'll be redirected to the download page immediately!