Want to add a cool, minty twist . . .
To your favorite brownies AND save your family money, too? With this two-ingredient mint extract recipe, those goals are done and DONE. Just five minutes of hands-on time plus a little time for the extract to "ripen," and you 'll be be stirring it into hot chocolate, tea, chocolate mousse, ice cream, peppermint patties, marshmallows and whatever else your heart desires.
It also makes an inexpensive, beautiful gift for the foodies in your life.
Saving Analysis
Store-bought mint extract costs an average of $1.95 per ounce. Here's the breakdown for this recipe:
Spirits – I used vodka for this batch. My cost was $0.49/ounce
Organic mint leaves (peppermint, chocolate mint, spearmint)- $1.99 per bunch at my local farmers market.
Total store bought cost – About $23.40 for 12 ounces
Total homemade cost – About $7.87 for 12 ounces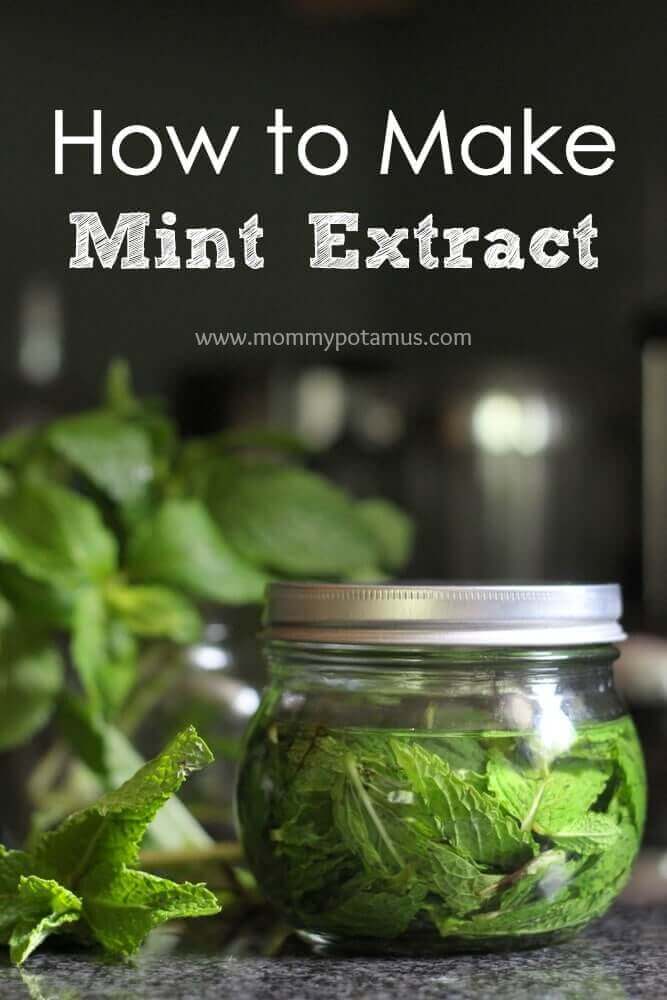 A Note On Ingredients
The main spirits used to make mint extract – vodka and bourbon – are now often made from GMO-plants and/or enzymes derived from genetically modified organisms. (source) Rum is sometimes used as well, though I was unable to find a definitive answer on whether it is likely to have GMO origins. Manufacturers claim that none of the genetic material makes it through the distilling process to the final product, but to my knowledge that has not been independently verified.
In a report on Kentucky bourbon and GMO's, Grist.com author Twilight Greenaway writes:
"This question of the genetic material passing through the distillation process came up repeatedly while I was researching the issue, and while it's an important one, the fact is that neither Brown-Forman, nor the Kentucky Distillers Association (KDA), nor The Alcohol and Tobacco Tax and Trade Bureau (TTB) have made any scientific research public that proves their point. The KDA did not respond to my inquiries either.)" (source)
Organic options are hard to find, but there are certain sources that are still likely to be GMO-free. If you're using vodka, Absolut says they're non-GMO, and here are a few bourbon brands to consider.
Rum, which is derived from sugarcane, would not contain genetically modified ingredients unless they come from enzymes used in the fermentation process. I was not able to find any information on manufacturing processes either way, but fortunately there are a few organic options if you'd like to go that route. I reached out to one brand, Appleton Estate, and they confirmed that their products are non-GMO.
Mint Extract Recipe
Ingredients
1

cup

mint leaves

(de-stemmed)

1 ½

cups

vodka

(or substitute bourbon or rum)
Instructions
Cover jar with a tight-fitting lid and store in a dark cabinet for 3-4 week, shaking occasionally. When the extract has reached the depth of flavor that you prefer, strain the the leaves from the extract. Store extract in either a dark container or in a dark cabinet.
Nutrition
Calories:
0
kcal
|
Carbohydrates:
0
g
|
Protein:
0
g
|
Fat:
0
g
|
Saturated Fat:
0
g
|
Polyunsaturated Fat:
0
g
|
Monounsaturated Fat:
0
g
|
Trans Fat:
0
g
|
Cholesterol:
0
mg
|
Sodium:
0
mg
|
Potassium:
0
mg
|
Fiber:
0
g
|
Sugar:
0
g
|
Vitamin A:
0
IU
|
Vitamin C:
0
mg
|
Calcium:
0
mg
|
Iron:
0
mg